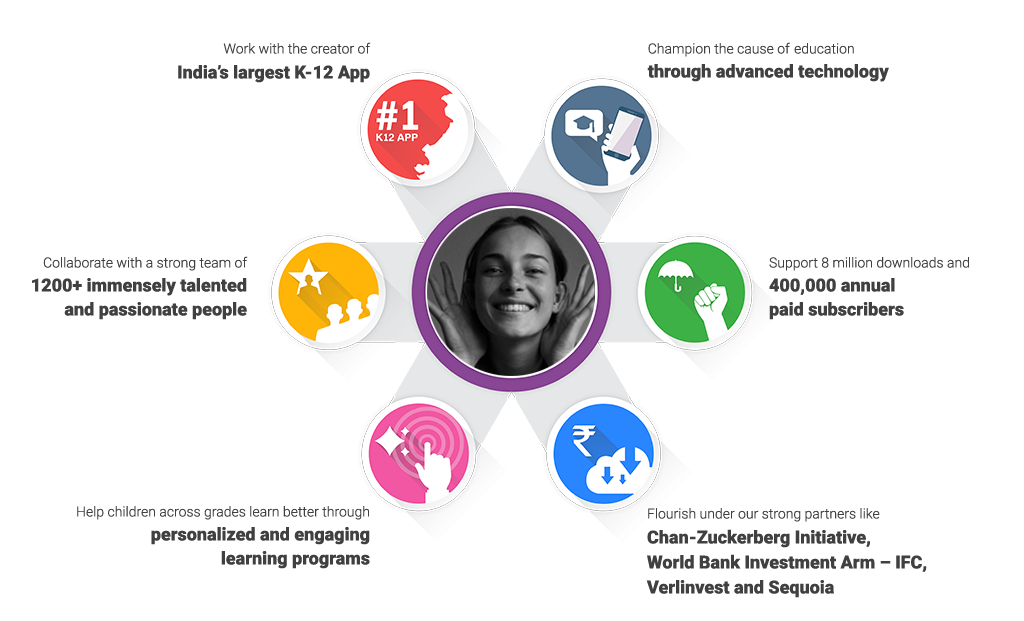 If you love to innovate, create and trailblaze while working amongst young, driven and exuberant people who strive for nothing but excellence in their field- we might be the perfect team for you
Card with ID 5 doesn't exists !
It is said that learning happens when someone wants to learn and not when someone wants to teach. Hence, our teachers focus towards generating this want, need and love for learning in students first. Our Teachers Team is full of people with a zeal to transform learning and since we can never have enough of that zeal, we are constantly on the lookout for those precious people. If you too have the passion for teaching, our team is waiting for you.
A teacher by choice, an entrepreneur by chance!
BYJU RAVEENDRAN
Founder & CEO
Byju Raveendran is the Founder and CEO of BYJU'S, India's largest EdTech Company that is reinventing how students learn, through its learning app. An avid sportsperson (expert in six games), Byju believes that children can learn a lot more outside the classrooms by playing multiple games. He started BYJU'S with the vision to help students fall in love with learning and change the way India learns.
His unique teaching style and focus on learning made him a household brand amongst students and parents in a span of 4 years.
"If you want to make a real impact on the way students learn, if you want to make them fall in love with learning, you need to start early — when they start feeling the subject, the crucial years which form the strong foundation for lifelong learning."
— BYJU RAVEENDRAN
We believe that work places define work cultures and at BYJU'S we are a close-knit community which stands on the interdependency of the teams and the ardor between individuals. Our work place as inspired hundreds over the few years since its inception, pushing them towards greater opportunities and achievements.
An innovation heaven at best, here's a glimpse of what you might find us doing on a regular day.
The BYJU'S office space breathes enthusiasm, determination nd diversity with strength of over 2000 employees spread over multiple office spaces in the cities of Bengaluru, Delhi, Chennai, Hyderabad and Mumbai. The pioneering team at BYJU'S follows a culture of working adventurously, defining milestones for themselves and surpassing them. We love diversity and stand by it vehemently with employees from every corner of the country contributing to the growth of the company.
Whether it is our customers, or our colleagues, we believe in absolute transparency thus avoiding any forms of miscommunication within teams and in between people. We believe that maintaining a certain level of professionalism is always vital, but understanding each subordinate or manager is substantial to the growth of any team. The level of understanding to be reached has no limits but we involve ourselves with each other's work, helping, guiding and critiquing whenever and wherever required.
Through every step of an employee's journey, we wish to surprise them- accolades, team lunches and games, festivals, office parties and year round events. Never is there a dreary moment in the work space and every day is a new opportunity to learn and grow.