A teacher is a person who imparts knowledge, values, virtues and is a source of inspiration to his/her students at school. A teacher plays several noteworthy roles in our lives such as guru, guardian, learning instructor, guide and mentor and shows us the path to success in life.
Here, we bring forth "My Teacher Essay for Class 1" kids so that they can refer this essay on teacher for Class 1 students. We hope this essay will help your child to compose an essay on my favourite teacher 10 lines for Class 1 and and he/she will be able to express his/her feelings and emotions in the right way.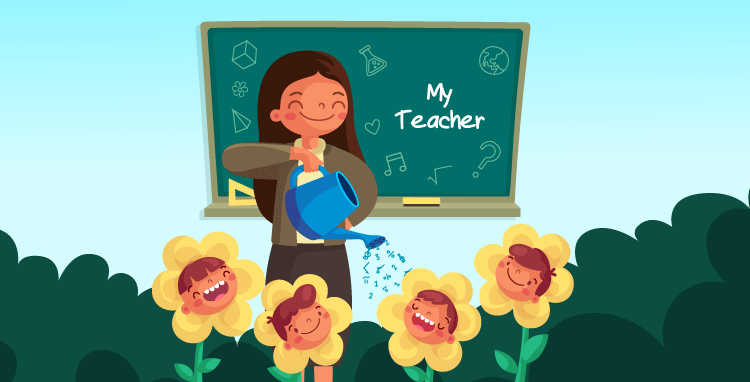 My Teacher Essay For Class 1
My favourite teacher's name is Ms Stella D'Souza.
She is my class teacher and takes our attendance on a daily basis.
Although she has a strict personality, she is very caring and kind by nature.
She is very disciplined and punctual and always comes to class on time.
She teaches us the English subject and tells us a lot of interesting stories.
My teacher gives us a warm hug before we walk in and out of our class every day.
She guides us very well during any school function or competition.
She teaches us to study and share things among our classmates and doesn't give us loads of homework every day.
She helps us in our studies and makes it an interesting learning experience for all students.
My class teacher is like a guide who motivates us to do well in our studies regularly.
Young kids have delicate minds and when they are given an opportunity to write on a given topic, they try their best to express their views in a heartfelt manner. It is a delightful experience to see a child expressing his/her views in short and simple sentences. You can allow your little one to express his/her feelings by writing an essay on my favourite teacher 10 lines for Class 1. This will also help your child to improve his/her English writing skills too.
The above sample "My teacher essay for Class 1" is a modest attempt from our end to help young students to be expressive in their thoughts and develop a liking for writing English essays. To know more about other essay topics for Class 1, you can also download India's best kids learning app – Disney BYJU'S Early Learn and learn various topics in detail.
More Essays for Class 1
Search Essays by Class