Independence Day of a country is the most important day in its history. That is the day when it becomes free from the shackles of any kind of foreign rule. In this article, we are offering an Independence Day Essay in English for Class 2 kids that will help them get an idea on how to write a simple yet impressive essay on the Independence Day of India.
Writing essays is a great way to work on one's linguistic skills. It refines creativity and understanding of how to form grammatically correct sentences. It also builds a good vocabulary. That is why essay writing is a frequent and required practice in all the classes. You can also download this amazing Independence Day essay in English in a colourful PDF format, through the link provided below.
Download "Short Essay on Independence Day for Class 2" PDF for Free
Essay on Independence Day of India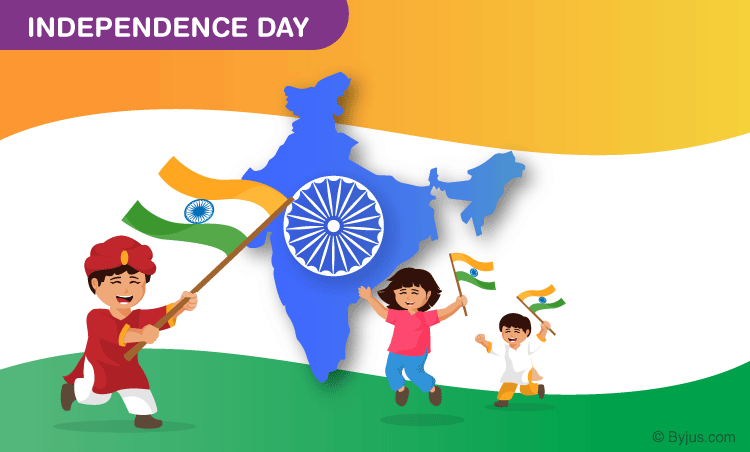 India got its independence on 15th August 1947. Every year since then, we celebrate 15th August as Independence Day.

India got independence from British rule after fighting for it for around 100 years.

On the day of India's independence, the first Prime Minister of India Pandit Jawaharlal Nehru hoisted the Indian national flag on the Lahori Gate of the Red Fort.

He then addressed the nation with his famous speech "A Tryst with Destiny".

Every year on this day, the Prime Minister of India hoists the national flag on the Red Fort and then addresses the nation.

This day is a national holiday. The bravery, struggles and sacrifices of our freedom fighters are commemorated on this day.

Independence Day is celebrated with a lot of zeal and enthusiasm throughout the nation.

This day is observed with numerous cultural events, parades, etc. The complete event happening at the Red Fort is broadcasted live by Doordarshan.

Similar events occur in the capitals of all Indian states, where the flag hoisting is done by the respective Chief Ministers.
This day fills each and every citizen of our nation with pride and overwhelming feelings of patriotism.

A Short Essay on August 15 for Class 2
India attained its freedom on August 15th, 1947, and this was the day where millions of people were waiting with  bated breath. This day represents the freedom and sacrifice of our freedom fighters. Each state and union territory in India celebrates this day with a lot of respect and pride. Independence day is celebrated in our schools, and we pay tribute to our great freedom fighters. In our school, they arrange quite a few cultural programs and sing patriotic songs. It is a day that every Indian must celebrate with due respect to the sacrifices made by the people.
We hope you liked the above essay on Independence Day for Class 2. Essay writing on Independence Day of India is frequently asked in primary classes. Click on the linked article to have a look at more such common essays for children.
Independence Day Essay in English for Class 2 allows the 2nd grader to pen down his/her thoughts about India's independence. Many warriors and national activists lost their lives for the sake of independence of our country. We must always remember that we are independent because of the sacrifices of such daughters and sons of this nation. We must also know why we celebrate the Republic Day of India and how to write an essay on the same.
We also have a lot of other learning resources that you might be looking out for. Intriguing worksheets, brain-tickling general knowledge questions, interesting stories, poems for elementary school children, NCERT solutions, easy trivia questions on various topics, etc. are available in our kids learning section. Explore this section now!