My Birthday Party essay offers a golden opportunity to kids to compose a few lines about the most special day in their lives. Kids have a wonderful chance to express their thoughts about what fascinates them about their birthday. Here, we bring you my birthday essay in English, which is written in a simple and easily graspable language, keeping in mind the intake capacity of tender minds.
Kids are asked to write essays on Class 2 on a variety of interesting topics. In most cases, the essay topics are very general in nature. My Birthday Party essay has been crafted in a lucid language to cover all the important aspects of the topic.
Given below is my birthday celebration essay, which you can download in PDF format for free, through the link provided below.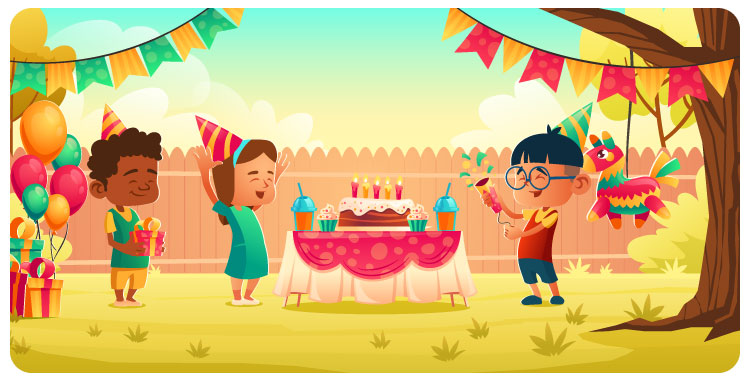 My Birthday Party Essay for Class 2
A birthday is the most memorable day in the life of every individual.
My name is Peehu. I celebrate my birthday on 4th of April every year.
I wait for this day eagerly as it comes only once in a year.
My parents celebrate my birthday with great joy and excitement.
They invite all my friends and relatives on my special day.
My mother bakes a delicious cake and prepares mouth-watering dishes on my birthday.
My father decorates the whole house with colourful balloons and streamers.
On my last birthday, my parents gifted me a pink colour bicycle.
I received lots of gifts and best wishes from my friends and relatives who visited me on my special day.
I shall always cherish the day and I'm thankful to my parents for celebrating my birthday in such a splendid way.
In Class 2, kids are expected to write simple essays in plain language. Writing essays not only enhances a child's writing prowess but also hones his/her linguistic abilities. For this reason, essay writing is encouraged from the initial years of learning as it improves the learning capacity of a student.
Liked "My Birthday Party Essay"? For more such engrossing resources on interesting English essay topics and study materials for children, we have lots of learning resources for kids. You can check our Kids Learning section to access the best-in-class educational supplies such as worksheets, poems, stories, GK questions, easy trivia questions, etc. and learn more.