Spring- a season that makes the earth much more colourful and beautiful. It is one of the four temperate seasons. Spring comes between the winter and summer seasons. Here today, we are going to discuss an essay on My Favourite Season Spring for Class 2 kids. We will see how kids can frame 10 lines on my favourite season in simple language.
Spring is the favourite season of many people because of multiple reasons. We shall see some of the points that make people fond of spring. Given below are 10 lines on my favourite season spring essay for Class 2. Through the link provided below, you can also download this essay on my favourite season in an enticing PDF format for free!
10 Lines on My Favourite Season Spring Essay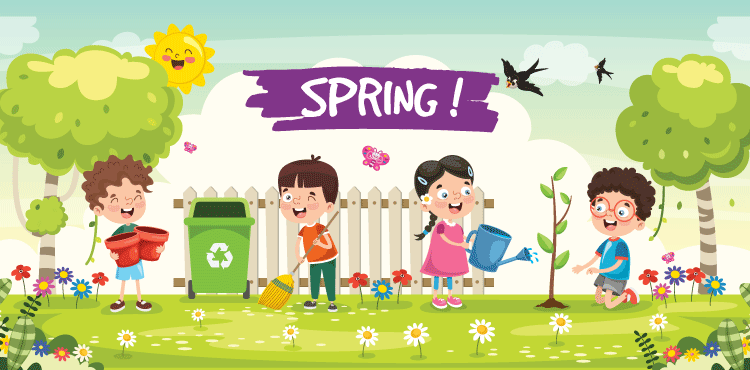 Every season plays a crucial role in maintaining the balance of nature.

Among all of them, spring is my favourite season of the year. It is the season of rejuvenation.
The spring season succeeds winter and precedes the summer season. Thus, it marks the end of winters.

During this season, the days get longer and the temperature becomes warmer. It is neither too hot nor too cold.

The beginning of this season is celebrated in various cultures and traditions.

For instance, Vasant Panchami marks the start of the spring season as per the Hindu calendar. This day is considered to be highly auspicious.

Spring Season has various health benefits. The first and foremost being the mental boost that it offers due to its freshness.

Spring fills animals, plants and humans with fresh and positive energy.

The temperature in this season is favourable to the growth of plants, microorganisms, etc. This brings new life to mother nature. Various flowers bloom and seeds begin to shoot out.

Spring brings with it a lot of happiness, positivity and fills us with zeal to begin new things. This is why I love the spring season.

We hope that the above written 10 lines on my favourite season spring essay will be useful to Class 2 kids in framing a simple yet impressive essay on the given topic. Kids can add more aspects of the spring season, along with the ideas given in the above essay. Encouraging kids to write essays is very crucial as writing essays help in the all-round development of the linguistic understanding of students.
Seasons can affect our moods to a great extent. While the scorching summer can dehydrate us, chilling winter can be responsible for health issues in the elderly. Excessive rain can damage the crops as well as spread infection among people. However, spring is the best of them all.
Spring Season brings a new life to the trees, plants, flowers, crops, etc. It makes the earth greener and brighter with lustrous colours. The weather is neither too hot nor too cold. It's just perfect. Sunshine of this season fills your soul with cosy warmth. A fresh breeze blows all around. Birds chirp early in the morning.
We have lots of such interesting essays for Class 2 kids on various other topics which you might be interested in. All these topics have been compiled taking into account the most frequently asked/ taught essay topics in primary classes.
We also offer lots of other interesting resources on our kids learning section– brain-tickling worksheets, intriguing GK questions, trivia questions, poems for kids, stories of various genres, NCERT solutions for all subjects and much more. You must visit the linked article to get access to the best learning materials for your little one!