In this article, we are providing you with "My Neighbour essay for Class 2". A neighbour is a person who lives in our neighbourhood, i.e. near our house. Neighbours are those people with whom we interact on a regular basis. We tend to share our joys and sorrows if we have a good bonding with them. Neighbours are the first point of contact in case of an emergency. They come to help us immediately, as and when we are in need of it.
In order to justify the essence of neighbours in our lives, we bring you "My Neighbour essay", which will help kids to get ideas on how they can write a few lines on this fascinating topic. You can also download the essay in PDF format for free by clicking on the link given below.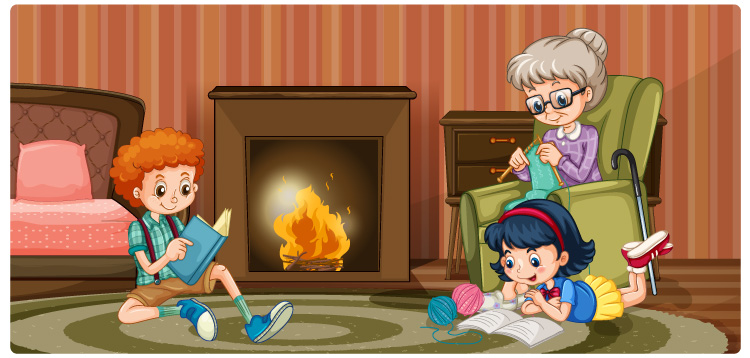 My Neighbour Essay for Class 2
My neighbour's name is Mrs. Martha D'Souza. She is an old lady.
She stays with her son, daughter-in-law and grandson in my neighbourhood.
She has a grandson, Jacob, who is a good friend of mine. We study in the same school and play together.
She is a polite and kind-hearted person who cooks pancakes whenever I visit her house.

She is an elderly woman, and I address her as Granny as she resembles my grandmother.
I love spending good time with her, and she often reads out fairy tales to me.
She has a pretty smile, and I have never seen her get angry at anyone.

She loves knitting and knits sweaters of different colours at all times.
She offers valuable advice and always guides us to walk on the right path.
Our families always help each other in times of need, and we are fortunate to have such lovely neighbours.
Given above is my neighbour essay 10 lines in English. We have tried to keep the language of the essay simple so that kids can easily understand it. We hope that my neighbour essay will help young kids to draft an essay on similar lines from their imagination. We strongly believe that essay writing also helps to enhance the English writing prowess in kids. Students can also attempt to write my neighbour essay 200 words or even more and convey their feelings about their neighbours in beautiful words.
Are you looking forward to exploring a lot of other essay topics for Class 2, from which your little one can practice and learn more? Look no further! You can check other exciting resources, such as worksheets, stories, essays, GK questions, poems, etc., for your kids in our Kids Learning section.