Writing essays offers a delightful experience and opportunity for kids to articulate their feelings and hone their creativity. Children get to explore their imaginative skills and communicate their ideas about an interesting topic on paper.
My mother essay for Class 3 is one such topic of interest for young kids where they get an opportunity to express their views and the emotional bond that they share with their moms. Every child enjoys writing about this topic as it brings a wide smile on their faces while writing a paragraph on my mother for Class 3.
Here we bring you 10 lines on my mother essay for Class 3 kids that you can download for free from the PDF attached below. Your kid can refer to this while drafting an essay on this topic: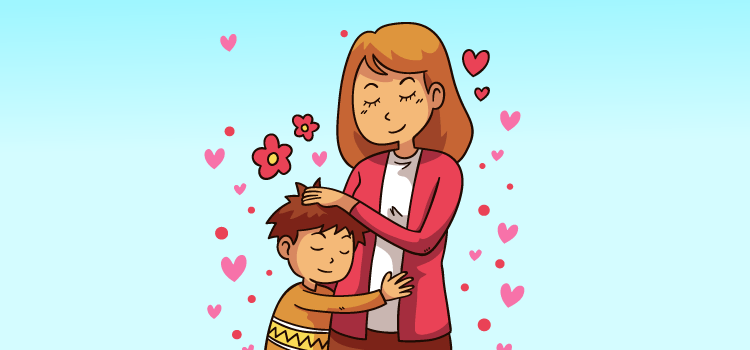 My Mother Essay for Class 3
My mother's name is Janette Thomas.
She works as a school teacher in St. Mary's Convent located at Mumbai.
She works very hard and takes care of each member of my family.
She cooks delicious meals for all of us and always prays to God for the well-being of the entire family.
My mother always helps me in my studies and is ever ready to sacrifice her sleep during my exams.
She always urges me to follow the righteous path of life and motivates me to work hard.
She helps my father and grandparents in making positive decisions in life.
She is my best friend and I share every small detail about myself with her.
She is always concerned about the welfare of every member of my family.
I pray to God to bless my mother with good health and a happy life.
That was a 10-lines paragraph on my mother for Class 3 kids. This essay for Class 3 kids will help them to express their views about their moms in a simple manner.
A Short Essay on My Mother for Class 3
My mother is a living example of an angel, and she has guided me on my path in life. I have special respect and admiration for my mother because she is my first teacher who shows me the right path in life. I love her because she has helped my father and all my family members in every life decision. In my eyes, my mother is a symbol of love, honesty, truth and compassion. For a child, a mother is the most caring and loving person a child can ever come across in life. A mother is your first friend and your best friend, whom you can always depend upon.
Do you wish to explore more such interesting essays and other available resources for your young learner? Simply download India's most loved kids learning app – Disney BYJU'S Early Learn and gift your child the joy of learning new concepts in an enthusiastic manner.
More Essays for Class 3