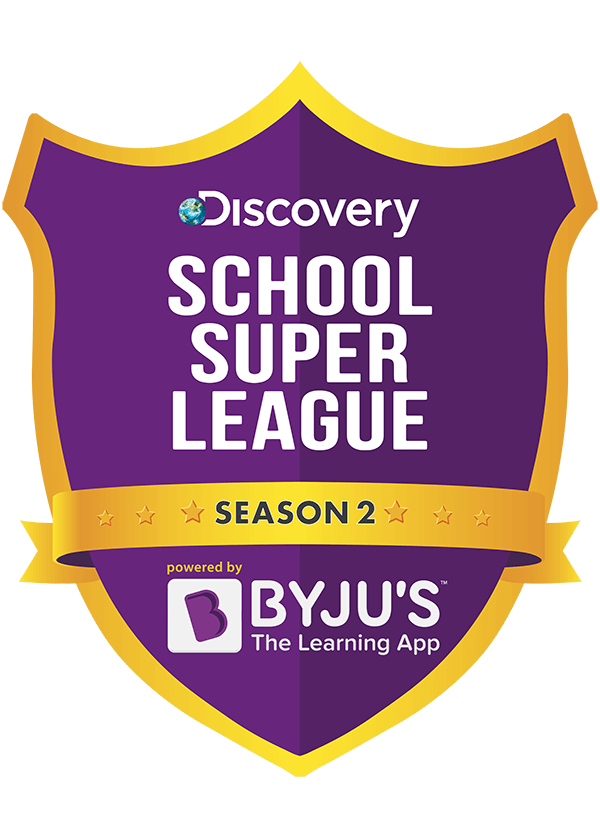 DSSL Terms & Conditions
These Terms & Conditions ("Terms") are with respect to the participation in the Discovery School Super League 2019 quiz contest – Powered by BYJU'S("
DSSL
").
Please read the Terms carefully before participating in the Contest. In the event of any discrepancy between the Terms and any other policies available on DSSL website, the provisions of the Terms shall prevail.
If your school participates in the Contest, you accept and agree to be bound by the Terms, including any amendments and modifications hereto.
INTRODUCTION
Discovery Communications India ("Discovery"), the leading channel that showcases programs focused primarily on infotainment, science, technology, and history, proudly launches DSSL in collaboration with Think & Learn Private Limited ("BYJU'S") – a leading Edu-Tech company. BYJU'S shall, through its authorized representatives, lead the DSSL and approach various schools across India ("Schools") and conduct the DSSL at such Schools after they have duly complied with the registration process as detailed below.
The DSSL is a critical thinking and knowledge-based quiz contest that provides a unique platform for students of the Schools where they can compete and win laurels for themselves and their School. The Contest is held for students between Grade 4 to Grade 9 (both Grades included) ("Participant").
It shall be responsibility of the Schools to familiarize themselves with these Terms and ensure that the parents/legal guardians of the Participant have read and agreed to the same.
REGISTRATION PROCESS

Registration process will start from June 1, 2019 and end on September 30, 2019 (both dates included)
The Schools can register for the Contest by filling a registration form available in the welcome kit which will be provided by the organizer or its designated partners.
The registration forms must be completed by the School in all respects. Only the registration forms that are duly signed, stamped and attested by the School authorities will be considered as valid entries to the Contest. The duly filled and stamped registration form shall be handed over by the School's authorized representative to the organizer or its designated partners.
The registration form which is not duly filled with all the details, the same will be rejected and automatically disqualified. The decision of the organizer in this regard shall be final and binding.
Schools can also email a completely filled form to dssl@discovery.com and To download the form, Please Click here
For further queries or details, the School may contact dssl@discovery.com or contact organizer on dedicated helpline number i.e. 973 973 3333

ELIGIBILITY & CONTEST DETAILS

All students enrolled in the Schools between Grade 4 to 9 (both grades included) are eligible to participate in the DSSL. All students shall be divided into 2 (two) categories whereby students between Grade 4 to 6 shall fall under Category-I and students between Grade 7 to 9 shall fall under Category- II.
Click Here for Sample Question Paper Set I, Click Here for Sample Question Paper Set II

DSSL Contest Details
Stages
Quiz to be conducted
The process of Shortlisting winners
Stage 1
Forty(40) minutes Multiple Choice Questions based written screening test will be conducted in the School for all the Participants on the date decided by the School
Two(2) toppers at school level(one in each category) of the written quiz will represent the school in Stage 2
Stage 2
Forty(40) minutes Multiple Choice Questions based written screening test will be conducted on a state level at a common location in your city and on the date as decided by the organizer
Two(2) toppers at school level(one in each category) will qualify for Stage 3 to represent their state
Stage 3
Thirty(30) teams(One each from 29 states and one from Delhi(NCR) will compete in a quiz contest which will be shot in Mumbai and will be aired /broadcasted as a TV Show named Discovery School Super League in six (6) episodes on Discovery network channels in India("DSSL TV Show")
Top Three (3)winning teams and their School Principal or Teacher per school will win a paid trip to NASA from the organizer

PRIZE FOR THE WINNERS

Every Participant at a school level who participates in DSSL would get a participation certificate, a 60 days online course(worth INR 6000) on BYJU'S – The Learning app for FREE and INR 5000* in their BYJU's Wallet.
Further, At the Stage 1 level, one topper from each grade (i.e. 1(one) student each from Class 4, Class 5, Class 6, Class 7, Class 8 and Class 9) will be eligible to get School bags from BYJU'S
Winners from Stage 3 of the contest, will get a chance to appear on DSSL TV Show and will also stand a chance to win a paid trip to NASA(USA) as set out above and cash prize up-to 9 Lakhs

*(The above-mentioned amount can be redeemed for any BYJU'S Premium Subscription courses. This is applicable to participation in DSSL 2019-20 for one-time use per participant. It cannot be liquidated in the form of cash, monies or any other Nature of Interests. This offer is at the discretion of BYJU'S and any disputes shall be decided by BYJU'S unilaterally. The said offer cannot be clubbed or modified or changed with any other offer or web-based service/purchase of product from any other website/App)

The organizer will select the winners and sponsor all the prize as set out in these Terms. It shall do so based on its internal criteria and evaluations. Organizer's decision in this regard shall be final and binding and the Schools shall not have any right to interfere in any manner whatsoever in the selection of the winners. The Prize shall be non-transferable. All expenses, including without limitation the Participant's travel, logistics, costs of accommodations, prizes and awards shall be borne by organizers.

WILDCARD ENTRY

Participants may also enter Stage 2 of the DSSL by downloading 'BYJU'S-The Learning App' and taking the test available on the said Application. However, this mode will have a very limited number of entries at a Pan India level.

FILMING/ SHOOTING AND BROADCASTING OF THE DSSL

Discovery shall, in its sole discretion, produce and broadcast the final stage, i.e., Stage 3 of DSSL on its channels.
The Contest shall be aired across an aggregate of 6 episodes with the duration of 44 minutes each. The State level winners will compete with one another, and the winner of first 5 episodes will finally contest in the grand finale, with the winners being crowned as the All India DSSL Season 2 Champions.
The filming of the episodes shall take place at the location chosen by Discovery. The qualifying teams shall be informed in advance by BYJU'S of the details of the location and dates for the filming. For this Stage 3, all travel and accommodation for the qualifying teams will be borne solely by BYJU'S.
For purpose of clarity, The School, Participant and/ or parents/legal guardians on behalf of the Participant hereby expressly waives any and all moral right it may have in connection with its appearance and performance in the DSSL TV Show or any related material or audio- visuals. In order to affect the above, School, Participant and/ or parents/legal guardians of the Participant hereby assign any and all rights, including for avoidance of doubt, copyright in and to all results proceeds and material produced while filming of the DSSL TV Show to Discovery throughout the world in perpetuity together with all assignments, extensions, renewals and revivals.
The School, Participant and/ or parents/legal guardians of the Participant hereby undertakes that it shall not withdraw from participation in DSSL and/ or DSSL TV Show before conclusion of the same and in the event, it do so withdraw in breach of these Terms the same will cause Discovery and BYJU'S serious damage and the School and/ or parents/legal guardians of the Participant shall be responsible and liable for the same.

RESPONSIBILITES OF THE SCHOOL, PARTICIPANTS AND PARENTS/ LEGAL GUARDIANSOF THE PARTICIPANTS

The Participants of the teams qualified for Stage 3 shall be required to submit a 'no objection letter' ("NOC") from their respective Schools and parents// legal guardians clearly permitting the Participants to be present for the filming of DSSL TV Show.
In addition to the above, the NOC shall expressly state that

the respective parents/legal guardians of the Participant have, at their own free will, consented to permit the concerned Participant of the qualifying teams to participate in the filming during Stage 3 of the DSSL.
the parents/legal guardians of the Participant permit the lawful use, if required by Discovery/BYJU'S, of the photographs/ audio- visuals of the concerned Participant for any advertising, promotion, marketing activity etc. of the DSSL on any forum and/ or media either in combination with other images, texts, graphics etc. or otherwise and the same may also be cropped, altered or modified.

Parents / legal guardians of the Participants shall be responsible to monitor their children's / ward's participation in the DSSL. The term "Participant/s or "winner/s" wherever appearing in these Terms shall mean and include the parents / legal guardians of minors who participate in the DSSL.

OTHER TERMS AND CONDITIONS

Discovery and/or BYJU'S reserve the sole right, without any liability and without previous notice, to add, withdraw alter, modify, change, or vary all or any of the specific details of the DSSL, at any time. It also has the sole right to replace the DSSL with any another contest as may be decided by Discovery and/ or BYJU'S and accordingly decide the prize for the winners. Discovery and /or BYJU'S further reserve the right to discontinue the DSSL or any part thereof at its sole discretion without any obligation to assign any reasons or sending notifications of such discontinuation/cancelation.
All information regarding the DSSL as well as the tests/ quiz that form part of the DSSL are provided on an 'as is' basis without warranties of any kind. Discovery and/or BYJU'S make no representations and disclaim all express and implied warranties as to the accuracy of the content, timeliness or completeness of the DSSL. Discovery and/or BYJU'S do not guarantee any specific benefits from participation in the DSSL.
Under no circumstance shall Discovery and/or BYJU'S be liable to the Schools, Participants or their parents/legal guardians or any other third party for any loss of profits or loss of opportunity, accuracy of the content, benefit from or quality of the DSSL, purpose of the Contest or any other indirect, special, consequential, incidental, or punitive damages whatsoever, even if they have been advised of the possibility of such damages.
Discovery and/or BYJU'S shall not be responsible for (a)lost, invalid, misdirected, late, incomplete, or unintelligible entries or for inaccurate entry information, whether caused by the Schools, the Participants or the parents/legal guardians of the Participants or by any technical or human error that may occur in the processing of entries; (b)l misplacing results of the Participants by any technical or human error that may occur in the evaluation; (c)printing or typographical errors in any materials associated with or used in the DSSL; (d) any error in the operation or transmission, theft, destruction, unauthorized access to, or alteration of, entries, or for technical, network, telephone, computer, hardware or software, malfunctions of any kind, or inaccurate transmission of, or failure to receive any entry information on account of technical problems or traffic congestion on the internet or at any website or (e) injury or damage to computer or mobile resulting from downloading any registration forms/materials in connection with the DSSL.
By participating in Contest, the School, Participant and parents/legal guardians of the Participant agree that the Personal Information may be collected on Discovery or BYJU'S behalf by others associated with, and/or assisting in organizing and administering of the DSSL and same may be used to send to the School, Participants and parents/legal guardians of the Participant contest information pertaining to organizer, in the future.
The Personal Information provided to BYJU's will be subject to Privacy Policy provided on https://byjus.com/privacy-policy/ and Personal Information provided to Discovery will be subject to Privacy Policy provided on http://www.discoverychannel.co.in/privacy-policy/.
The Schools shall take necessary permission from the parents/legal guardians of the Participant where they provide their consent for the collection of personal information such as name of the Participant/parents/legal guardians, class and division of the Participant, email address of the parents/legal guardians, phone number of the parents/legal guardians, address and other details as maybe required for participation in DSSL ("Personal Information"), and for sharing such information with Discovery and/or BYJU'S for further usage by them.
Discovery and/or BYJU'S may, in their sole discretion, disqualify any School/individual/ Participant found to be: (a) tampering with the entry process or the operation of the DSSL; (b) acting in violation of these Terms; or (c) acting in an unethical or disruptive manner or with intent to annoy, abuse, threaten or harass any other person or third party.
The Schools shall render all necessary support, co-operation and provide the infrastructure as required by BYJU'S for conducting the DSSL. The Schools shall ensure that the details of the DSSL are published on School's notice boards, bulletin boards, libraries and hoardings in prominent areas in the Schools' premises. Furthermore, BYJU'S shall have the right to market its services and products by utilizing the information provided to it by the Schools or collected by it in connection with the Participant. It may do so by contacting the parents/ legal guardian of the Participant, using the same, in marketing materials or in any other manner whatsoever. This right shall continue even after DSSL has been completed.
Discovery and/or BYJU'S shall conduct the DSSL and the Schools shall not interfere or question the content, question paper, evaluations procedures and/or results of the DSSL. The results of Stage 1 will be declared on BYJU'S – The Learning App as well as announced in the School premises on completion of the pan India Stage 1 of the DSSL.
The date of the DSSL shall be determined by Discovery and BYJU'S and the same shall not be subject to any change at the behest of the Schools.
This Contest is subject to force majeure circumstances including without limitation, floods, natural disasters, war, act of terror, political unrests, technical snags, act of God or any circumstance beyond the reasonable control of Discovery and/or BYJU'S ("Force Majeure Event"). Discovery and/or BYJU'S shall be not liable for any delay or adverse effect caused to the Schools and Participants in the DSSL including the winners as a result of a Force Majeure Event.
To the extent permitted by applicable law, the School and the Participants (including the parents/ legal guardian of the Participant), by entering the DSSL, jointly and severally, expressly discharges and releases Discovery and BYJU'S from any claim, action or demand arising out of or in connection with the DSSL or their Prizes.
The Terms and Conditions set out herein are governed by and construed in accordance with the laws of India. All matters with respect to the contest are subject to the exclusive jurisdiction of the Courts at Bengaluru Only.