Have you ever been to an aquarium? Do you know how many varieties of fishes there are? Well, to educate you on this and help you learn a lot more about fishes, this article provides you with more than twenty names of fishes from all over the world.
Table of Contents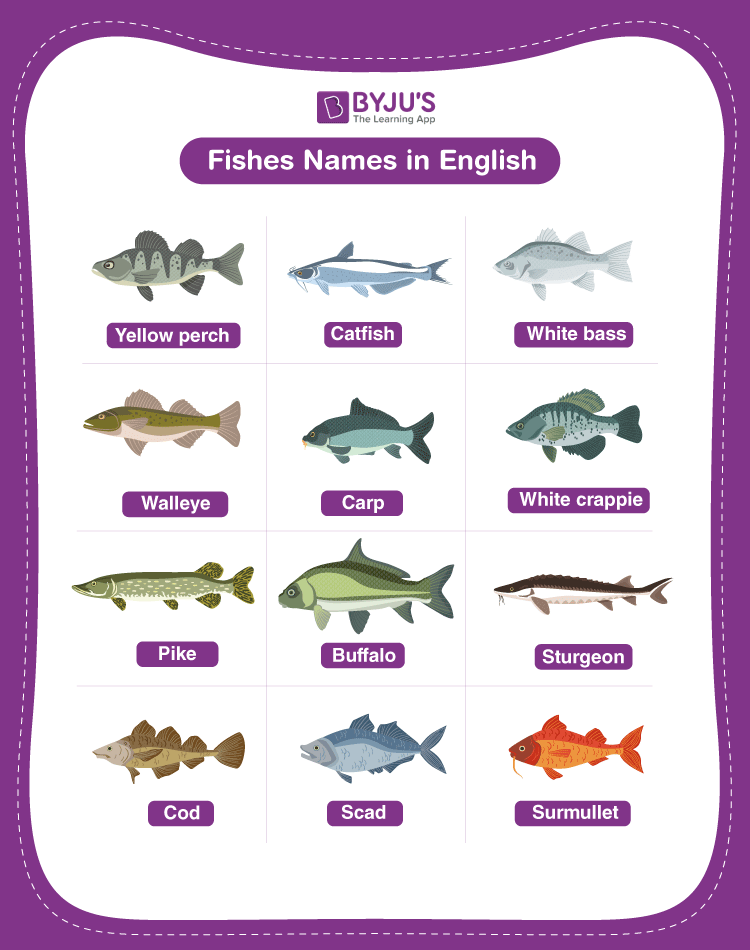 List of 20+ Fishes Names
| | |
| --- | --- |
| Anchovy | Betta |
| Barracuda | Bass (Striped) |
| Bass (black) | Buffalo Fish |
| Bombay Duck | Boga |
| Blue Tang | Clownfish |
| Calamari | Catfish |
| Clam | Cod |
| Crayfish | Carp |
| Dartfish | Deepwater Flathead |
| Electric Eel | Eel Cod |
| Eurasian minnow | Flagfish |
| Flatfish | Ganges Shark |
| Ghost Pipefish | Gold Fish |
| Golden Mahseer | Hagfish |
| Handfish | Half Moon |
| Hilsa | Inanga |
Explore More about a Few Common Fishes
| | |
| --- | --- |
| Name of the fishes | About it |
| Anchovy | Anchovies are small, common forage fish that belong to the family Engraulidae. They are commonly found in marine as well as freshwater habitats. These fishes are a good source of Omega 3 fatty acids. |
| Bombay Duck | Bombay Duck, also known as Bombil or boomla, belong to the species of lizard fish. The maximum length of the fish is 25 cm. They are rich in protein. These fishes are often dried and then consumed. |
| Cod | Cod is a common fish which belongs to the Gadidae family. They are carnivorous in nature as they eat other fishes. To reach the perfect breeding grounds, these fishes can swim up to 200 miles. Cod are quite famous for their dense and flaky flesh and great flavour. |
| Electric Eel | Electric eels, also known as Electrophorus, belong to the family Gymnotidae, and are found in the freshwaters of South America. They are known for their ability to stun their prey by generating electricity. |
Frequently Asked Questions on the Names of Fishes
What are fishes?
Fishes are aquatic animals that have fins that help them swim and gills that help them breathe underwater. Fishes often consume other fishes and planktons.
Name two fishes starting with the letter B.
Bombay Duck and Bass are two fish names starting with the letter B.
Is the dolphin a fish?
No, though Dolphins live underwater, they are mammals, i.e., unlike fishes they don't lay eggs
Name some freshwater fishes.
Magur (Walking Catfish), Tilapia (Cichlid Fish) and Tengra (Mystus Tengara).