A wise man once asked Einstein – How long shall my son read to be a genius like you?
Einstein turned towards the kid and answered, "Son, if you like learning and reading, then don't look at the watch."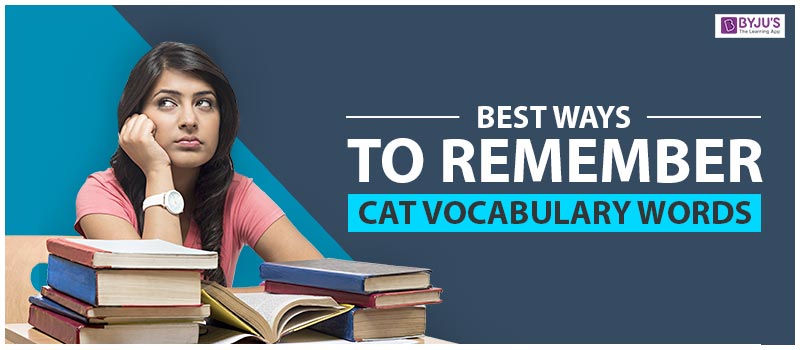 How to ideally prepare for the CAT Verbal ability and vocabulary is what concerns almost 2 lakh CAT aspirants every year. With tons of pressure and Mathematical formulas revolving around the head, it is pretty difficult to remember those "Never Ever seen" words that build up the so-called Vocabulary.
Well, remembering CAT vocabulary words is definitely a gruesome task and needs a guided approach. Building your vocabulary requires significant investment and it is essential you adhere to the undertaking. This isn't an activity that you can do one day and after that disregard it the following day. Ensure you focus on this undertaking and are punctual in your endeavors.
Here are some best tips to remember the CAT vocabulary 
 Read, Repeat and Revise
Reading is an ideal approach to build your vocabulary quality. Spend 30 min each day reading worthy articles. You can refer to the leading dailies like The Hindu, Economist and The Times of India. You will run over new words each day; try associating them with the real-time issues they were used in. As you read, make notes of the new words and its implications, with the goal that you can refer to at the final moment of CAT. 
 Flashcards and vocabulary building software
Make use of flashcards and cue cards to dwell on the knowledge for a strong vocabulary. Use prominent software like Membean and Magoosh to have an extra edge in remembering vocabulary as well as improvising.
 Maintain your personal vocabulary diary
Chalk down each and every minute of you learning a new word into your valued personal treasure. Carry your personal dictionary and revisit your work on a timely basis. Always do a brief analysis of the words you learned after studying verbal. 
 Spot, Use and Construct your own sentences
Try and spot new unseen words whenever you are reading newspapers, books, articles and reference books. Once when you start using this word into meaningful sentences from time to time, you will experience words that you have learned and this time, you will pick up a more profound understanding, both of the word and the setting in which it is being utilized. This is the manner by which your freshly discovered vocabulary will help you in CAT questions.
The rationale here is quite straight-forward: The more you read, the more words you will be exposed to. This is how in gradual ways you will remember your CAT vocabulary words. Understanding the importance of new words by their relevant use is the most normal method for adopting new words and is the motivation behind why along these lines of learning is the best. With a strong vocabulary, you can easily understand the passages in reading comprehension for CAT section and answer the related questions effectively.
Stay tuned for our upcoming articles on improvements on the Verbal ability section of CAT examination. Learn a better way to understand your Reading Comprehensions(RC's) and a step towards remembering some good vocabulary.