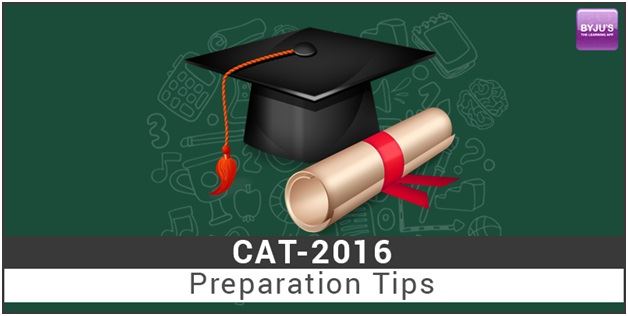 CAT Preparation: We have four months to CAT and given that December 04th is the D-Day, we  have exactly four months for CAT exam preparation. Four Whole Month. Which is sufficient to prepare to ace the exam. According to our experts, we can start preparing for CAT bit-by-bit.
BYJU'S have stressed enough on clearing the basics and then moving forward, although one should be very clear on the syllabus and the pattern of the text.
CAT is a test that doesn't test on the current affairs or static knowledge. Although it is highly recommended to keep a good track of all the important things happening around the country/world – so that it come in handy during group discussion/Written Ability Test or Personal Interview.
Needless to say, CAT preparation need to be done on a consistent basis. Preparation timing and routine is a thing that is considered subjective. It may happen that what worked for someone else might not work for you. But still we need to have a framework of the routine intact to start preparation.
Before we begin, here are some of the important dates to keep in mind with regard to CAT exam.:
| | |
| --- | --- |
| Activities | Dates |
| Notification release date | July 31st 2016 – Sunday |
| Registration opens | August 8th , 2016 – Monday |
| Registration Closes | September 22nd , 2016  – Thursday |
| Admit Card issue starts | October 18th 2016 – Thursday |
| CAT 2016 EXAM DATE | December- 4th –  Sunday |
| Declaration of result | 2nd week of January |
Here we have some common tips to prepare for CAT and get to work at the earliest. With four months in hand, you have sufficient time to prepare for the exam.
Tip no 1. Be informed : If you have a specialization in your mind, then start searching the colleges that are good for the same specialization. For example if you want to go for Human Resource specialization, then TISS or XLRI should be the focus. Get informed about the the pre-requisite exams for entrance.
Keep yourself informed about the CAT pattern and syllabus so that you don't end up doing duplicate or over work.
Tip no 2. Start; keeping in mind the end. : Set goals. Divide them into mini goals – start working and stop not till the goal is reached. (as said by Vivekananda). These mini goals will motivate you to prepare and you know where to stop.
Tip no 3. Basics right and then mock test: You should work on getting your basics like class 9th and 10th maths, english grammar rules etc right. We always stress on getting the basics right first and then going for the advanced level. CAT is all about learning the right tricks and manage time. You need to learn the art of time management.

Tip no 4. Don't forget the holy grail of CAT preparation: Mock Test : Do at least one mock test every week in the beginning and during the month of november, do one each day. Mock test is the ultimate answer to keeping track of your scores and your weak areas. You can devise your own plan to study for the weak areas and improve upon it. No topic will be left out if regular practise is done, thus ensuring holistic participation.
So, here you go with the tips in hand. Work on these preparation and tell us, how is it going for you.
Get in touch with our CAT counsellors for information on best CAT preparation tips and notifications related to the test.
All the best for your endeavour.