IIM – Bangalore authorities have extended the registration window for the CAT 2016 examination. Extension has been marked since the last three years in a row. Even though no extension was is plan, the extension has been made on heavy requests from the candidates.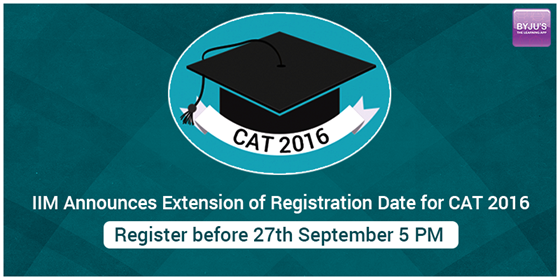 Hike in Number of Registration 
The deadline for the registration process is 27th September until 5 pm. This year the registration number have stood at 2.08 lakhs. With five days in hand, we are anticipating a record high in number of  registrations.
The hike in  registration process can also be attributed to the increase in seats of IIMs. As instructed by MHRD, the IIMs have to submit an expansion plan to the ministry and discuss on how to carry out a smooth operational process without compromising the quality of infrastructure or the teaching in-house faculty.

The placement record have also recorded a shoot this year and can be anticipated as a reason for the surge in registration process. As we know that the campus placement activity have not got affected by recession and IIMs have curriculum that will produce the best global leaders in the world.


High number of requests from applicants for extension:
According to Prof. Rajendra Bandi, Convenor of CAT exam 2016, have stated that the major reason for extension are the requests from the applicants who had not completed the registration process.
This year, for the first time, registered candidates will get the permission to correct the errors in the registration form from 1st October to 5th October.
The aspirants who haven't registered for the examination, count this as a second and final chance to register and register. CAT will be conducted on December 4th this year across 138 cities in the country. Candidates preparing for CAT exam can browse our free CAT preparation materials. To gear up preparation, CAT aspirants can contact our CAT counsellor and take the utmost benefit of being a student of India's Best CAT trainer.