The Indian Institutes of Management (IIMs) are considered as some of the most sought-after B-schools among the management aspirants. Qualifying the CAT with a high percentile (>99 percentile) is the prerequisite for enrolling in one of the IIMs and many other B Schools in India. To crack CAT and join any IIM, you need the right attitude to solve the questions as well as an excellent knack for time management.
The best approach to prepare for the CAT exam is to have a strategy in place and work on it. Another way is to take help from the people who already have taken CAT. One can also go for the study materials posted free on various websites.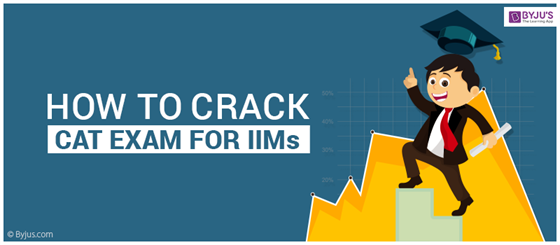 You can also go for the CAT mock tests and prepare for the exam by downloading properly by analyzing self-preparation continuously. This will help you analyze your strengths and work on areas of improvement. Depending on your current level of preparation you can estimate the time required to learn new concepts or prepare different question types.
Online CAT Forums – There are many online forums dedicated to the people who are interested in taking the exam. You can benefit from the forum and discuss the problems and doubts. You can also make use of networking in getting first-hand MBA preparation tips.
Tips to Crack CAT For IIMs
The best way to start the preparation is to take available online mock tests that help to evaluate the individual level of understanding, strengths and weaknesses. So, before starting to prepare for the CAT, take a CAT mock test to evaluate the current level of evaluation required. Even if you plan to do self-study, it will help you chart out a self-customized strategy to crack CAT by yourself.  Here are some of the recommended strategies that might help the candidates to prepare properly for the exam.
Work on specific skills like verbal ability and logical reasoning.
Work on building your quantitative aptitude and general language skills too.
Take timed CAT mock tests to track and evaluate your progress.
Work on non-MCQ questions as well. While MCQs are important, you need to note that all questions have equal marks.
Use your online resources and connections to explore the strategy to crack CAT  which has worked well for successful MBA students in IIMs.
These are only the very basic CAT preparation tips. There are many institutes that conduct exclusive sessions on tips for cracking CAT. Attend them to boost confidence, improve speed and work out an effective strategy to crack CAT.
Moreover, the myth about CAT being the most difficult entrance exam endangers their thought of success. However, the best kind of preparation is where you plan your journey with the knowledge of where to start, how to proceed, which is the right path and most importantly where it leads you.
Section-wise CAT Preparation Tips
The CAT syllabus is not that difficult; the sticky situations are the proper time management and multi-conceptual questions. The approaches required in each of the section in the CAT exam is different owing to the different nature of problems.
Quantitative Ability:
Learn topics from scratch to build a strong foundation of the Quantitative Aptitude topics.
Practice the topics properly. It will formulate the relevant memory patterns and increase your speed and accuracy of solving.
Have a personal formulae book as handwritten notes are the best for last-minute revision.
Use personalized techniques and math tricks to reduce calculation time.
Verbal Ability and Reading Comprehension:
Increase vocabulary so that you do not fumble when you come across new words in a Reading Comprehension passage.
Practice speed reading, while retaining comprehension so that you do not lose track of time while solving RC passages.
Question the author's point of view, so that you have a tendency to analyze and form your opinions.
Include variety. The more you read, the more you know. This way, Verbal Ability questions become easier.
Data Interpretation and Logical Reasoning:
Never assume information. Always take the information given explicitly.
Read the caselets given on the Data Interpretation questions. Do not get lost in the details and keep the bigger picture in mind.
Pay attention to words; they might be the deciding factor in eliminating certain options.
Draw precise arrangement tables to avoid confusion.
Practice different variations of questions from Logical Reasoning.
The most important thing to success is to set your goal right and aim for the best. Keep challenging yourself every day, and you will see improvement. Know what you want to do, hold the thought firmly, and do what you need to do diligently.
With the ultimate guide to crack CAT in your hands, plan your preparations for CAT 2021 and start your journey at the earliest. Watch various engaging and interactive videos at BYJU'S to learn the CAT exam topics more effectively.