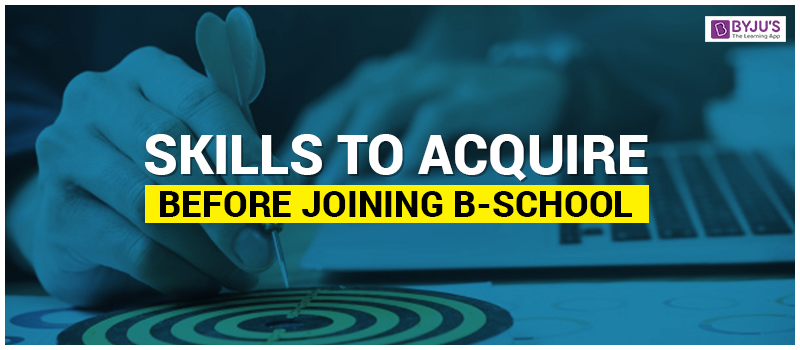 MBA aspirants desire to get into the top management colleges in the country. Working hard and clearing a tough entrance exam will only get you to a top B-school, but in order to sustain through the entire course, a candidate needs to acquire and develop a few important skills. With candidates coming from diverse fields and backgrounds, a few things you need to learn are given below
1. Soft Skills
When in a B-school, make use of all the opportunities that come your way. These given soft skills are extremely crucial to be able to cope up in B-Schools.
Develop your oration skills
To be a good orator, you need to interact more. Watch videos and read newspapers to improve your language.
With the advent of social media, connecting with people has become easy. Join forums to meet like-minded people.
The ability to motivate self and others is necessary. Take an initiative and lead others to take a part in it. In a B-school, leadership skills help you to explore yourself and the people around you which will help in your career.
2. Technical Skills
Before getting into a B-school, brushing up on technical skills acquired through graduation is necessary.
Know how to make an effective Business presentation. Apart from PowerPoint, learn to use other software similar to Prezi and Presentit. Also polish your skills on MS Office, VBA and Statistical analysis etc. as it will come in handy.
A few basic courses like Marketing, Economics and Statistics etc. help you build a foundation for the courses that are taught in the MBA program. Read standard books and online related to these subjects.
It is one of the core teaching methods pioneered by 'Harvard Business School'. Some of the most difficult situations in Business history are presented and a candidate has to come with a well-reasoned solution. Browse online for MBA case studies and understand the fundamental way of how a Business evolves and works.
3. Time Management
Last but not the least, managing time is very important. With hectic schedules and stiff competition, you need to learn to optimize time.
Skills are easy to acquire if you work towards them. With these skills, you will definitely be on the top. To know more about the CAT exam and other related details, stay tuned with BYJU'S. Apart from various exam information, candidates are also provided with various preparation tips and video lessons.