Cracking the CAT 2022 exam is a dream of many MBA aspirants. The winners of the race are destined to be the top minds of the country and usually go on to become world-famous CEO's and entrepreneurs.  Many spend years, trying to crack CAT while juggling their professional and personal lives together. But that need not be the case. You can easily crack CAT in the first attempt itself provided, you follow what is needed to get the final prize.

Important CAT 2022 Preparation Tips:
Here some of the most important strategies are given to help the aspirants know how to crack CAT exam 2022 in the first attempt.
 Start Early
While the repeaters need only a couple of months to revise, the first time takers need to start preparing early, at least a year before the actual CAT exam. This gives enough time to make sure the materials are covered and mocks are taken care of. Make sure you have a clear end goal in sight. It should not be just to crack CAT. But crack 99%ile in the first attempt. CAT is a challenging exam, but with enough head start and practice, anyone can get into the top 1%ile.
Make a Schedule
Make a Plan and Stick to it! Going into the trouble of creating a plan and not using it makes no sense and is a self-defeating purpose.  A schedule should have the number of hours you are prepared to study every day and when you expect topics to be completed.
Make a micro-target for every week and make sure you are set to achieve it. A target gives you a place to aim for and gives you the essential dopamine once you achieve it. Preparing for CAT in the first attempt calls for a meticulously written schedule that should be strictly adhered to.
Get the right tools
The right tools can be a lifesaver saving valuable time and effort. Tools selected should aid you from start to end. It must have features to motivate you towards the golden score of 100%ile. There are tons of tools out there from beginner concept materials to advanced preparations materials, from apps to traditional learning mechanisms.
It is recommended to use BYJU'S Learning App as your one-stop solution, helping you from the basics to being a champion. It has all the tools, from tracking your goals and planning your next move to helping you when you get stuck with the experts ready at any time of the day. Indeed, a personal tutor.
Take Mock Tests
Taking Mock tests are the key to winning CAT. The more the number of tests attempted, the better the chances of a higher score. Quality mocks are hard to come by and once you have invested in them, they give a wonderful sense of appreciation when you finish them and get the results.
Make sure you take more than 20-hour full-length mocks and at least 100-150 sectional tests. Sectional tests help you focus on concepts and make sure you get all the edge cases correct. Full-length tests usually consist of previous year questions and a prediction of questions that might come for the exam. It makes sure that you have concentration and physical ability to last the full exam.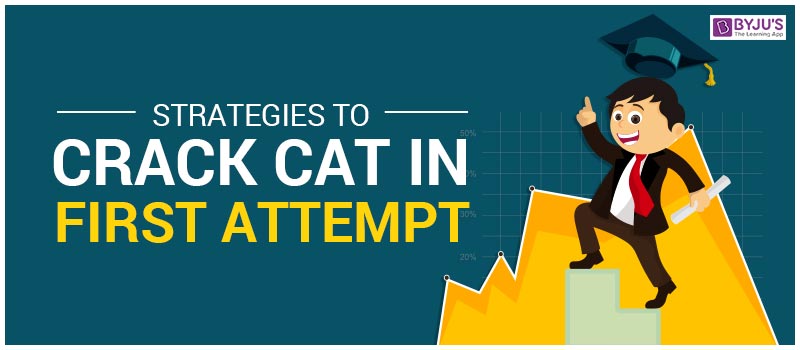 Analyze yourself  
Taking mocks only helps you if you use the results to analyse your CAT preparation. Sectional tests will have feedback loops that help you focus down on the topics you need to concentrate on. Repeatedly getting low scores on some topics indicate a need to go back to the basics and relearn.
Getting perfect scores on the same topics indicate a need to find higher order questions to tackle or to move to a topic you are less comfortable with. Analyse your core competencies and figure out areas to improve or move focus to.  Tools should guide you in the analysis of every component necessary in your exam preparation. It should point out the time taken per question, per difficulty level, per concept and accuracy.
With the right tools and the right mindset, cracking CAT 2022 in 1st Attempt is a trivial task.
Good Luck!!!!