Speed and accuracy are the two most crucial skills that a candidate needs to ace the CAT. Some of the important tips are given here to help the CAT aspirants improve their speed and accuracy while solving the CAT questions.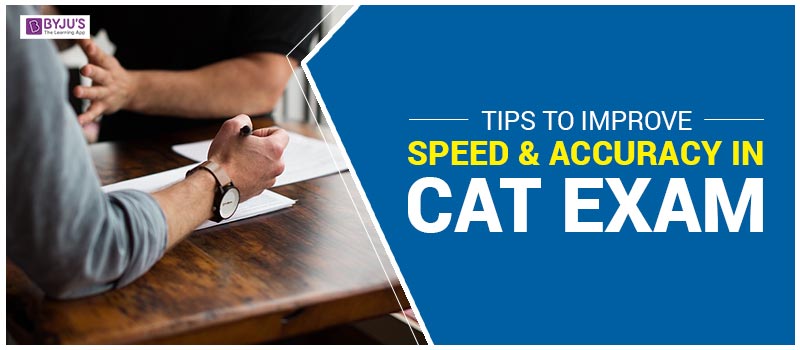 Key Points to Improve Speed while attempting CAT Paper:
There are three approaches to improve speed. These approaches are mentioned below in detail. With these mentioned approaches, one can easily enhance their speed and solve the CAT questions easily and quickly.
In the first place, lessen the time per question (try using shortcut techniques to solve CAT Questions). This would imply that either you would have to strengthen your concepts or use the elimination of answer choices. After each mock test, break down the questions and check whether there is a quicker approach to finding the solution.
The second approach is to have a superior sequencing of the questions you are attempting. That you will initially do the questions that take less time and after that rest of the other questions. This is something that you should do in any case. After each mock test, investigate your order of attempting questions.
The third approach is to leave the questions where you are stuck or which is taking more time. This will help you to improve speed and maximize the number of attempts. When you examine the mocks, check which questions you wasted time on.
Keep in mind: Speed won't originate from doing things quickly, yet it will originate from doing easy things first.
 Tips to increase your accuracy in the Verbal Ability section
With 24 out of 34 questions having a place with RC, it is extremely unlikely you can be normal on RC and clear the cut-off of the Verbal segment. You need better than expected capacity on RC and this need not be completely subject to regular ability.
More than regular ability and perusing speed you need a procedure to pick the correct entries, read them well, answer questions accurately and above all skip questions.
 Choosing the right RC passages:
Read the first passage of every RC.
On a size of 1-10, rate it as far as clarity (style and substance) for you.
1 being an intense substance that you are certain that you will never have the capacity to proceed further.
10 being a simple substance that you can read and comprehend.
Try not to proceed further.
Rehash the procedure for the various RCs.
After you rate every one of the entries, pick the 3 sections you have evaluated the most elevated and start fathoming them, beginning with the one you appraised most astounding.
 Focus on Accuracy, not on Attempts:
Try not to SELECT the correct alternative and ELIMINATE the inaccurate choices.
At the point when stuck between two choices, don't simply coordinate expressions in the alternative with phrases in the section. Tricky choices will have similar expressions yet broken rationale continuously go to the particular piece of the section. Check the rationale for the entry and the rationale in the alternative before you settle on a decision.
It is constantly superior to rehashing the two choices in the head and attempting to think which one is right. You have the section beside you, utilize it.
On the off chance that you can't pick between two alternatives, "LEAVE".
 Tips to increase your accuracy in the Reasoning and DI section
 A boost of the score in Data Interpretation:
Significant difficulties while handling CAT-DI Questions are illusions, relevance and consistency in regards to information. The informational indexes are intended to confuse. The test to break these sorts of inquiries is to quickly recognize, dissect and decipher the information. In the event that you deal with the accompanying focuses, you would have the capacity to enhance your score in the data interpretation questions.
 Calculation Speed and approximation Sense:
The Data Interpretation area is counted as serious. Sometimes the data provided are extremely intense. It is consequently, essential for you to get settled with estimations. All the applicable tables and squares of specific numbers should be at your fingertips.
 Be Careful to stay away from dialect traps:
It will be unreasonable to state that Data Interpretation is ONLY about estimations. So be careful with the language used in the question.
 Try not to waste time on one specific question:
Most of the students after the exam have a typical lament of not seeing a simple set and keeping themselves involved with the troublesome sets as it were. It is very conceivable that while examining, you pick information that looked less complex, however, while tackling, it ended up being extreme or profoundly estimation concentrated. You ought to segregate yourself from the informational index when you think that it's extremely intense or tedious, regardless of the possibility that you have put the time into it.
Also, try to stay away from Common Mistakes.
 Tips to increase your accuracy in the Quantitative section
The Quantitative Ability Section is a mix of significantly straightforward ideas merged with cutting-edge arithmetic.
 Accuracy is very important:
One essential determiner of your last score is your accuracy level. Any test isn't just about the quantities of questions you solve; yet additionally, about the quantities of questions you got right. One doesn't really need to attempt every question in the examination to score well. Keeping a precision-based approach can go far in enhancing your execution and enhancing your score profoundly.
 Pacing yourself in the exam:
It has been seen that some students stall out on one question and burn through 15-20 minutes on this question since they feel that they can solve this question. In this manner despite the fact that they can do that one question and appreciate the sentiment achievement, yet anyway, they neglect to understand that they are likely passing up a great opportunity for 5-6 questions which they could have done in a similar time. Thus moving on to the following questions instead of wasting time on a single question can help to boost up the score to a greater extent.
 Calculation efficiency needs to be very high
A decent hold over estimation helps in diminishing the time spent on each question. Learning tables up to 25, squares up to 30 and cubes to 20, performing quick increase and knowing approaches to discover squares and cubes of three-digit numbers in a solitary advance through Vedic maths helps out to attempt an increased number of questions.
The above structures some basic hints that ought to be remembered while preparing for the CAT exam, and in addition when one sits for the examination. The basic hints given above are an indication of the fundamental rule that candidates regularly neglect while comprehending questions in an exam and this can prompt ruinous results. So, with a specific end goal to be fruitful, ensure you calibrate your readiness utilizing the tips given above.
Keep visiting BYJU'S to get more such tips and strategies about the CAT exam. BYJU'S also provide several video lessons and solved sample papers to help the aspirants prepare more effectively for the exam.