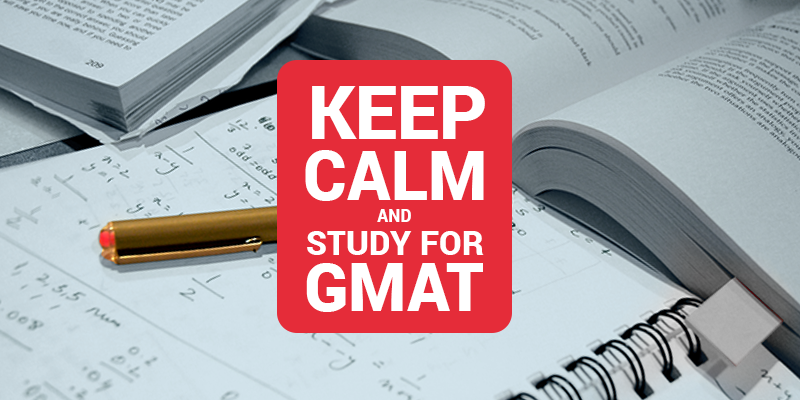 "Calm mind brings inner strength and self-confidence, so that's very important for good health." – Dalai Lama
GMAT or Graduate Management Admission test preparation demands a highly strategize preparation plan to achieve 700+ GMAT score, familiarity with the test contents, structure and exam question pattern and above all a calm and composed mind. GMAT contains two sections: Verbal Reasoning and Quantitative Aptitude; both are computer adaptive test which follow an algorithm and demand the quick problem solving tactics. The other sections: Analytical Writing Assessment and Integrated reasoning evaluate one's rational thinking skills. To have an edge in the test, must retain the calmness and the confidence to face the bombardment of the questions.
Here are 10 ways to head your preparation with a cool head.
Focus on Quality, not Quantity
Graduate Management Admission Council (GMAC) stated that a minimum of 120 hours of study is required to get through the GMAT test. One thing you should take into account, that it is common for all test takers. But if you're abiding by 2-3 hours study and able to retain all the topics later, then it's a very effective and efficient way of study. While studying for GMAT jot down your points and keep revising them in your free times. Besides learning and revising keep an eye on the maximum GMAT score demanded by the shortlisted B-schools.
Follow GMAT Official Guide 2019
GMAT Official Guide is the key to your success on the GMAT test. The Official Guide 2019 is a guide to prepare for GMAT test; it is a new collection of 1,500 real GMAT questions and Answer. You can take help of the Basic GMAT preparation books, namely:
The Official Guide for GMAT Review, 2019,
The Official Guide for GMAT Quantitative Review, 2019,
And The Official Guide for GMAT Verbal Review, 2019.
Don't fall in the trap of unauthentic books, it will deviate your preparation track. And thus it may exploit your time, make you fatigue and affect your performance.
Trust Your Abilities
GMAT is a one man game of 3.5 hours; hence, you should have faith on your skills, learning, and question-solving abilities. Dedicate more hours in strengthening your weakness. Practice more questions from the practice sets. If you want to take help of online coaching, you can take. Or else app-based learning are the new trends in the educational sphere.
Follow Your Study Plan
Don't rely on others study plan, they make it according to their timings and depending on their learning skills. Create your study plan, and strictly follow to it. An ideal study plan must contain equal time for each subject. And try to steal extra time to make your weakness a strong suit. Get yourself enough time to reconcile the points. This will help you in retaining the points during the GMAT Test.
Keep Yourself Updated
It is necessary to know all the facts and details related to the GMAT test. Before registration, go through it. Prepare all your needed documents before registering for the test and consciously to carry on the test day.
Register Before Preparing for the GMAT Test
In GMAT test, there is no specified test date circulated by the GMAC. The test is conducted all through the year, 12 months round the year. Hence, register yourself before preparing for it. Once you get yourself registered, you'll the urge of studying and thus it will keep you motivated to study hard.
Get All Information On Your Selected Program
MBA is a master degree program, but it offers some specializations to the aspirants. These specializations are like icing the cake. You should be well-known about how the program will foster your career, and what are accomplishments you'll gain after pursuing the particular specialization?
Prepare a Roadmap for Post GMAT
After appearing the GMAT, a lot more steps are yet to be taken before stepping into your dream B-school. These steps are:
Profile Building
Confronting Interviews
Arranging Funds to Finance MBA
Completing your VISA formalities.
Keep Calm
To perform well in an exam you need to study whole heartedly. Don't over pamper the study materials. Follow a lenient pace of doing the work. Excessive stress can cause fatigueness, exhaustive and gradually decline in the concentration power.
The following ways will help you to control stress:
Take proper sleep
Take break in between studies.
Eat something nutritious.
Listen to music.
Go out with friends
Re-Take GMAT, If Necessary
Always you can't meet your hopes; if you have taken down the GMAT test and you think you can score more than this. Then you should re-take the test. It is neither a bad thing nor a taboo. You can reschedule the GMAT test after 16 days from the date appeared.
BYJU'S will be glad to help you in your GMAT preparation journey. You can ask for any assistance related to GMAT and MBA from us by calling us at +918884544444. You can write to us at gmat@byjus.com.