If you were to think about one flaw with the Indian Education system, I am sure that the first thing that most of us would think about is how number driven all the members associated with this system are. No matter how talented and well-endowed we all were, the de-facto criterion for judgment always remained the numbers on our answer scripts and/or our report cards. To add fuel to fire, decent marks didn't suffice. We always had to get more marks that Sharma Ji's son, who was probably our neighbor and pretty much did all things that we did but ended up remaining the benchmark for our parents to compare our performance.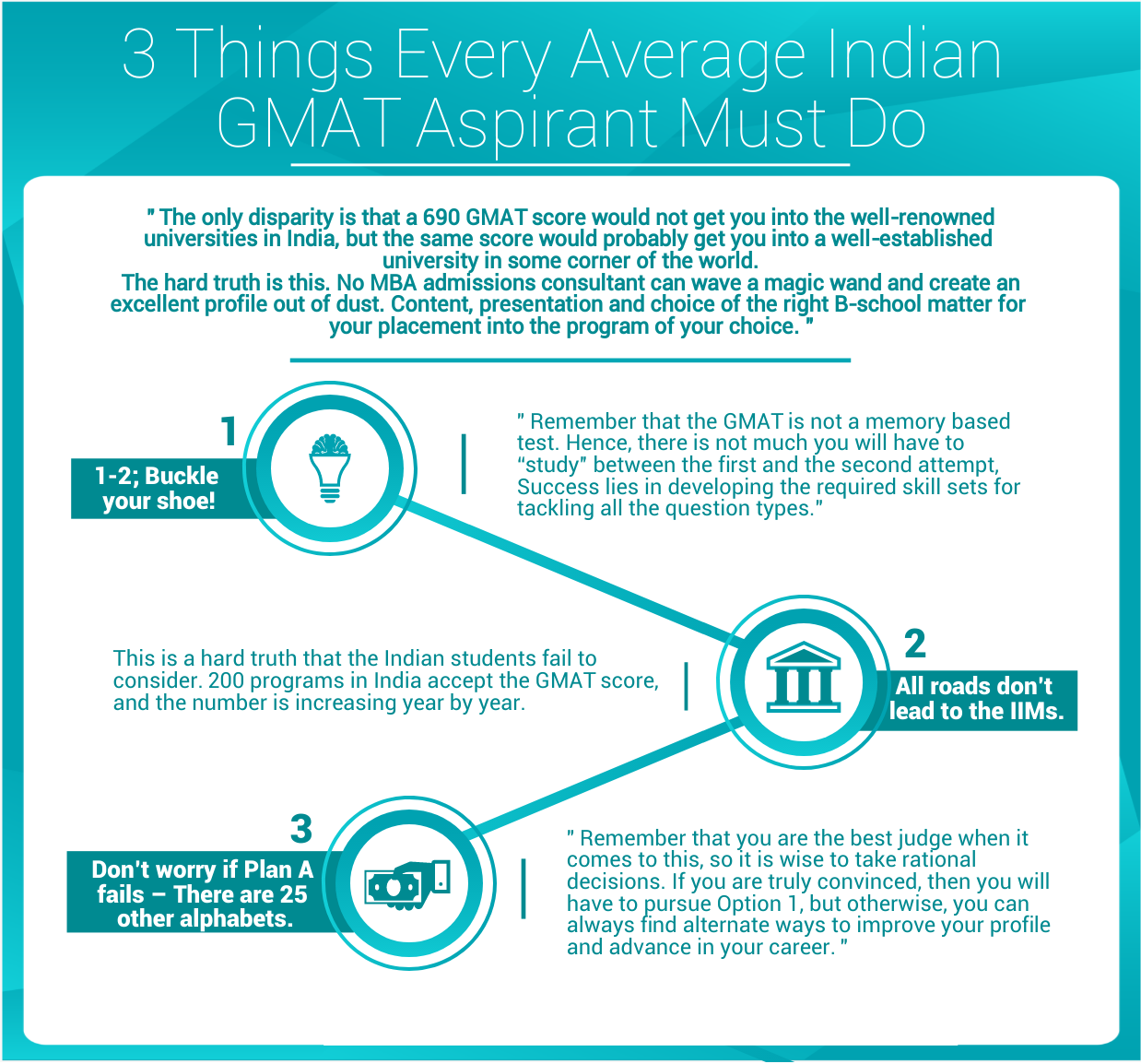 The GMAT market is more or less the same, especially in India. There are a lot of Sharma Ji's sons who push the average Indian GMAT score to such high levels that most of the times, even a 690, 700 or a 710 also doesn't look very great to the admissions committee of the Indian B schools, save the number driven mindset the members are from. Given all of these reasons, the GMAT still tends to be an insurmountable peak at least for the Indian test taker.
Global statistics on the other hand would add more gravity to what we are talking and would, in fact, surprise you all the more. The global GMAT average is around 540 which makes our "normal" 690 look very stellar. But the top schools of India namely the ISB and IIMs differ from the global statistics here and still consider "good" scores to be between 700 and 730. This is in fact given the fact that GMAT is just a part of the entire profile that is used to assess the candidate. So if your score is around the global average, then worry not! It would still place you into one of those programs that are not frequently talked about by your friends or are discussed on forums.
The global scenario is also very much similar. The only disparity is that a 690 would not get you into the well-renowned universities in India but the same score would probably get you into a well-established university in some corner of the world. It is also to be understood that this university might be well ahead than the Top Indian Universities when compared globally. However, most students still do not realize this fact and consider a logical end to their MBA dreams if they don't secure a high GMAT score. The hard fact is this. No MBA admissions consultant can wave a magic wand and create an awesome profile out of dust. Content, presentation and choice of the right B school matter for your placement into the program of your choice. Since many people fail to realize this, they make irrational B school choices and only end up wasting time and resources.
Nevertheless, if you still think you are among those candidates mentioned above, then here are some options that you might want to consider before you declare failure.
1. 1-2; Buckle your shoe!
If you have gotten an average GMAT score and think that all the components of your profile are stellar, then the only option that you have is to re-take the GMAT and get a great score. Remember that the GMAT is not a memory based test. Hence there is not much you will have to "study" between the first and the second attempt, Success lies in developing the required skill sets for tackling all the question types.
2. All roads don't lead to the IIMs.
This is hard truth that the Indian students fail to consider. There are 200 programs in India that accept the GMAT score and the number is increasing year by year. You can find a list of schools that accept the GMAT in India in the link below.
Hence, stop fretting and see if you can fix your mind on one of these schools specified. However, since these schools do not have as much reputation as an IIM or an ISB would have, it is always safe to be well aware of the implications that you may have to face once you are launched into the job market post MBA.
3. Don't worry if Plan A fails – There are 25 other alphabets.
If GMAT isn't your cup of tea then that doesn't mean it's the end of the world. Ask yourself whether doing an MBA seems imperative to you given the point of career you are in. Remember that you are the best judge when it comes to this, so it is wise to take rational decisions. If you are truly convinced then you will have to pursue Option 1, but otherwise, you can always find alternate ways to improve your profile and advance in your career.
If you have written the GMAT, but do not know how to interpret your scores, don't hesitate to contact our team TODAY!