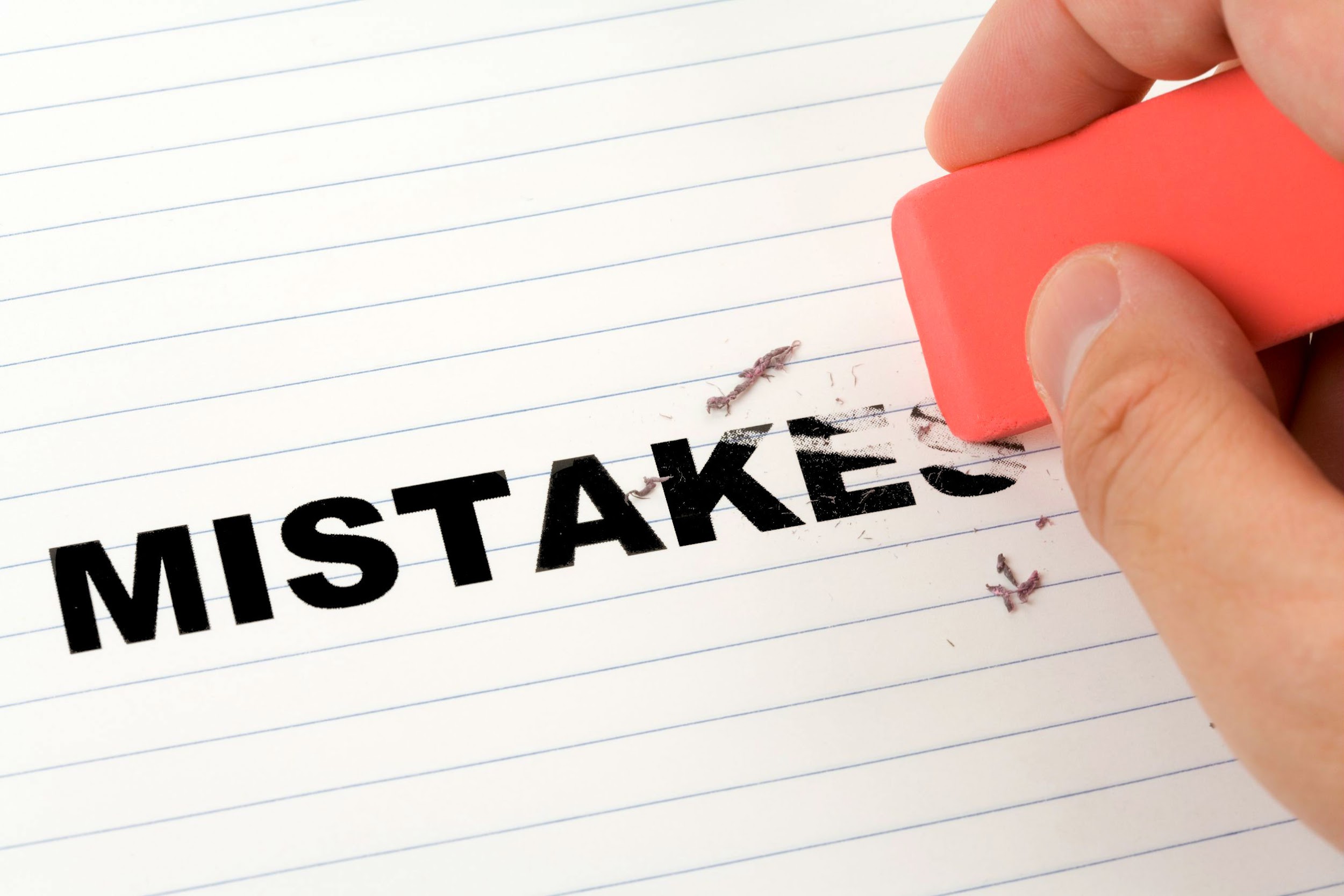 "Insanity is doing the same thing over and over again, and expecting different results"
– Einstein
Preparing for the GMAT exam is a tricky task. Even with the right prep strategy in place, you might still find yourself struggling with one problem after another, or unable to let go of that one question that keeps nagging you like something caught between your teeth. When you're preparing for the GMAT test on your own, it becomes a tougher challenge to overcome.
Discipline – before, during and after each mock test is usually the biggest casualty when there are no institutes enforcing a GMAT-like atmosphere, no friends to play Test Administrators and no mentors to scan your mistakes. At BYJU'S, after having a lot of one-to-one interactions with our students, we've distilled some of the most common blunders you might make (or already be making) during your GMAT preparation and how to avoid them with ease.
One-shot Approach
GMAT is one of those rare competitive exams that give you the chance to retake the test as often as you want, allowing you a second chance to qualify in the same academic year. So you need not worry about "Putting all your eggs in one basket". While each test does cost a pretty penny, it helps to retake the GMAT exam as per your convenience.
You can go for a diagnostic test or two to kick-start your GMAT preparation for the whole exam-day process from beginning to end, serving as a dry run for a more serious attempt at the next available slot. Keep your worries at bay if you end up scoring low. Unlike other competitive tests, you don't have to waste an entire year to attempt the exam all over again. GMAT can be attempted up to 5 times in a calendar year with a 16-day gap between each attempt.
Too late to get through the gate
When you schedule your test, always ensure that you do not take it too late to have a GMAT retake, should you need it! Planning for a retake of the GMAT exam (which you might not need) that's still within your preferred B-school's admissions window is what smart candidates do. After all, it is better to have an extra arrow in your quiver and not need it, than to have none when you need one!
As stated above, you have the option to retake the GMAT exam up to 5 times in a 12-month calendar year so you need not fret just in case you have obtained a low score. You can always scrutinize your strengths and weaknesses and spot areas where you went wrong and work on the problematic areas so that in your next attempt you can overcome the same. It is definitely beneficial for the candidates to do a Strengths and Weaknesses analysis so that they don't repeat the similar errors in the following attempt.
Consistency and Over-confidence
There is a saying we have about mock tests – the last thing you must be happy with is a consistent score (unless it's 760)! A mock test must familiarize you with the rigors and demands of the GMAT exam. Since the GMAT is a computer-adaptive test, a steady score essentially means that you have not improved significantly enough to face tougher – and higher scoring – questions. Thus, a steady score across different mock tests should not lull you into a false sense of security. Instead, your aim should be to score higher each time.
There is no certain way to overcome the adaptive test so the only measure you can adopt is to familiarize yourself with the GMAT exam pattern. The mock tests only ensure that you are more prepared for this type of testing and it is not something unfamiliar for you. Keep in mind that the simulated tests can only give you an approximate score range which you may fall under which might not be completely accurate at all times. As a matter of fact, mock tests enable a candidate to get accustomed to the GMAT testing conditions like – the break schedules, no use of a calculator in the Quantitative section and of course the time management skills for solving each section.
Partial Preparation
Different schools of thought guide candidates differently. Some advise you to concentrate on your weaker areas; others advise you to bank on your strengths. Neither technique will guarantee you success on the GMAT exam, which requires you to have in-depth knowledge of the length and breadth of the test topics.
The only way to guarantee a high score is to diligently and equally practice all sections and different question types. This is where a study plan plays an altruistic role since it helps you to keep track of the progress you have made so far. It also assists you so that you don't miss out on any of the important topics or overlook some categories either.
Ideally, preparation is the key element for the GMAT exam and it is vital that you are not negligent of this aspect. Planning and executing different study strategies will definitely prove beneficial at the time of the exam.
Obsessing over Questions
Some questions, we know, will be difficult to let go. They nag at your sense of accomplishment or mock you with their remarkably-easy solutions. In any case, don't get wedded to a particular question. Pursuing tough questions is something that seems obvious enough, but you must ensure that it does not turn into an obsession that takes away time that you need to spend on other topics.
Set yourself a hard deadline if you catch yourself in the grip of a question that won't let go – sometimes, a fresher look a few hours later does a wonderful job of making everything look simpler! Pacing yourself is another critical element, where you need to allocate time appropriately for each section. Devoting too much time on a single section or too less time on any section is highly not recommended. Both of these could cost you a precious few points towards your total GMAT score.
Taking your mock test scores too seriously
We can't emphasize this point enough! Many GMAT applicants consider mock tests' scores as the only indicator of how you might do on the actual test. Although this might be conditional on various other factors such as the complexity of the mock tests, the environment you practice in, the mental space you are in on the day of the test, etc. However, beyond that, practice scores account very little.
The important thing is how you prepare for every mock test. As mentioned earlier, these tests can only provide you with an approximate range of GMAT scores which you may end up with. They are not 100% accurate and therefore, you must not either be complacent/overconfident or dejected/disappointed with the scores you receive in the mock exam. Determining your actual GMAT scores on the basis of your mock scores is not a wise idea as you may encounter a completely different outcome at the end of the day. Click here for a free GMAT Online Mock Test.
Going overboard with your GMAT Prep
Preparing for the GMAT is not a short-term commitment. It will take time to identify and eliminate bad test-taking habits, sharpening your skills and knowledge sets, to get into a comfort zone with the test's conditions and requirements. We would recommend sticking to a typical mock test regime a few weeks before the actual test which will help you to identify your weaknesses and augment your strengths. Given the intensity of this exercise, burnout is always on the cards.
Prep fatigue can typically strike in the last few days leading to the test – the 'home stretch' if you will – which result in diffidence, overconfidence or carelessness; it can destroy focus and disturb your state of mind to the extent that you might forgo your strategy or might even freeze it. Therefore, the key is to schedule your mock test and actual test in such a way that you hit the latter at the peak of your focus. If you feel prep fatigue coming on, take some time off to refresh and reorient yourself.
Setting yourself up for failure
Unlike other competitive exams, the GMAT exam is specifically designed to highlight a candidate's skill profile. Thus, it is entirely possible that some of you may record a high GMAT score while others might not, perhaps on account of just a section or two. It is essential that you understand your limitations, rather than getting discouraged. At this point, try to rework your strategy to maximize the chances of conversion.
To put it bluntly, not everyone is going to score in the mid-to-high 700+ range, but there is no dishonor in being a 680er if it fits in with your overall MBA goals. There are plenty of good B-schools that take candidates with a 650+ score if other criteria are met. You can always build a strong profile by strengthening the other aspects of your application namely – SOP, LOR, completing internships and acquiring various online certifications.
Have been wondering how to prep up for the GMAT exam diligently? BYJU'S will be glad to help you in your GMAT preparation journey. You can ask for any assistance related to GMAT and MBA from us by calling us at +918884544444. You can write to us at gmat@byjus.com.