Financial aids are the actual burns to remit the burning sensations acquired from financing your MBA degree cost. The selection of a B-school is also influenced by the cost involved. We all know that pursuing an MBA degree is an expensive affair including the GMAT exam fees. You have to be a keen observer of the factors that could recede your MBA cost. Here are seven financial aid tips for MBA from BYJU'S.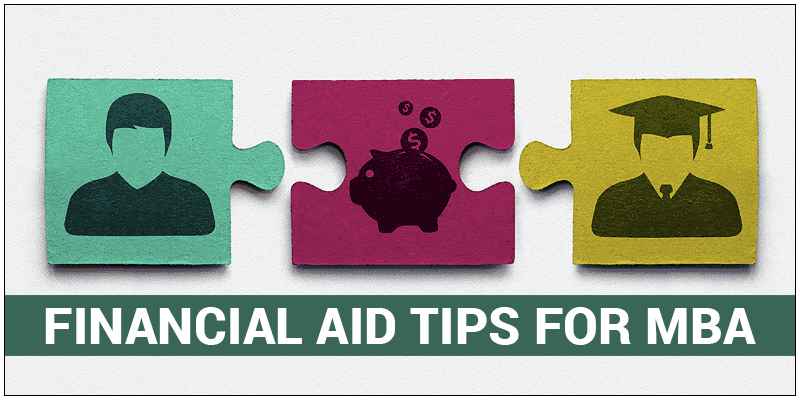 Analyze Your Financial Stability:
No one else will be aware of your financial stability better than you. So it is necessary to evaluate your financial credibility by assessing how much debt you can manage and what methods you have to adapt to repay it within time. Every student comes from different backgrounds and has different financial resources. So don't compare your debt amount with others. You should be conscious of the costs which you will incur during your entire course of study, taking into account living expenses in addition to your MBA fees etc. On the basis of this you should take steps accordingly to determine where you could stay – if you could afford to stay by yourself or if it is more prudent to opt to share your accommodation with a fellow student?, If you can manage to eat out on a daily basis or if it is economical to learn to cook your own meals, etc. Simple decisions like the above can go a long way to help you save a lot of money.
Also Read: Top Executive MBA Colleges in India Accepting GMAT Score
Save Your Money:
Undoubtedly, MBA is a costly affair. And to bear the expenses you have to save money. Think in a way that for example – you are a finance manager at ABC Company and you have to maintain an adequate balance between costs and profits. As you're getting to hold an MBA degree, you should enable your thinking process in that paradigm. This process is sure to assist you in avoiding unnecessary expenses. You should keep a tab on certain expenses which can be avoided as every penny you save will have an impact on your total savings eventually. Any extravagant shopping or dining out frequently, attending parties etc could be cut down since these would count as reckless spending when you are already on a limited budget.
List Down the MBA Scholarships:
Though the MBA scholarships are hard to earn, it will be a profitable deal in the long term. Your soul will not crush under the pressure of repaying the incurred loan along with interest. Check all shortlisted colleges and gear yourself accordingly to meet all the requirements to attain the scholarships. You will have to do appropriate research so that you are well equipped to meet the demands which universities have in place for granting scholarships. Applying early before the deadlines for the scholarships will give you a competitive edge over the other applicants. Ensure that your application satisfies most or all of the criteria which the Adcom has for granting scholarships.
Look for Family and Company Assistance:
The family is the first chord in helping you meet the financial crunches you may face while pursuing your Master's degree. Asking family for financial help is always a good thing as there will be no rate of interest charged. Sometimes, the company you work for also will come forward to help its employees to meet any financial challenges, however, they may charge a certain percentage of interest rate. Companies almost always have certain clauses in place which you will have to agree to before they grant you financial assistance. Always clearly read the terms and conditions of the offer they provide before you accept the same as you wouldn't want to overlook any minute details which could be problematic at a later stage.
Assess Your Living Expenses:
Indeed, MBA is the second most expensive course which students opt to study. This massive cost structure includes your tuition fee, academic charges, and living expenses. Most often students take tuition fee and academic charges in their priority and give less value to living expenses. In fact, living expenses are like rodents which can dig a hole in your budget. You should be very careful about managing a living expense which incurs food cost, rent, traveling, weekend fun and many other small expenses. These expenses have to be carefully estimated and planned in advance. Create a budget which helps you to maintain your finances in a proper manner. Stick to the same at any cost. When drafting your budget do keep in mind your requirements and goals. Also, set yourself realistic goals on the savings you wish to obtain over a certain period of time.
Also Read: Planning to Write GMAT 2017? Here's What You Need to Know
Calculate Your Post-MBA Salary:
You must be wise and should have a strategic plan to follow after obtaining your MBA degree. This includes a minimum idea of the salary you'll acquire post MBA. This is very important to ascertain because you have debt over your head and you will have to repay it as soon as possible since otherwise you are set to become a defaulter. This will ruin your credit reputation. If you have completed your MBA degree at one of the top institutes then you can rest assured that you will receive a lucrative job offer from some of the most esteemed companies. Since you have completed MBA the positions you will be offered will be either mid or high-level managerial roles. You could make use of your college's extensive alumni network to help you in assessing how much on an average you could earn on completing your MBA degree.
Evaluate the Factors At the Time of Incurring MBA Loans:
Before taking the MBA loan, you should analyze the factors associated with it. The main point you should take into account is the Rate of Interest, and in which currency you're applying for the loan. Sometimes, the change in the value of currency exceeds the debt amount to certain bucks.
We'll be glad to help you in your GMAT preparation journey. You can ask for any assistance related to GMAT and MBA from us by just giving a missed call at +918884544444, or you can drop an SMS. You can write to us at gmat@byjus.com.