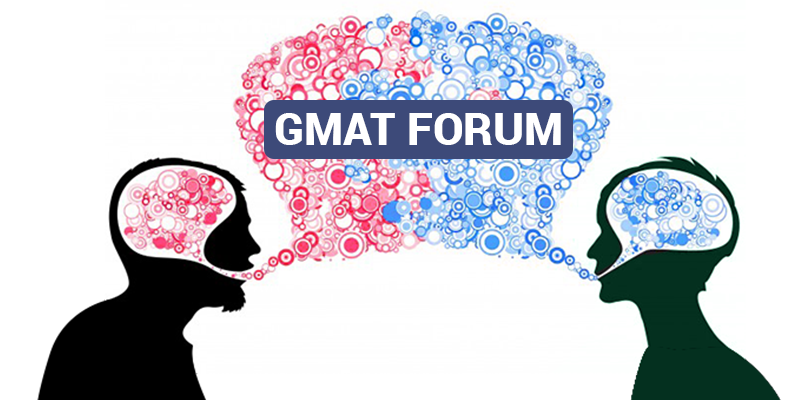 An internet forum or a message board are the discussion site available on the web. In these forums, people can hold a discussion after posting a question as a message. GMAT Forum is also one such concept where GMAT aspirants post issues related to the test subjects like Quant, AWA, or verbal or IR, and the members participate in the discussion & state their point.
What are the advantages of GMAT Forum?
GMAT aspirants can answer other's questions and reply to their queries. It definitely saves time and lets every GMAT aspirant and mentors interact.
In the discussion, if you or a member answers someone's question — especially in a detailed way  — this information can be referenced in the future, so you don't have to remake it every time someone asks you the same question.
Here GMAT aspirants give different ways to acquire correct answer, for free, fresh content that is rich in keywords and is attractive to search engines.
GMAT aspirants feel free to share ideas on how you could improve their skills to solve questions and get innovative and relevant points to strong their answers.
The extra glitters of being a GMAT forum member:
Counselling questions:
The GMAT forum consists a section which is related to the counselling part. If you want are trying very hard to achieve your accomplishments but you're unable to do so. Then you can take help of counsellors as they are well experienced. You can ask questions related to GMAT like: How to prepare for GMAT in two months?
GMAT exam related questions:
In the above section, we mentioned that there numerous answer to one question. Hence without any shy anyone could put any question in this forums and valuable and relevant answers those are very necessary and can be used for future reference. You'll get the answers of questions like how to prepare for a video interview?
Quant questions:
The quant section questions are elaborately solved here with proper using of shortcuts and techniques. Hence these are very useful to acquire and all of it free of cost.
Verbal sections:
GMAT requires in-depth knowledge of English vocabulary, and grammar basics and skills. Eventually, participation in GMAT forums increases your vocabulary and enhance your grammatical skills.
We'll be glad to help you in your GMAT preparation journey. You can ask for any assistance related to GMAT and MBA from us by calling us at +918884544444. You can write to us at gmat@byjus.com.