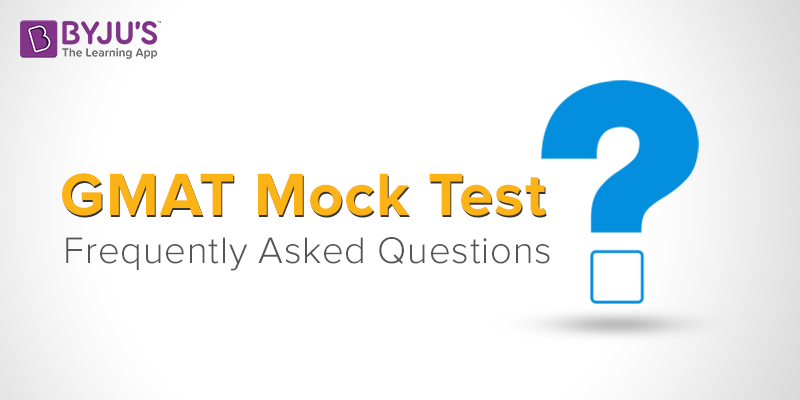 Mock tests are considered an important aspect of preparing for the GMAT. Almost everyone takes mock tests while preparing for a test – be it GMAT or any other. However, some take it the right way while some don't. This is because of the fact that there are a lot of unanswered questions about taking Mock tests while preparing for the GMAT.
GMAT Mock Tests FAQs
In this article, we have tried to consolidate all the frequently asked questions about GMAT Mock tests and we have tried to answer them as well.
1.Should I really take a mock test? Can't I just solve questions before I write the real GMAT?
The answer to this question is a straight NO. It is essential that one takes at least a couple of mock tests before writing the actual GMAT because the real GMAT then becomes very predictable. You will minimum be sure that you know how it feels like to write this 4 hours long and demanding test. Hence, if you think you can write the test without appearing for mocks beforehand, then you're setting yourself for deep trouble on the day of the test.
2.Why should I take a mock test? What's the use?
Consider yourself answering this question; "How long does it take to get to Delhi?". Will you be able to answer this question? Wouldn't you want more details to the question such as "From Where?", "Mode of Transport" etc. A mock test serves exactly the same purpose. It gives you a ballpark figure of where exactly you are so that you know the required amount of hard work that needs to go in to achieve that dream score of yours. It also helps in testing yourself and Official tests also predict your score to a great extent.
3. I seem to know all the concepts. Should I just give mock tests and write the real test?
Taking a mock test is like using a thermometer. Using a thermometer will only tell you how much temperature you are running. It doesn't help lower the body temperature. Similarly, taking a mock test will tell you the areas where you need to start working – It is no magic to increase your score in any way just by taking mock tests.
4. How many mock tests should I take?
Preparation for the GMAT is qualitative and can thus never be quantified. Every test taker and his requirements are different and hence there cannot be any definitive answer to this question. However, one can determine when to stop taking mock tests and write the actual GMAT. If you hit your target score three times consistently while taking the mock tests, it is an indication that you can stop taking mocks and register for the actual GMAT.
5. How frequently should I take the mock tests?
Most blogs would advise you to take one mock test a week. However, there is absolutely no point in taking one mock test a week in your initial days of preparation when you don't even know the question types that are tested on the GMAT. Hence, ideally, the following test-taking frequency is considered healthy.
Take the first test before you start preparing.
Take the second test after you have learned your concepts, and finished solving the OG, VR and QR.
Take the third test after you have gone over the mistakes done so far in the first two tests, OG, VR and QR.
From the fourth test onwards, take a test once in a week while simultaneously solving hard questions until you hit your target score thrice.
6. Which are the recommended tests that I can take?
GMAT is a standardized test with a crazy algorithm. It is said that the R&D team of the GMAC spent years and millions of dollars, which no test prep company can replicate to create the actual GMAT. Hence, the recommended tests would be the one that GMAC itself offers. There are 2 free tests that come in a CD along with the OG. There are 4 other tests that roughly cost 100$ in total. They are all worth buying because they are by the makers of the test and thus are close to the actual GMAT in every way possible.
In addition to the tests, there are also a lot of practice sectional tests available from the GMAC itself. When there is sufficient official material, what more do you want? You can pick and choose from all the official material available.
BYJU'S will be glad to help you on your GMAT preparation journey. You can ask for any assistance related to GMAT and MBA from us by just giving a missed call at +918884544444, or you can drop an SMS. You can write to us at gmat@byjus.com.