Preparing for the GMAT is no easy task it involves a lot of dedication and adequate efforts to be contributed since it is one of the toughest competitive exams. Therefore it is imperative that you have the expertise and guidance of a highly knowledgeable and competent professor to assist you throughout your preparation journey.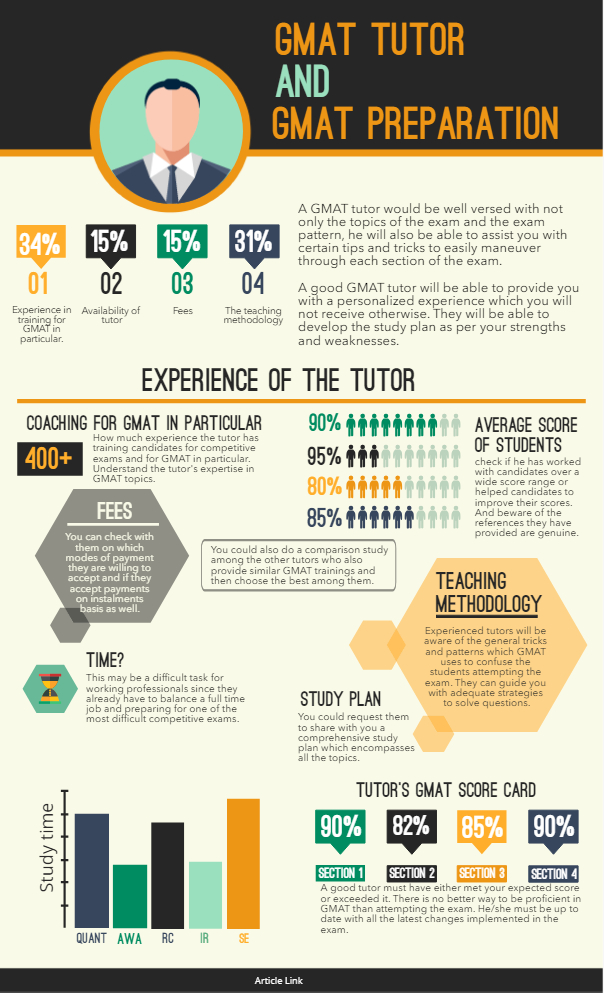 As you must well be aware that GMAT consists of: Quantitative Reasoning, Analytical Writing, Verbal and Integrated Reasoning. Each of these sections requires individual attention and time to be allocated to it. There are several practices which you can adopt to ensure you successfully handle the GMAT preparation. However, while you may be adept at learning on your own there are certain skills and proficiencies you may gain only with sufficient experience. This is where the role of a GMAT tutor comes into play. A GMAT tutor would be well versed with not only the topics of the exam and the exam pattern, he will also be able to assist you with certain tips and tricks to easily maneuver through each section of the exam.
Check out
the GMAT Eligibility Criteria for 2019
In addition to the above a good GMAT tutor will be able to provide you with a personalized experience which you will not receive otherwise. They will be able to develop the study plan as per your strengths and weaknesses. However before you go ahead and decide upon a tutor it is necessary for you to ask them a few questions so that you will know what to expect when you commence using a GMAT tutor. A few of the questions which needs to be posed to the tutor are listed below. These will help you determine the credibility of the GMAT tutor so that you can effectively prepare for the GMAT exam:
How much experience the tutor has training candidates for competitive exams and for GMAT in particular.
This will give you more insights on what their forte and expertise is in. You can base your selection according to the same since you may require more assistance in particular subjects compared to the others.
If the tutor is available part time or full time?
This could play an important role in determining if you would want to use the particular tutor since if he is available only on a part time basis then you may have to adjust your schedules to match his availability only. This may be a difficult task for working professionals since they already have to balance a full time job and preparing for one of the most difficult competitive exams.
What are the number of students the tutor has coached and what their average results look like?
You will be able to judge the competencies of the tutor and if the classes they conduct are truly beneficial. You could also check if he has worked with candidates over a wide score range or helped candidates to improve their scores. This could once again help you gain a clear view of the efficiency of the professor. At the same time beware of unrealistic score improvements or if the references they have provided are genuine.
If the tutor has attempted the GMAT exam himself/herself? What was his score and if you could see a copy of the detailed score report
While this question may seem intrusive it is necessary for you to get an idea about how familiar they are with the exam themselves. There is no better way to be proficient in GMAT than attempting the exam. You will get a firsthand experience of the pattern of the exam, the types of questions you may be asked in the exam, the scoring patterns in the exam and various other important aspects. A good tutor must have either met your expected score or exceeded it. Also ensure that the score is not older than 5 years, he/she must be up to date with all the latest changes implemented in the exam.
What are the fees which you charge? What is the mode of payment which you prefer?
This is another crucial factor which affects your decision of choosing the particular tutor or rejecting them. While it may be expensive to hire a personal GMAT tutor it must still be affordable and not end up burning a hole in your pocket. You can check with them on which modes of payment they are willing to accept and if they accept payments on installments basis as well. You could also do a comparison study among the other tutors who also provide similar GMAT trainings and then choose the best among them.
Do they regularly assign tasks like reading assignments and solving problems?
You must check with them if they systematically allocate homework since only regular practice makes any candidate experienced and capable to handle topics of varying difficulties in the GMAT exam. Practicing on a daily basis allows an individual to stay on track and it also helps the tutor to monitor the progress which the candidate has made so far. It is certainly helpful if you have a structured plan to map out your learning for the GMAT exam.
What is the teaching methodology which they use? And if they are familiar with the test traps which the GMAT exam has?
Finally it is essential that you learn what teaching methods the tutor uses so that you can evaluate whether the same will suit your needs. You could request them to share with you a comprehensive study plan which encompasses all the topics in the GMAT exam (Verbal, Quantitative and Analytical Writing). If the tutors are experienced then they would well be aware of the general tricks and patterns which GMAT uses to confuse the students attempting the exam. They will also guide you with adequate strategies to overcome the same.
BYJU'S will be glad to help you in your GMAT preparation journey. You can ask for any assistance related to GMAT and MBA from us by calling at 088845 44444, or you can write to us at gmat@byjus.com.