From the time you check the GMAT exam centers in India, till you check out after completing your exam, you are bound by certain rules and regulations set by the GMAC. Here are some essential GMAT Rules & Regulations that you need to know so that you don't make an expensive mistake.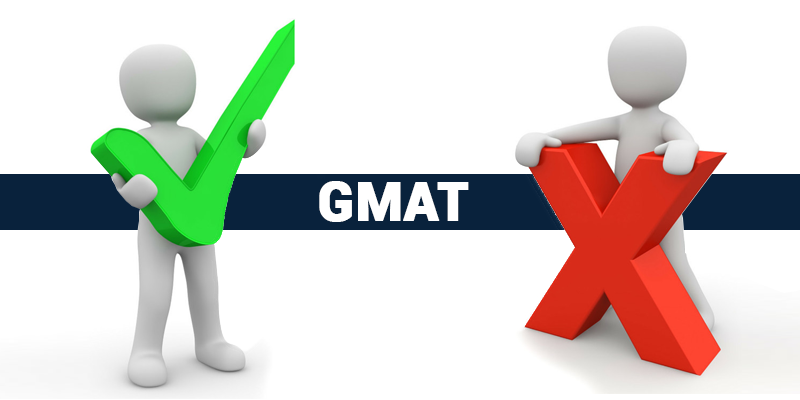 These rules are clearly stated in the GMAT Handbook. You must agree to all terms and conditions at the time of registration and again when you sit for the exam at the test center before you are allowed to take the GMAT exam. Failure to comply with these activities will result in your candidature being barred from taking the test and forfeiting of the exam fees. We have listed a few GMAT Rules & Regulations: Do's & Don'ts for your easy reference:
Permissible:
During check-in, you will be asked to present valid identification to the test administrator.
Your signature, biometric palm vein scan, and your photograph will be digitally recorded, followed by an audio/video recording in the testing room.
Before the GMAT exam starts, you will also be required to accept the GMAT Non-disclosure Agreement and General Terms of Use electronically.
Testing begins promptly as soon as you are seated at your assigned workstation. You have approximately three and a half hours, including breaks, to complete the test.
Two optional breaks are scheduled during the test administration. If your breaks exceed the time allowed for them, the excess time will automatically be deducted from the time you are allocated to complete the next section of the test.
Testing premises may be monitored by CCTV systems and/or other means.
At any point of time after checking in and before checking out, you will require the test administrator's permission to leave the room. At every instance of entry or exit, you will be asked to submit your palm vein scan for verification purposes.
During breaks, you must remain within the test center building and be in close proximity to the test room. This policy varies depending on the test center, and it is your responsibility to clear with the test administrator where you are permitted to go.
In the event you require assistance with your terminal, need note boards or need to bring to the attention of the test administrator anything related to the test, you will have to raise your hand and then wait for the test administrator to approach you.
At the end of the exam, you may be asked a further series of questions regarding demographics, background, graduate school preferences and whether you would like to participate in surveys or receive information from GMAC, graduate business schools, scholarship organizations, and/or certain strategic partners of GMAC involved in the Graduate Management Admission Search Service (GMASS).
Non-Permissible:
You are not allowed to use any testing aids (pens, pagers, calculators, beepers, watch calculators, pamphlets, books, notes, cheat sheets, blank sheets of paper, stereos or radios, rulers, mobile phones, stopwatches, alarm clocks, dictionaries, translators, personal data assistants, and any other digital or photographic devices during the test, including the breaks.
The test administrator will provide you with a booklet of five (5) note boards. If/when you require more note boards, you will have to raise your hand; the administrator will then collect the note boards you have and issue fresh ones. You must not remove the note boards from the testing room in the course of the test or after it, and you must return them to the administrator after the test.
You must not contact or talk with anyone else about the GMAT exam while the test session is underway, or during the optional breaks, or after administration of the test before you have checked out and left the test center.
You are also not allowed to consume food or drink in the testing room, but you may store these in a locker assigned to you (subject to availability at the time of check-in). You are, however, barred from smoking or using any tobacco product until you have checked out of the test center.
If you violate the policy of the test center, the administrator may decline to allow you to re-enter the testing room to continue your exam. If you exceed the time allocated for any of the optional breaks, the extra time spent will be adjusted against the remaining exam time, usually from the very next section.
Communications with anyone other than the test administrator, electronically (through phones or other means) or otherwise, will not be permitted during the test, including the breaks.
You are not permitted to speak up without the test administrator's permission as this can disturb other candidates.
For the Analytical Writing Assessment (AWA) section of the GMAT exam, you will be required to compose one original essay. Plagiarism is unacceptable. As per all other test records, the AWA essay is the property of GMAC and not the examinees.
Removing or making an attempt to remove test content from the test center is strictly prohibited. Candidates must not remove, reproduce or disclose verbally, in writing or electronically (including but not limited to chat rooms, boards or forums) to a third party any part of the test content. This prohibition is in force before, during, and after your GMAT exam.
The test administrator can summarily expel you from a test session for various reasons including, but not limited to, providing false information, impersonation, failing to provide acceptable identification, possessing personal items or testing aids that have not been approved by the test administrator or contravene GMAT rules. If you refuse to comply with an administrator's requests or directions, give or receive help from other candidates or unauthorized sources, or attempt to tamper with the computer, or refuse to follow directions or fail to adhere to any other procedure, policy, guideline or rule, you are likely to be denied permission to continue with the test session.
Any violations of these rules will be observed and documented by the test administrator, and the report will then be submitted to Pearson VUE, GMAC's authorized administrator for these tests.
Universal GMAT Policy Violations:
The following are a few examples of common policy violations. Any kind of policy violation may result in a minimum 31-day wait to retest, cancellation of scores, sending of a notification to B-Schools, forfeiture of test fees and may finally lead to a ban on testing for up to three years.
Policy Violation
How to Avoid it?
Outcome of a Policy Violation

Accessing any of the below:
Mobile phones
Electronic devices
Music players

Store all types of electronic, or communicative devices for later use. It is advisable not to access or use them at any time (even during the breaks) once you've checked into the testing center.

Score revocation
Ban from taking the test for up to three years
Notification would be sent to B-Schools
Forfeiture of test fees

If found accessing the study guides
We recommend that you store all your study materials, revision guides or written notes, in your allocated locker until you complete your exam. Even during your breaks, referring such notes is not permitted.

Score revocation
Ban from taking the test for one year
Notification would be sent to B-Schools
Forfeiture of test fees

Storing cheat sheets or improper items
Please store all items in your locker and refrain from storing cheat sheets in any other area, like restrooms, in your dress pockets, etc.

Score revocation
A possible ban of one year from taking the test
Notification would be sent to B-Schools

Please refer to your GMAT™ Handbook to skim through the list of serious policy violations or offenses and their outcome.
The Graduate Management Admission Council (GMAC) and Pearson VUE have every possible right in their favor to take any and all corrective action(s) deemed appropriate in a case of non-compliance of test rules, policies or procedures. This is not just limited to restricting an applicant from taking the test in the near future but may also lead to canceling or withholding the individual's scores, or/and reporting any rule violations, deception, or other inconsistencies to B-Schools or other relevant third parties, including law enforcement authorities. If your scores are withheld or canceled, they will not be reported to the concerned parties, and your entire test fee will be relinquished.
Although all of this might seem a little overwhelming, don't worry! We, at BYJU'S, will always be around to guide you before you take your GMAT. You can reach us anytime on +918884544444or email us at gmat@byjus.com.
Must Read Articles for GMAT 2019: