Indian School of Business (ISB) is one of the prestigious business school located in Hyderabad and Mohali, India. The school is known for its world-class business and management programs with Post Graduate Program in Management (PGP) as its flagship course.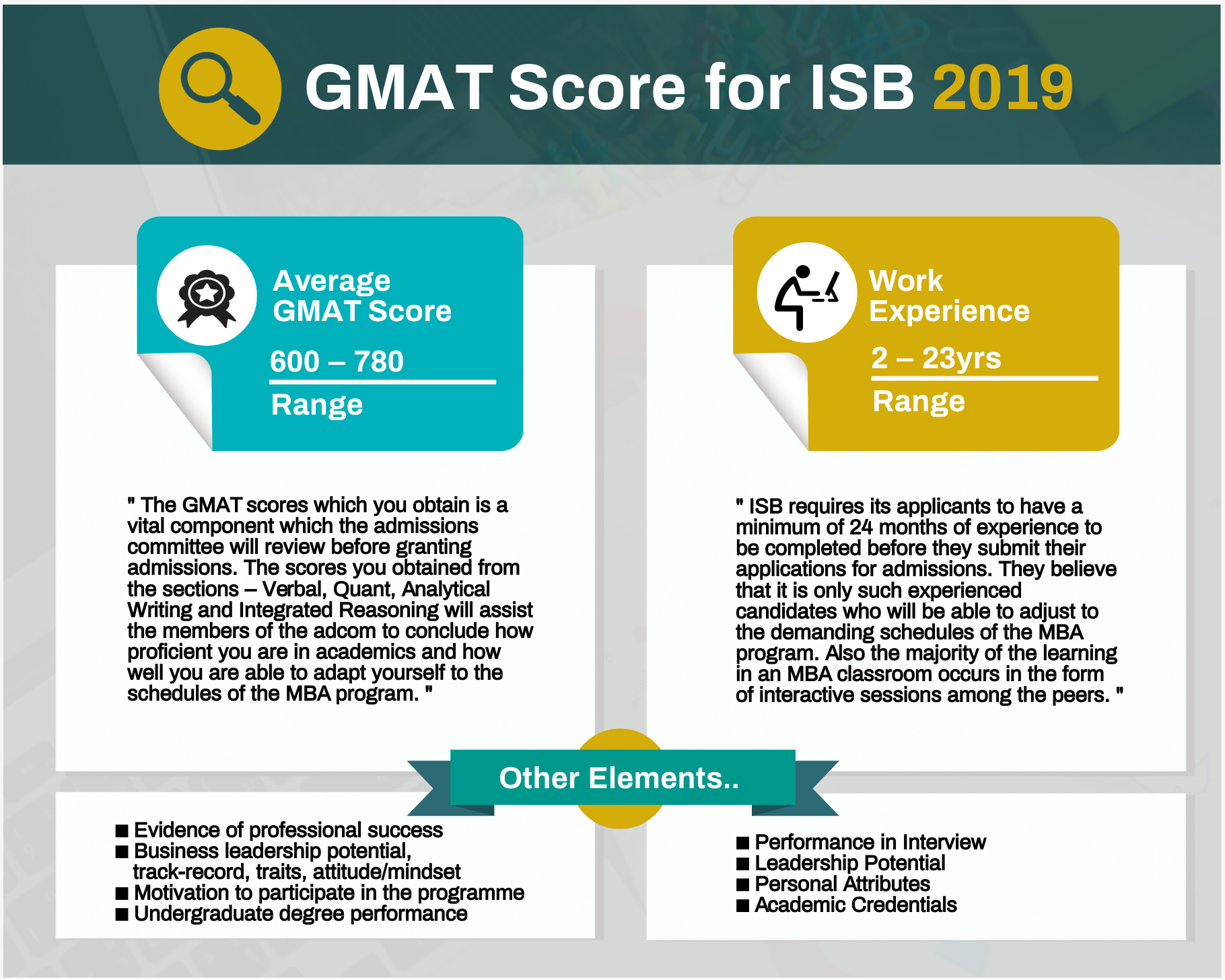 The school was founded by a group of businessmen and a few academicians in 1996. The Co-founders – Rajat Gupta and Anil Kumar are both McKinsey & Company's senior executives. The institution is accredited by the Association to Advance Collegiate Schools of Business. The school provides students an appealing exposure to global economy. The business programs of the institute sail around on the strong entrepreneurship qualities with a perfect fusion of technological advancement along with commerce and soaring markets.
At the time of the application process, the students can write their preference of the campuses on the application form. The total intake of students for the academic session 2017-2018 is 869, where 604 preferred Hyderabad campus and rest 209 pupils chose Mohali campus.
Check out
the GMAT Eligibility Criteria for 2019
Eligibility Criteria for ISB
As is the case with all great institutes and top ranked B-schools, there are several factors of eligibility which a candidate must satisfy before he is deemed worthy of gaining admissions into the college and course of his preference. Every year there are thousands of students who would compete among themselves to secure a seat at the prestigious ISB institutes. This makes the task for the admissions committee a bit difficult since they have to filter worthy candidates from many applications which they receive. Fortunately, they have a few factors through which they can determine the candidates who are competent enough to gain admissions and those who are not eligible for the same. Some of the elements which help to establish this all-important decision are: Age, Average GMAT score and Work experience.
1. Age :
Age is one of the critical factors which help in determining if a candidate can pursue his MBA degree at ISB. They have an upper age limit set at – and a lower age limit which is – . Although this may seem to be a trivial thing it is important to take into consideration since if you are not within the prescribed age limit then you may be ineligible for gaining admissions at ISB. Below is a table of the average age of the candidates who study at ISB.
Age (in Years)
Range
22-43
22-44
22-44
Average
26.8
27
27
2. Average GMAT Score
The GMAT scores which you obtain is yet another vital component which the admissions committee will review before granting admissions. The cumulative GMAT scores which you obtain across the sections – Verbal, Quant, Analytical Writing and Integrated Reasoning will assist the members of the adcom to conclude how proficient you are in academics and how well you are able to adapt yourself to the rigorous schedules of the MBA program. The following table gives you a clear picture of the average GMAT scores of students who are accepted into the MBA program at ISB.
GMAT
Range
600 – 780
600 – 780
600 – 780
Average
705
708
707
3. Work Experience
Work experience is certainly the most influential part which determines if the applicant will be capable enough to get accustomed and contribute sufficiently in an MBA classroom. ISB requires its applicants to have a minimum of 24 months of experience to be completed before they submit their applications for admissions. They believe that it is only such experienced candidates who will be able to adjust to the demanding schedules of the MBA program. Also the majority of the learning in an MBA classroom occurs in the form of interactive sessions or group discussions among the peers. They get to share real life incidences of how they handled various scenarios and everyone will get to hear multiple viewpoints resulting in a lot of good exposure.
Work Experience (in Years)
Range
2 – 23
2 – 19
2 – 23
Average
4.6
4.7
4.6
Aside from the above points there are some other elements which also help to judge a candidate's competencies/caliber to get selected into ISB. They are listed as follows :
Evidence of professional success – Any projects which you may have worked on at your current role at work, accolades which you may have received etc.
Business leadership potential, track-record, traits, attitude/mindset – You could mention any assignments which you had handled and the team projects which you have supervised or training which you have conducted for new joinees of your team.
Motivation to participate in the programme – How actively involved you have been in activities at work or outside of work – community work, social service etc.
Undergraduate degree performance – The scores which you had obtained in your Undergraduate degree influence your admission process at ISB.
Performance in Interview – If you are able to impress the panel of individuals who conduct the final round of the interview before they grant admissions.
Leadership Potential – Candidates are usually evaluated on the impact they have created in their professional and personal lives. You may be judged on the initiatives which you had undertaken or any progressions you have made in your career etc. A recommendation from an influential individual will also help in this aspect of your application.
Personal Attributes- As is the case with most premier institutes, ISB also prefers to admit candidates who are versatile and can contribute to the campus not just academically. They encourage applicants from diverse backgrounds and multiple talents to apply for the programs offered at ISB. The extracurricular activities which you are involved in will also help them judge what your interests are and how skilled you are in those specific fields.
Academic Credentials – All your past academic records – 12th grade, graduation, post graduation scores, GMAT scores will all be taken into consideration as well. Fortunately there is no cut off principle which is employed by ISB in this regard.
List of Programs in ISB
The school offers distinct PGP flagships for one year, the Executive Education programs offered for short-term, Post Graduate Program in Management for Senior Executives (PGPMAX)is a part-time degree course, a five-year doctoral-equivalent Fellow Program in Management (FPM), and a masters level Program for family business scions. List of ISB programs are listed below:
LONG DURATION PROGRAMMES
Post Graduate Programs in Management For Working Professionals
ISB Certificate Programs in Business Analytics
Post Graduate Programs in Management For Senior Executives
Leadership Programs in Infrastructure Management
Post Graduate Programs in Management For Family Business
Management Programs in Public Policy
Post Graduate Programs in Management
Healthcare Management Programs
Fellow Programs in Management
Management Programs in Manufacturing and Operations
SHORT DURATION PROGRAMMES (EXECUTIVE EDUCATION)
Open Programmes
Custom Programmes
MASSIVE OPEN ONLINE COURSES (MOOCS)
A Life of Happiness and Fulfillment
Financial Markets and Investment Strategy Specialization
Trading Strategies in Emerging Markets Specialization
Business Technology Management Specialization
Student Clubs
In this competitive age, along with competitive studies, co-curricular activities are also required to compete with peers. Hence, ISB offers several student clubs to aspiring students where they conduct seminars and conferences by the eminent speakers from the corporate world.
Business Technology Club
Consulting Club
Energy Club
Entrepreneurship & VC Club
Finance Club
General Management Club
Manufacturing & Operations Club
Marketing Club
Media Club
Net Impact Club
Public Policy Club
SREI Infrastructure Club
Senior Executive Club
Retail Club
Women in Business Club
BYJU'S will be glad to help you in your GMAT preparation journey. You can ask for any assistance related to GMAT and MBA from us by calling us at +918884544444. You can write to us at gmat@byjus.com.