GMAT score is considered as the most intricated part of the GMAT test. Primarily, GMAT is a computer adaptive test, comprises of four section and each section is scored separately. The total GMAT score is gauged on a scale from 200-800. And the obtained GMAT score is the average score of these two sections. Here we will resolve the ambiguity of the GMAT score.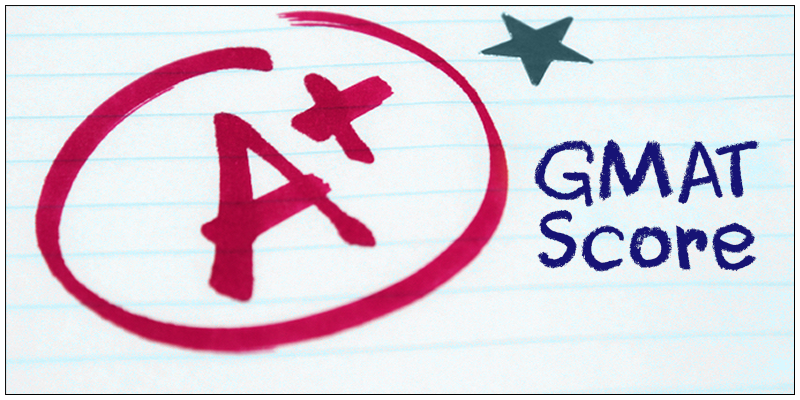 GMAT Score: Quick Facts
The AWA measured on  0-6 marks

Integrated Reasoning measured on 1 – 8 marks

Verbal Reasoning measured on 0 – 60 marks

Quant measured on 0 – 60 marks

Verbal and Quantitative sections are each worth 800 points.
The raw GMAT score (except AWA and Integrated reasoning) displays on the screen immediately after completion of the test. While the official GMAT score card will be sent electronically via email or by postal services within the 20 days after test appeared.
GMAT Exam Scoring System
Let's discuss the scoring pattern in each of the sections.
Analytical Writing Assessment (AWA): In this, you have to write an essay- Analysis of an Argument, provided by the GMAT Test conductors. It ranges between 0-6 with 0.5 mark increment. It is necessary to score at least 4 points to pass the eligibility criteria.
Integrated Reasoning (IR): In this section, your thinking abilities are being tested. There will be 12 questions.It ranges from 0-8 marks with +1 increment, and you need to score 5 as qualifying marks.
Quant Section: The Quant section score lies between 0-60. Generally, candidates are must to secure more than 7 and less than 50 points. The increment is +1 with every right answer and decrement of -1 with every wrong answer. There are 37 questions to be answered in 75 minutes.
Verbal Reasoning: In this section, you need to answer 41 questions within 75 minutes. This section score lies between 0-60. And on an average, to qualify this section a student has to score more than 8 points.
GMAT Score Validity
The GMAT score valid is for five years. You can take as many numbers of GMAT test, and you can use your highest GMAT score to apply in the short-listed B-schools. For eg., A candidate took GMAT test in the year 2017 and secured 600, s/he again appeared for the test in the same year and obtained 710 GMAT score. Further, s/he wasn't satisfied and again wrote the GMAT test and gained 690 score. So s/he is eligible to quote 710 GMAT scores to different B-schools and all the three distinct scores are valid till 2022. Check your GMAT Score with percentiles.
GMAT Score- Deciding Factors
The total GMAT score is influenced by the following three factors:
(i) The number of questions attempted correctly.
(ii) The number of questions attempted within the defined time-limit.
(iii) The degree of difficulty questions attempted from each section of verbal and quant.
What is a Good GMAT Score?
Every year, the US News and World Reports conduct a survey and rank the "Best Business School", considering the facts like tuition fee, number of students enrolled, minimum GMAT score, GPA, acceptance rates and the number of students accepted the graduation flagships. The top B-schools accept minimum GMAT score of above 700 (90th percentile).
Let's recall, GMAT score is an integral part of the admission process. Many B-schools consider your GMAT score, after critically evaluating your numbers of years of experience, how influential are your statement of purpose (SOPs), What are the vibrant traits you possess that could add more diversity to the course, how well your performance in the Interviews, and similarly how strong is your resume. Eminent B-schools demand all the things in perfect proportions. Sometimes one candidate secured 710, the safest zone in the elite B-school territory but doesn't have a strong profile and couldn't make it, on the other hand, a candidate with 650 score get enrolled into the course due to an influential profile.
BYJU'S will be glad to help you in your GMAT preparation journey. You can ask for any assistance related to GMAT and MBA admissions from us by just giving a missed call at +9188845 44444, or you can write to us at gmat@byjus.com.