The GMAT score is considered as the most intricate part of the GMAT test. Primarily, GMAT is a computer adaptive test, comprises of four sections and each section is scored separately. The total score of GMAT is gauged on a scale from 200-800. And the obtained score is the average score of these two sections.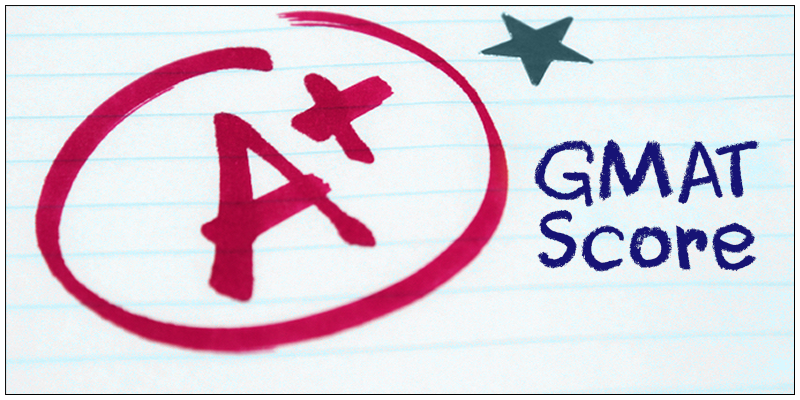 In this article, we will resolve the ambiguity of a score in GMAT. Let's explore:
GMAT Score: Quick Facts
The AWA section is measured on a scale of 0-6 points
Integrated Reasoning is measured on a scale of 1 – 8 points
Verbal Reasoning is measured on a scale of 0 – 60 points
Quant section is measured on a scale of 0 – 60 points
Verbal and Quantitative sections are scaled to a total of 800 points and this is the raw score of GMAT.
The raw score (except AWA and Integrated reasoning) displays on the screen immediately after completion of the test. While the official GMAT scorecard will be sent electronically via email or by postal services within the 20 days after you have attempted the GMAT exam. The final score report which you obtain will contain a detailed report of your scores obtained in all the sections. You can even request an Enhanced Score report for which you will be charged – US $30, if you require a more in-depth analysis of your performance and on which sections you have scored well etc. In case you would like to send your scores to more than the 5 schools which you have shortlisted then you can request for additional score reports which will cost you US $35.
GMAT Exam Scoring System:
Let's discuss the scoring pattern in each of the sections.
Analytical Writing Assessment (AWA): In this section of the exam, you have to write an essay- Analysis of an Argument, provided by the GMAT examiners. It ranges between 0-6 with 0.5 mark increment. It is necessary to score at least 4 points to be eligible for this particular section.
Integrated Reasoning (IR): In this section, your thinking and logical reasoning abilities are tested. There will be 12 questions in this section. It ranges from 0-8 marks with +1 increment, and you need to score 5 as qualifying marks. There are a few questions in this section which may have multiple parts and you will have to answer all parts of the question for you to receive full points for that particular question. Your skills to interpret data from large volumes of data or from graphical representations etc will be evaluated in this section.
Quant Section: The Quant section score lies between 6-51 points. Generally, candidates should be able to secure more than 7 points in the Quant section. There are 31 questions to be answered in 62 minutes. There is +1 increment in the scores for this section. The syllabus for this particular section comprises of basic mathematical concepts like – Arithmetic (Percentage, Ratio proportion, Probability, Statistics, Decimals etc), Algebra ( Linear equations, Functions, Exponents etc), Geometry (Lines, Angles, Triangles, Circles etc) and Word Problems (Sets and Venn diagrams, Data Interpretation etc).
Verbal Reasoning: In this section, you will need to answer 36 questions within 65 minutes. The scores you obtain in this section will be between 0-60 points. And on an average, to qualify this section a student has to score more than 8 points. There is +1 increment in the scores for this section. Most of the candidates attempting the GMAT are non-native speakers of English and it is mandatory for such candidates to exhibit their proficiency in the language through this section. The Verbal section evaluates an individual's grammatical prowess and if they are able to correct sentences which are framed in an incorrect manner. You will encounter 3 types of questions in this section – Critical Reasoning, Sentence Correction, and Reading Comprehension.
GMAT Score Validity:
GMAT scores are valid for a period of five years. You can attempt the GMAT exam up to five times in a calendar year (with a 16-day gap between each attempt), and you can use your highest score to apply to the B-schools which you have shortlisted. For eg., A candidate took GMAT test in the year 2017 and secured 600, s/he again appeared for the test in the same year and obtained a score of 710 in the GMAT exam. Further, s/he wasn't satisfied and again wrote the GMAT test and gained 690 score. So s/he is eligible to quote 710 scores to different B-schools and all the three distinct scores are valid till 2022. You have the option to either accept your GMAT scores or reject the scores if you are not satisfied with the same. Once you complete the exam your raw scores are displayed on the computer screen and if you accept the scores the universities you have shortlisted will receive your scores on the other hand if you are unhappy with the scores then you can cancel the same and the universities will not receive a copy of the same. If you change your mind about accepting or cancelling the scores then you still have an option to do so after you leave the test center. You can cancel the scores up to 72 hours after completion of the exam and you will be charged a fee of US $25 for the same. Similarly, if you initially chose to cancel the scores and later want to accept the same you can reinstate the scores for a charge of US $50.
GMAT Score- Deciding Factors:
The total score of GMAT is influenced by the following three factors:
(i) The number of questions attempted correctly.
(ii) The number of questions attempted within the defined time-limit.
(iii) The degree of difficulty questions attempted from each section of verbal and quant. Since the exam uses adaptive testing methods the difficulty level of each section depends on your performance in the previous sections. Although there is no negative marking for an incorrect answer you will be heavily penalized if you skip any questions in the exam. Therefore ensure to attempt all the questions in the exam within the stipulated time period.
What is a Good GMAT Score?
Every year, the US News and World Reports conduct a survey and rank the "Best Business School", considering the facts like tuition fee, number of students enrolled, minimum score, GPA, acceptance rates and the number of students accepted the graduation flagships. The top B-schools accept a minimum GMAT score of above 700 (90th percentile).
Indian School of Business (ISB)
Indian B-schools are also accepting GMAT scores warm-heartedly. Indian School of Business(ISB), which is one of the most prestigious B-schools in Asia, accepts scores of the GMAT exam from national and international students for management programs. The minimum score in GMAT that is accepted by ISB is 680 and the highest of 790 is accepted.
Harvard Business School
Harvard's Business School, the father of all business schools accepts the maximum GMAT score of 790 and the least of 510. Hence, with an average score of 500+ with a strong admission profile, you can apply to the most renowned management colleges across the world.
Let's recall, GMAT score plays an integral and influential role in the admission process. Many B-schools consider your score in the GMAT exam, after critically evaluating your numbers of years of experience, how influential your statement of purpose (SOPs) document is, What are the vibrant traits you possess that could add more diversity to the course, how your performance in the Interview impressed the admissions committee/interview panel, and similarly how strong they find your resume. Eminent B-schools demand all of the above things in perfect proportions. There are scenarios where a candidate secures 710 in the GMAT exam, the safest zone in the elite B-school territory but they don't have a strong profile and couldn't gain admissions in the University of their preference. Whereas on the other hand, a candidate with a GMAT score of 650 can get enrolled in the MBA course at some of the top B-schools due to an influential profile. You will, therefore, have to keep in mind the significance of a good and strong profile so that you are able to gain admissions in the University of your choice. Spend time and efforts to develop a good profile which will help you immensely.
You can ask for any assistance related to GMAT and MBA admissions from us by just giving a call at 088845 44444, or you can write to us at gmat@byjus.com.
Recommended Links: