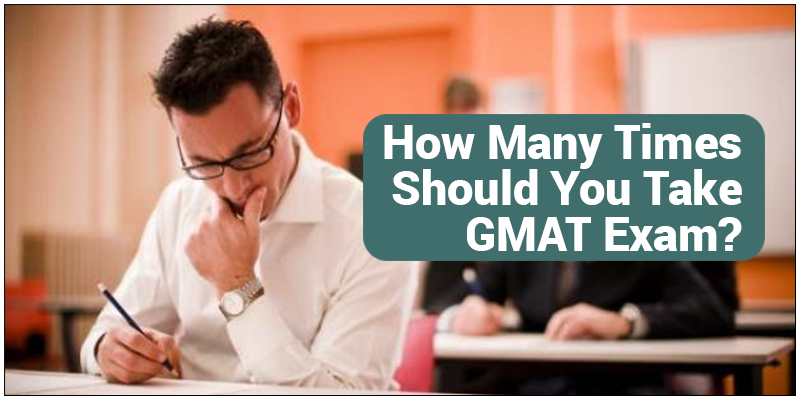 You are unsatisfied with the current GMAT score you obtained and you're thinking of retaking the GMAT test. In this context, the first question which will come to your mind is 'How many times should I take the GMAT test?' This article will resolve all your queries related to retaking the GMAT test.
GMAT or Graduate Management Admission Test is generally attempted by working professionals. To support their hard work GMAC (Graduate Management Admission Council) is continuously working to keep up the performance of the test takers. Therefore, GMAC the regulating and controlling body of GMAT allows aspirants to retake the test after a span of 16 days from the date you appeared for the test and in 12 months one can take five attempts. The total limit for attempting the GMAT is 8 times.
When to Consider Re-taking of GMAT?
Case 1: When You Have Taken GMAT Only Once:
In the first attempt if you have secured an above average score which is required by your desired college, then re-taking the GMAT test is not the main concern.
You can retake GMAT on the following probations:
If you're disappointed with your low quant score and your quant score record in academics is not good in subjects like economics, calculus, etc.; and if you think that it may have a negative impact on your profile then you can retake. Certain universities grant admissions to candidates on the basis of their Quant score since some of the MBA programs require the candidates to have good quant skills. This is because MBA has many managerial topics including Finance which would require the individual to have good Quant skills.
Vice versa, if your verbal scores are not so appropriate then you can retake the GMAT test. Since a good command over English is necessary as the admissions committee expects the candidates to be fluent in the language which will be the medium of their study. There would be many discussions which would happen as part of the course curriculum, therefore, the universities would look for the applicants to have good language competencies. They would judge the individual's English skills during the interview process. Hence it is recommended that you are well prepared for the same. If you're aiming for an MBA program at the top-15 B-schools and know that you can improve your score by at least 20 points then you should consider re-taking the GMAT exam.
Case 2: When You Have Taken GMAT Twice:
Do you want to analyze your test performance?
Before retaking the GMAT test, the one thing you should recollect is that your GMAT scores alone won't help you in gaining admissions at a university of your preference. GMAT score is only one of the integral aspects of the entire admission process, hence, there is no need to go through the anxiety of GMAT test – right from booking the GMAT exam dates , preparing for the exam etc, all over again if you think you have done well in your first attempt. Some of the other factors which you could spend time developing are – your SOP (Statement of Purpose) which should clearly depict your aspirations and the motive behind choosing the particular specialization for your MBA, an influential LOR (Letters of Recommendation) from managers you have previously worked with or your professors from your college where you completed your undergraduate degree in, any online certifications you may have acquired, a new language which you have learnt could all boost your profile and play an important role in the admissions process.
A Higher score is always better
To be in the safest zone it is advised to score in the range of 700+. And in the second try if you're unable to hit this target, then you should really work hard to improve your scores. The most efficient and effective way to increase the GMAT score is to re-read GMAT official Guide and give as many mock tests as possible. Mock tests play a huge role in helping the candidate understand the testing conditions of GMAT- Adaptive testing conditions, break patterns etc. Seek help from all sources possible. Get some professional guidance if required. Although you have an option to attempt the exam up to 5 times it is recommended that you exercise this privilege cautiously. This is because if you attempt the exam more than twice or thrice the Admissions committee will perceive it as either lack of judgment by the candidate or inadequate preparation, both qualities which are undesirable with prospective candidates. Keep in mind that while you are submitting your GMAT scores the universities will be able to view all your previous scores and not only the score which you have submitted. So if you have attempted it more than twice or thrice the Adcom will be a bit cautious while considering your application. The official guide will give you the tactics to solve the problems and mock tests will increase your efficacy. You can also opt for tab-based teachings for GMAT prep.
BYJU'S will be glad to help you in your GMAT preparation journey. You can ask for any assistance related to GMAT and MBA from us by calling at 088845 44444, or you can write to us at gmat@byjus.com.