The selection of universities is a tough process especially if you have several options available to you. There are many factors which you will have to look for before finalizing on the colleges you would like to apply to. Let us discuss some of the top elements which influence this crucial decision in this article.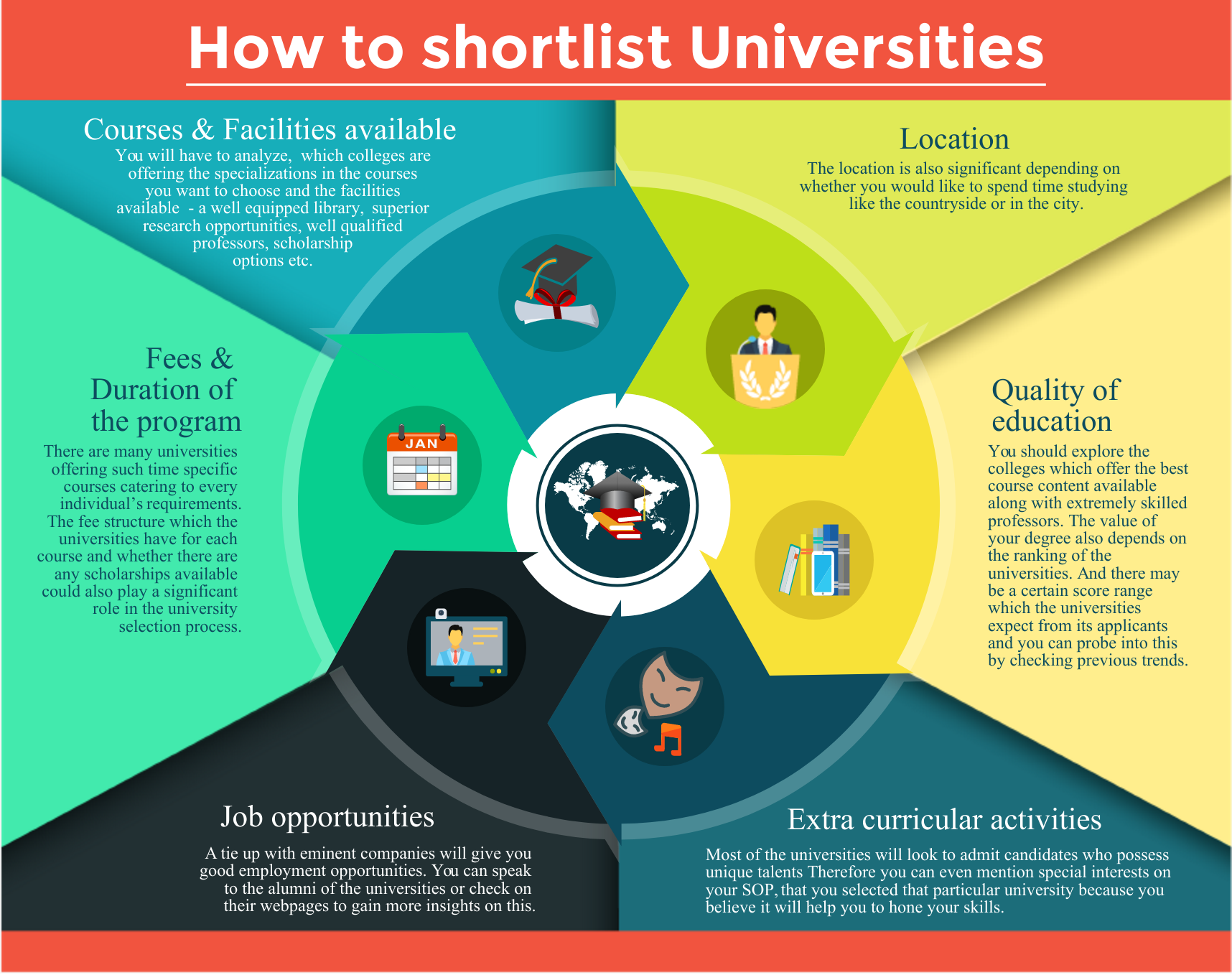 Courses offered, Facilities available –
This is one of the prime factors which you should consider before you select the universities where you want to study. You will have to analyze which colleges are offering the specializations in the courses you want to choose. This will help you narrow down the list initially. Once you finalize this list you can go ahead and commence researching about the facilities available at each of these universities. Some of the key deciding factors could be – a well equipped library, up to date course curriculum, superior research opportunities, well qualified professors, scholarship options, extracurricular activities offered etc. These could all be influencing factors in your decision to select a university.
Job opportunities post graduation –
This is another key detail which you will have to spend time researching about since this in a major criteria before finalizing where you want to study. You can get an idea about the job opportunities available after you graduate by getting in touch with the alumni of the universities. They will be able to assist you in this regard by providing you with valuable information about job fairs which the college may host or the tie ups with certain firms they have. If the university has an effective on-campus career placement team then you could utilize the same for your benefit as well. While there may be a plethora of options available to you it is essential you make an informed decision regarding the same since procuring a job after graduating is necessary for any graduate.
Fee Structure –
The fee structure which the universities have for each course and whether there are any scholarships available could also play a significant role in the university selection process. Pursuing a Master's degree is an expensive affair and we shouldn't look to burn a hole in our own pockets by choosing universities which have an exorbitant fee structure. By doing so we would be complicating our financial situation further since it will take longer to pay back all the loans or to earn the entire amount. This is where scholarships will aid you to ease the burden on your end. Hence spend adequate time to seek the colleges offering scholarships so that you can apply for the same.
Extracurricular Activities –
While academics play an important role when pursuing your degree, it is also necessary to indulge yourself in activities outside of it. If you have any particular special interests like – Photography, Playing a sport, participating in literary or cultural events, Playing a musical instrument etc. then you could accordingly look for colleges which have the necessary amenities to help you delve into your interests deeper and to improve on the same. Most of the universities will look to admit candidates who possess unique talents and not only individuals who are academically proficient. Therefore you can even mention this on your SOP that you selected that particular university because you believe it will help you to hone your skills further.
Location of the University –
The place where the college is located should also be taken into consideration before you finalize the university where you want to study in. The location of the university will affect other elements which you would be concerned about. If the university is situated at a very expensive neighbourhood or town then it will create an impact on your living expenses. The cost of living must be within your budget so that you don't face any difficulties at later stages. You must also examine the accommodations available near the college where you would be studying in. Staying closer to the university or even on campus will always prove to be more effective since you would save on the commute time and expenses. The location is also significant depending on whether you would like to spend time studying in a calm and serene location like the countryside or in a happening place bustling with action in the city.
Quality of Education Provided –
You may have to pay utmost attention to this detail since the quality of education in the university will cause a major impact to your knowledge and aspirations. When you seek jobs post graduation it is imperative to have a firm grasp and be an extremely proficient individual. For this your fundamentals need to be strong, you can therefore explore the colleges which offer the best course content available along with extremely skilled professors.
Tie ups with esteemed firms –
A tie up with eminent companies will give you good employment opportunities. You can speak to the alumni of the universities or check on their webpages to gain more insights on this.
GMAT score range for admission process –
There may be a certain score range which the universities expect from its applicants and you can probe into this by checking previous trends. Once you are aware of the expected score ranges you will get a fair idea about what ideal score you need to obtain to get into the universities of your preference. This will again help you create filters depending on the scores expected in different sections of the exam.
Duration of the program –
If you are keen on completing the program quickly and you would like to begin working then you would prefer to go for a course with a shorter duration like one year or 10 months when compared to the typical 2 year programs. There are many universities offering such time specific courses catering to every individual's requirements.
Ranking of the college –
The value of your degree also depends on the ranking of the universities. Hence it is recommended that you do a thorough analysis of the ranking of the colleges before you settle on your final choice for the universities.
All of the above factors are sure to assist you in your quest to shortlist universities for your higher studies. It is essential that you make informed decisions before concluding where you would want to study.
BYJU'S will be glad to help you in your GMAT preparation journey. You can ask for any assistance related to GMAT and MBA from us by calling us at +918884544444. You can write to us at gmat@byjus.com.