MBA Application Essays are one of the important aspect to meet in the admission process. "Essays are a major part of the application, and it's the little details that can make the difference between accepting and not accepting someone," says Gordon Berridge, associate director of graduate admission at Bentley University. Indeed, the MBA essays are stumbling on the way to B-schools admission process. But if you're willing to devote time for these, it may strengthen the favourable chances of getting selected.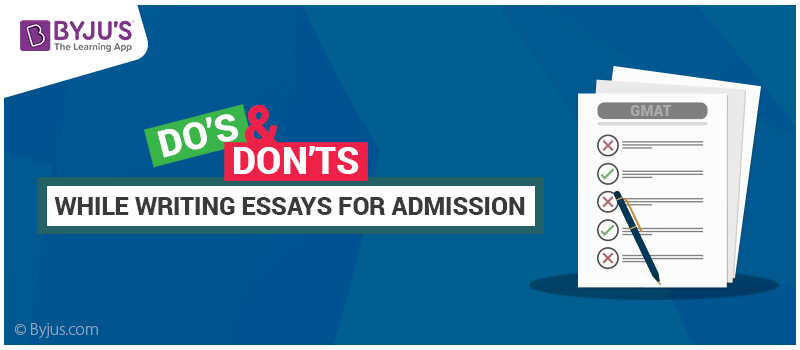 Things to Do while Writing the MBA Essays:
MBA essays demand a quality time, an honest self evaluation session and drafting the same on the paper. While writing we commit several errors, take the undermentioned points into consideration to present a flawless write-up in front of the adcom.
Review: The last thing that you want your admissions essays to have is typographical and grammatical errors free. While the essays on the AWA are expected to have this due to the inherent time constraint on the test. Allocate quality to your write-up. Or else, you can ask your friends, relatives or colleagues to read it out and highlight the mistakes.
Express: Through these essays you're narrating yourself. Try to attach your own voice to your essay. Also, make sure that the essay is memorable, unique and impressive.
Answer: Make sure you have answered the asked question. It is very easy for one to get distracted. A qualitative essay demands multiple sittings to write it down. However, at the end of each paragraph it is always better to consciously ask yourself whether the question in the essay prompt is being answered and whether all the paragraphs revolve around that central idea.
Research: It is also better to research rigorously before outlining an essay. Gather information and strategies for crafting your essays. While being unique is important, it is also advisable to follow what the successful candidates have done.
Know Your Program: Collect authentic and relevant in-sights about the program that you are applying for pursuance. And try to establish a connection between the impact of the program in your future endeavours.
Emote: It is a myth that people who let their softer side out are perceived weak and hence may not get admitted into Top B Schools. Describe the urge for the course from the short-listed B-schools and narrate the importance of it in your career.
Things You Shouldn't Do while Writing MBA Essay
Reproduce: Try and get creative with the opening sentences of your MBA Admissions Essays as they are much more than the writing assignments you faced in your grade school. Don't treat it as a Q&A session and regurgitate part of the question as the opening of your response – This only not only relates to mundane sentence structure but also makes the essay look very childish and immature. For Ex: – "My long-term goal is…."
Sympathise: It is always advisable to keep the essay optimistic and positive. It is thus wrong to believe that a sad story will earn brownie points and get you an admit into a B school. On the contrary, it may project to the admissions Committee that you are meek and might not get to your goals as planned.
Exceed: It is always best to write within the word limit of the essay. This is because most application portals these days don't accept even one word beyond the specified word limit. This may result in a truncated essay while submission.
Mis-Format: It is not advisable to change the font size, margins and spacing to get it to fit the page requirement, unless you do it for all the essays. It is pretty obvious when one essay is in an entirely different font type and size than the others. Hence, try to keep the formatting as uniform in all the application essays as possible.
Jargonise: The best essay is the one that is easily understood by others. While it is true that great vocabulary might earn you some points extra, you will end up testing the patience of the reader if he or she has to read your essay with a dictionary in hand.
Generalise: A find and replace essay is bad as in this case, you will need to write a very generic essay. It is best to customize your application essays per school as every school has its own charm and ethos.
BYJU'S will be glad to help you in your GMAT preparation journey. You can ask for any assistance related to GMAT and MBA from us by calling us at +918884544444. You can write to us at gmat@byjus.com.