January and February are the most crucial months for CAT/ GMAT aspirants, who have secured 99 percentile scores and are heading towards studying at the nation's most renowned B-schools 'Indian Institute of Management Studies'. IIMs are considered as one of the highly reputed B-schools across the globe due to its world-class educational system.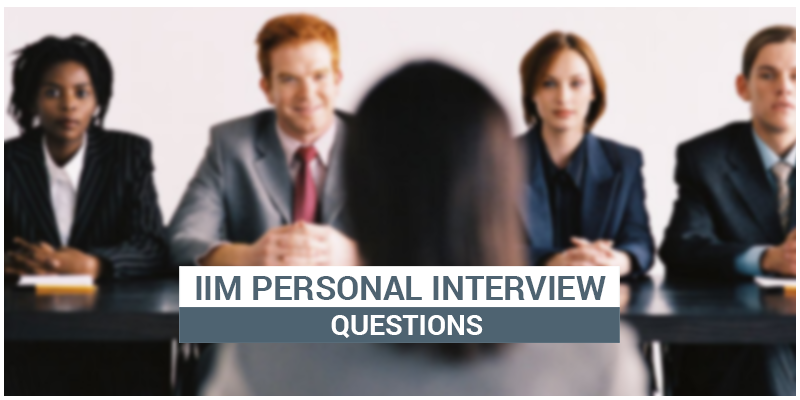 After crossing hurdles like GMAT or CAT, aspirants explore Google to know the pattern of questions asked in the interview. We have accumulated a few questions from different honors, but remember your interview will still be a surprise day for you!
Questions from Academics:
Academics cover the maximum portion of the questions asked in an interview. Since it is a masters degree course and you have attained specific professional/ traditional bachelor degrees beforehand, it creates curiosity among the admission committee to know about your background based around Academics. Freshers should spare quality time in preparing for questions related to at least 4-5 subjects from their graduation degree. However, for professionals the chances of being asked academic questions is comparatively less. If you're unable to answer the questions related to academics, it might reflect in a negative manner with the admission committee. You should be prepared so that you can answer questions from any subject which you may have studied in your undergraduate degree.
Typical Academics related questions which are posted during the interview:
What would you consider as your remarkable accomplishment during your undergraduate experience?
What caused you interest towards the undergraduate education major you selected?
What precisely do you contribute to your sound scholastic performance?
What are the recent activities which you took part in?
What are the major qualities which you learnt or picked up from this organization?
Have you ever dropped a course? Why?
Which school courses did you enjoy the greatest and the least? Why?
Do you think you got adequate training in the subjects you were taught in college?
Do your assessments reflect your ability in the particular subjects which you have chosen?
Can it be said with confidence that you had been fiscally in control of part or the bulk of your school education?
To be well prepared for questions from this section it is recommended that you brush through and revise some of the most significant subjects from your undergraduate degree. This will make certain that you are able to answer any questions which may be posed by the interview panel. You can even look through the projects which you were a part of during your degree and how you had contributed towards the same.
Questions from Work-Experience and Internship:
This is the second most important topic from where a number of questions can be created and asked. This section is very crucial especially for working and experienced professionals. The adcom will be very keen to know more and more about your accomplishments, projects, job and company or industry. If you're a professional acquire every detail related to your job field. Try to write down all your experiences and revise them. If you had handled a team then you can highlight the same which will exhibit your capabilities to lead a team and manage the employees. You can also focus on any achievements or appreciations you had received from clients or your managers which will help you to justify your abilities to the interview panel.
A glimpse of questions:
What traits probably as a rule or with specific supervisors you picked up out of your previous works?
What type of work or position disappointed you the most at work?
In case an opportunity was given to you, then indicate a few types of changes at work you'd be predisposed to making initially to make your work environment a better place for the employees.
Have you ever done any creative contemplating, how have you altered it upwards?
Suppose you and your manager have not concurred on a particular decision, describe this kind of episode alongside the characteristics you exhibited for resolving this issue.
What part of your profession do you usually value? Why?
Check out
the GMAT Eligibility Criteria for 2019
Questions from HR:
These questions aren't asked directly but they're highly influential. They help you in building your confidence and you should be able to justify your points.
Why MBA? Why now?
How is your career progression affected by it?
Opportunity cost for the MBA.
Strengths and weakness
Hobbies and interests (very important)
You are an Engineer? Aren't you wasting the knowledge you have already acquired?
Questions from Others:
Adcom members look for versatility in a candidate, they can randomly ask questions to the candidates from any sphere – right from news to civil problems, sports to entertainment, books to blogs etc. the purpose of asking such type of questions is to check your awareness in the dynamic world.
Current affairs
Politics and socio-economic situations
Your state and your hometown (area, per capita, tourist spot etc.)
Economics (Budget)
Ensure to stay updated about all of the current situations and trending events so that you will be able to answer any questions which may be posed to you by the interview panel. You can be equipped about the same by reading popular publications including international journals like – The Times, The wall street journal etc. You can subscribe to these online so that you have access to the same.
Hobbies & Interests:
What is your favourite book? This will be followed up by detailed inquiries about the book and the author. So don't give fake details about any authors or books which you might not have read earlier.
If sports is your hobby, what is the condition of the sport (e.g soccer) in India, which are the top clubs. How do you think Indian soccer can improve / Why is it in a bad state?
If you were involved in any extracurricular activities in your college days or school then you can capitalize on the same by explaining in detail how the same helped you develop certain characteristics and attributed towards improving your personality as a whole. Admissions committee will look to admit individuals who are versatile and can add diversity to the campus instead of candidates who have only academic intelligence. You can even exhibit your interests in participating in community service or any volunteer work which you might have done. This showcases your responsibilities towards the community as a citizen and how socially accountable you are.
BYJU'S will be glad to help you in your GMAT preparation journey. You can ask for any assistance related to GMAT and MBA from us by calling us at +918884544444. You can write to us at gmat@byjus.com.