Indian Institute of Management's eighth pillar is IIM Rohtak this was established in the year November 2009. This institution is under the legacy mentorship of IIM Lucknow and it crafts itself to offer an advanced learning opportunity for management courses. Their main focus is to think global and to act locally. It has a diverse cultural background along with educational and management systems.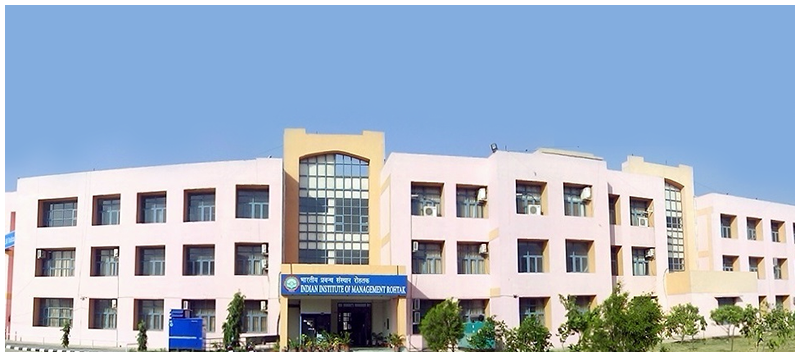 Programmes that Accept GMAT Score:
Post Graduate Programme in Management (PGP)
Executive Post Graduate Programme in Management (EPGPM)
Executive Training such as Management Development Programme (MDP)
Scholarship programme such as Fellow Programme in Management (FPM)
Fee Structure:
Fee for each of the above listed courses is different according to its level of offering education and learning. This fee amount is inclusive of Tuition fees, placement support charges, Alumni membership, refundable deposit, library deposit, computer deposit, Mess caution deposit and utility deposit. However, this does not include mess charges.
Post Graduate Programme in Management (PGP): 5,25,000 yearly
Executive Post Graduate Programme in Management (EPGPM): 6,10,000 yearly
Executive Training (MDP): Sponsored programmes also known as Open programmes
Fellow Programme in Management (FPM) : Scholarship based programme thus tuition fee is waived off
Domains Covered During Placements at IIM Rohtak:
Some of the highly in demand domain for management courses are listed below. Though this is the overall recruiter's information industry wise breakup for the same will help students to analyze scope for each programme.
Placement Domain Breakup
Business Consulting: 10%
Finance: 16%
HR: 5%
Operations: 10%
Sales and Marketing: 46%
IT: 13%
Industry-Wise Breakup
Information Technology: 20%
Manufacturing: 21%
Media and Entertainment: 5%
Retail: 5%
Services: 8%
Shipping: 2%
Banking, Financial services and Insurance: 17%
Consulting: 5%
Education: 3%
Fashion and E-commerce: 3%
FMCG: 3%
Healthcare: 5%
Infrastructure: 3%
Eligibility Criteria for Applying for any Programmes that Accept GMAT score
Candidate must have at least 50% marks in their Bachelor's degree
Bachelor's degree should be awarded by University incorporated by either State or Central Government or it must be an educational institution incorporated by the act of Parliament or deemed university
Candidate should have minimum 3 years of work experience in managerial or other related position. Work experience Certificate has to be submitted at the time of document submission
Reference from university and Employer is a must
Candidates with ICW/CA CS/AI can also apply
Good GMAT/ CAT score will help in getting the candidature shortlisted quickly
BYJU'S will be glad to help you in your GMAT preparation journey. You can ask for any assistance related to GMAT and MBA from us by calling us at +918884544444. You can write to us at gmat@byjus.com.