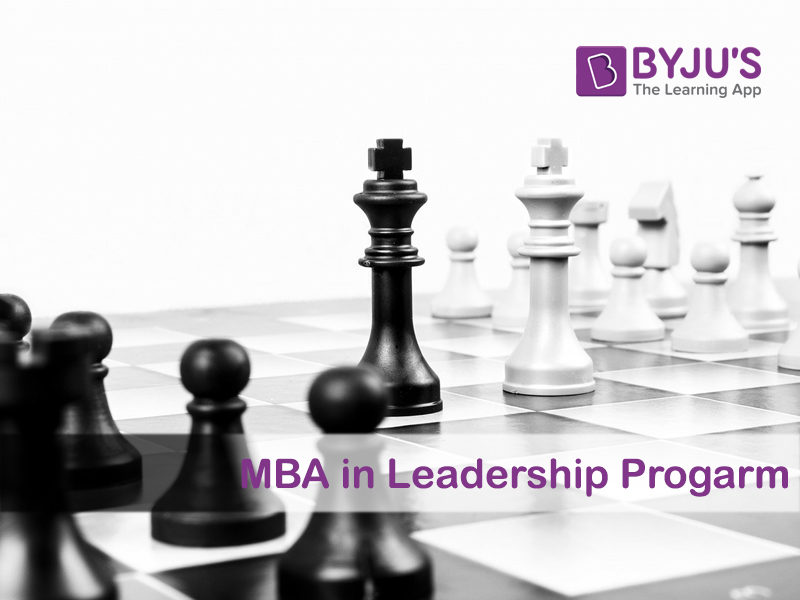 Master in Business Administration or MBA with Leadership as a specialization allows you to cultivate effective communication skills and cooperation; in order to supervise the employees.  An MBA in Leadership program focuses mainly on interpersonal skills required for effective team building, conflict resolution and critical thinking for quick decision-making.
Master of Business Administration in Leadership
Like any other MBA degree, it also focuses on subjects like Business Studies, Economics, Accounts and Finance. However, it also incorporates the enlisted subjects in the curriculum.
Leadership skills

Marketing research and Management

Statistics and Quantitative Research

Decision-making

Organizational Theory

Operations Management
Read here: The Top FAQs Based On Leadership and Teamwork
School Name
Distinction
Location

George Washington University

Educational Leadership Administration program provides three advanced degrees and a post-master's certificate available at three Virginia locations

Washington, DC

New York University

The syllabus includes an intensive educational reform 6-week study abroad experience in Pretoria, South Africa

New York, NY

Seattle University

Educational Leadership Doctoral Program (ELDP) comply a cohort model, and courses are taught in evenings and weekends

Seattle, WA

University of California, Los Angeles

UCLA's 36-month Educational Leadership Program (ELP) is designed for working professionals and results in an Ed.D – Educational Leadership credential

Los Angeles, CA

University of North Carolina at Chapel Hill

All 36 credits for the Educational Specialist (Ed.S.) credential can be counted toward the 54-credit doctoral program

Chapel Hill, NC

University of Wisconsin – Madison

Ph.D. in Educational Leadership students are grouped into professional learning communities to progress together through the 3- to 4-year track

Madison, WI

Vanderbilt University

Ed.D. in Educational Leadership and Policy at the nation's top-ranked Peabody School offers a weekend schedule that takes 36 months to complete

Nashville, TN

Wright State University

Non-thesis Master of Education (M.Ed.) in Educational Leadership – Teacher Leader online program is ranked #1 in Ohio by

U.S. News & World Report

Dayton, OH
The Best Colleges to Offer Leadership Programs in Europe
School Name
Distinction
Location

EU BUSINESS SCHOOL

By focusing on managerial and leadership methods and processes, the MBA in Leadership develops the innate abilities of each student to apply their own leadership skills to the needs and demands of organizations in an increasingly competitive and global economy.

Duration: Three Terms

Start Dates: October, January, March

Locations: Barcelona, Geneva, Montreux

Teaching Language: English

Switzerland

HSBA HAMBURG SCHOOL OF BUSINESS ADMINISTRATION

The course covers a broad range of business administration theory as well as relevant economic and legal topics. Three overarching principles form the backbone of the course: Internationality, Business Ethics and Governance.

Course start: October 1st each year

Duration: 24 months

Extent: Approx. 620 contact hours

Germany

Hamburg

CANTERBURY CHRIST CHURCH UNIVERSITY BUSINESS SCHOOL

Leadership & Management has been designed for experienced managers and professionals working in education in the public, private and not-for-profit sectors in the UK and abroad. In an increasingly competitive global environment, this programme provides educational practitioners with an opportunity to develop their business and management skills as well as enhance their professional practice.

Full-time

Part time

2 – 5 semesters

United Kingdom

UNIVERSIDAD FRANCISCO DE VITORIA

The Global Leadership MBA strives to instill a new business attitude in our students, creating leaders who are skilled, balanced and who have vision with integrity

Spain

Madrid
The best colleges to offer leadership programs in Asia       
School Name
Distinction
Location

INSEAD

The macro and micro components of the programme are linked through the notion of 'X-teams', an influential leadership concept co-developed by INSEAD faculty, which helps participants learn how to design effective internal team processes and external networks to achieve the team's objectives.

Singapore

NUS Business School,

During the programme, a professional facilitator will work individually with you and in a small group to interpret the results and provide a personalised reflective experience. However, they can attain several attractive discounts while paying fees using Cards

Singapore

HKUST Business School

The program design structured in

Module 1. Competing through strategic management (2 days)

Module 2.Leadership and Change management (3Days)

Module 3. Strategy & Marketing (3Days)

Module 4. Achieving Success through People (2 Days)

Hong Kong

AGSM MBA, University of New South Wales

The school offered the first program in a new international leadership development initiative for MBA students formed in collaboration with Wharton and France's INSEAD.

New South Wales
Share your views by posting your comment below. You can ask for any assistance related to GMAT and MBA from us by calling us at +918884544444. You can write to us at gmat@byjus.com.