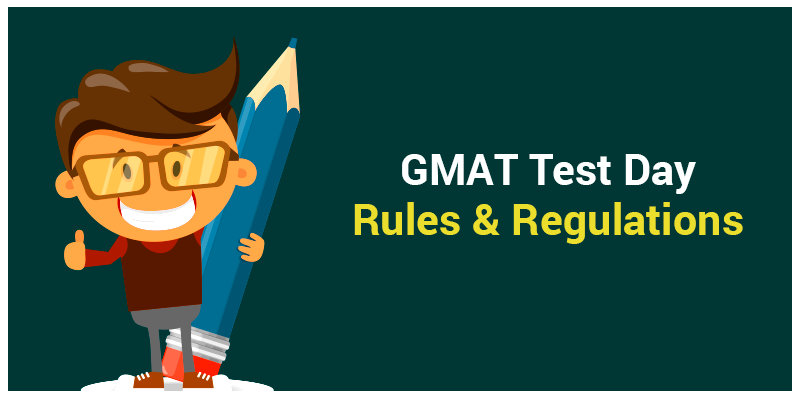 The GMAT is a tough test to crack, not just because it needs a skilled approach but also because most of us are shaken by the pressure of the big day. And let's not sugarcoat it: it is a big day, one of the most important days of your life. Doing well on your GMAT opens doors to wonderful opportunities and better fortunes, and it is precisely this – the fear of what you stand to lose – that can throw you off your A-game.
Here, we've compiled few tips to make sure your exam day is as smooth as it can get:
T-Minus-One (One day before the exam)
Do whatever puts you in the most comfortable and confident frame of mind. Music, walks, games or even a slight revision of the fundamentals… the key is to clear your mind of all your fears and failures. No pessimist ever gave his/her best on a test!
Even if you are already familiar with the test centre location, check the route once again. If you can do it physically, that would be even better – the last thing you want on your test day is to be caught unawares by an unfamiliar detour or a bottleneck.
Zero-day (Day of the Exam)
Plan your travel so that you are at the centre at least 30 minutes BEFORE the scheduled time of reporting. This means that you should factor in the route, any possible disruptions (last-minute nightmares) and mode of transport, working backwards to when you should start out. And then get out fifteen to twenty minutes earlier!
Check in as soon as you arrive at the GMAT test centre. This means that these formalities (including visual, documentary and biometric verification of your identity) will be completed well in time, letting you relax a bit before the exam starts.
Remember: if you are more than fifteen minutes late, you may not be allowed to take the exam and may even have to forfeit your test fees.
At the test centre
Accompanying persons cannot wait in the centre and must not make any attempt to contact you once you have entered.
You are not permitted to bring any personal items or aids into the testing room. There might be storage spaces for storing your essential belongings for the duration of the test, but these will be available only on a first-come-first-served basis.
Under no circumstances will you be allowed to bring or store anything that can be construed as a weapon at the test centre.
The testing room
The GMAT exam will be administered in a room with dedicated workstations. Testing premises may be kept under close audiovisual surveillance at all times.
If your test is delayed or rescheduled due to circumstances beyond the test organizers' control, you will either be offered the opportunity to schedule another test free of charge or receive a full refund of the original test fee.
The test will begin promptly once you are seated at the computer.
During the Test
You have three and a half hours in which to take the GMAT exam, but plan for a total time of approximately four hours. This includes two optional breaks and time for reading instructions and other formalities; but remember, if you exceed the time allowed on the breaks, the extra time will be deducted from your remaining test time.
Dress comfortably, but be (mentally) prepared to adapt if the room temperature changes.
You will not be permitted to leave the testing room without the test administrator's permission. You will generally be required to provide bio-metric proof (finger-/palm-print) any time you enter the testing room to verify the identity confirmed during check-in.
Food and drinks are banned from the test centre; however, you may have refreshments during your permitted breaks.
At no time during the test (including breaks) will you be allowed access to telephones, mobile phones, headsets or other communication devices or test aids.
If you encounter a problem with your computer, need to replace a note-board or require any other assistance of a similar nature, raise your hand and notify the test administrator. Do not attempt to handle such issues on your own.
You are not allowed to leave the testing room while timed sections of the test are being administered. If there is an emergency and you have to leave your seat during the test session, raise your hand and notify the test administrator. The timing for the test section you are working on will not be paused during your absence.
Repeated or lengthy departures from your workstation will be documented by the test administrator and reported to and investigated by Pearson VUE and the Graduate Management Admission Council (GMAC)
Disruptions in Testing and Potential Compromises
GMAC, Pearson VUE, and ACT strive to ensure that the GMAT exam is administered in a standardized and uninterrupted manner. In a case of the cancellation or interruption of the test, or if any part of the test is mistimed, or if malpractice is suspected, GMAC and/or Pearson VUE will consider the circumstances and take action as deemed necessary. Such actions might include but are not limited to, cancelling the scores of the guilty candidates or even the cancellation of the test itself.
We'll be glad to help you in your GMAT preparation journey. You can ask for any assistance related to GMAT and MBA from us by calling us at +918884544444. You can write to us at gmat@byjus.com.