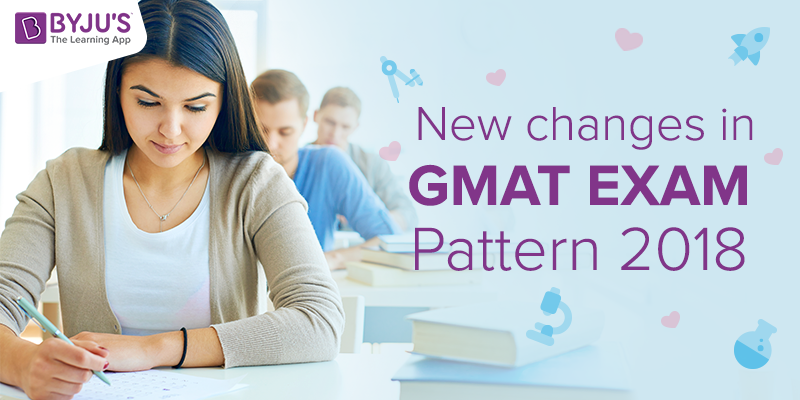 From April 16, 2018, GMAC has reframed the GMAT Exam Pattern 2018. The new GMAT pattern exam will be shortened by 30 minutes to 3.5 hours long test duration including breaks and test instructions.
Along with shortening of the time, the number of questions from the sections viz., Quantitative Aptitude and Verbal Reasoning have been reduced.      
The number of Quant questions will be cut-down by 6: from 37 to 31

The number of Verbal questions will be cut-down by 5: from 41 to 36
Overall there is 23-minutes reduction in the GMAT exam sections, as well as 7 minutes reduction across several non-exam screens at the test center (e.g. Tutorial, Section Instructions). Briefly, the time slot for  Quantitative Aptitude will be shorter by 13 minutes and Verbal Reasoning by 10 minutes respectively.
| | | | | |
| --- | --- | --- | --- | --- |
| Section | No. of Questions | Section Time | No. of Questions | Section Time |
| Quantitative Reasoning | 37 | 75 minutes | 31 | 62 minutes |
| Verbal Reasoning | 41 | 75 minutes | 36 | 65 minutes |
However, the other sections: Analytical Writing Assessment and Integrated Reasoning remain unchanged. Read more: Old GMAT Exam Pattern.
New Changes and GMAT Exam Rescheduling
The new changes will be applicable to the GMAT test from April 16, 2018, onwards (local time). The rescheduling decision is up to your decision or choice. In case, recently you have a scheduled GMAT test date on or before to May 6, 2018, and you wish to reschedule GMAT exam as a result of this change, you can contact GMAC Customer Service for assistance. If your request is received on or prior to April 11, 2018, and your exam is scheduled for on or prior to May 06, 2018 then both the reschedule fee (based on early or late reschedule) and phone fee ($10) will be waived off.
Have more questions? Call us for a free counselling session today! Byju's will be glad to help you in your GMAT preparation journey. You can ask for any assistance related to GMAT and MBA from us by just giving a missed call at +91 88845 44444, or you can write to us at gmat@byjus.com.