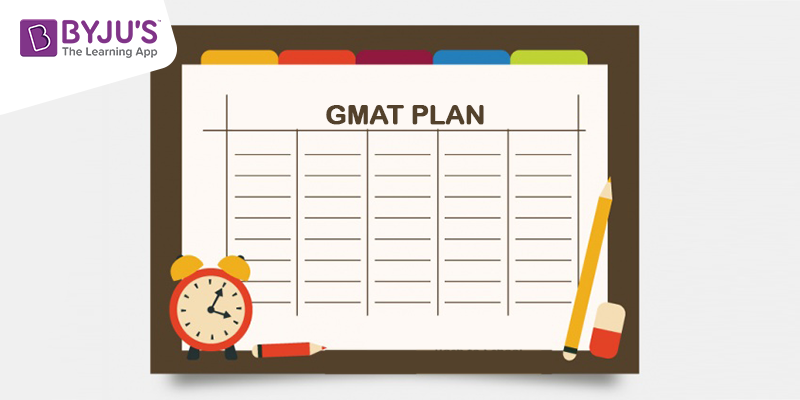 Preparing for the GMAT in one month is similar to going on a crash diet. It requires undivided attention, focus and a lot of smart work. Ideally, Byjus recommends to initiate GMAT preparation ahead of 3 months on an average. In case, you are determined enough to crack GMAT in a month here are few tips that you must include in your study plan.
Given all that introduction, the one-month Study Plan will work,
If you are planning to resign your job and / or take a break from your usual routine to concentrate on the GMAT.
If you have already prepared for the GMAT and retaking the test to improve your score by fine tuning the test-taking strategies.
If you are conversant with the strategies in either Quant or Verbal and are seeking help for the other section in which you are weak.
If you are pretty confident with the basic concepts and feel that you just need more practice.
If you are running short of deadlines and have a limited window to apply.
The one-month study plan for the GMAT is ideally applicable for college students and those who have two years of work experience. The plan is more effective for this category of students simply because they will be more in touch with studies and will have the patience to hit the books and prepare for the  exam. As already mentioned, preparation needs to be extremely focused right from the beginning as one will then have sufficient time for practice and amendments in strategies in case errors are found as we move on through the different phases of preparation. On an average, about 200 hours are required for a thorough preparation and this means you should be ready to spend 7 hours of preparation every day. Any other routine that may take more time out of a usual routine must therefore be planned better or avoided. You should ideally spend the first fortnight of the month in understanding the basics of all concepts tested and the second fortnight to practice questions of various levels.
If you have already prepared for the GMAT, then it is sufficient to spend a minimum of three hours per day to study and familiarize yourself with the concepts and shortcuts. The rest of the time can be spent on fine tuning your strategies, practice them and take GMAT mock tests.
The third case is the most commonly sought after case. This is when students are strong with Quant but feel that Verbal is the section where they need to compensate. If you feel that you need more practice in the verbal section, then it is better to simultaneously practice quant high level question while revising the concepts of Verbal. The mistake that most students make here is that they concentrate only on the Verbal section that at the end of one month, the Verbal score goes up by a consistent amount but then there is a corresponding dip in the Quant scores as well. This doesn't increase the GMAT score on the whole.
It is also advisable that at any point of time if you are not satisfied with the scores you secure in the mock tests, then it is advised to postpone the test for a later date. There is absolutely no point in taking the real test with half-baked knowledge or strategies.
To sum-up, a snapshot of the one-month study plan is as given below.
Week: 01 – Take a mock test and analyze your weak areas. Make sure you brush-up all those concepts first.
Week: 02 – Solve easy to medium level questions from those concepts. You can use the OG and the VR and QR for the same.
Week: 03 – Solve some tough level questions from the same concepts. In case your accuracy doesn't improve, then consider revising your concepts once again.
Week: 04 – Take mock tests and revise your concepts. Make sure that you get extremely comfortable with those topics on the day of the Test.
All throughout the 4 weeks make sure you also keep solving question types that you are already aware of to keep up the momentum.
You can ask for assistance related to GMAT and MBA from us by just giving a missed call at +918884544444, or you can drop an SMS. You can write to us at gmat@byjus.com.