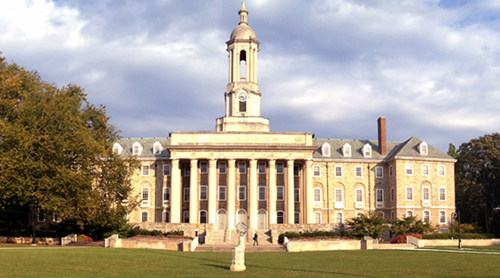 One of the most popular and reputed universities across the globe, Pennsylvania University, also known as Penn-state, was founded in 1855. Located in the picturesque locations of the US, it is surrounded by mountains and provides ample opportunities for skiing and mountain hiking. The students not only receive the highest quality of education here, but are also taught to identify their innate potential and develop into natural leaders with a philanthropic disposition.
For a more detailed understanding of what this institute has to offer, we have examined a few key parameters.
What does it has to offer?
Penn state university strives to provide a platform for nurturing creativity and academic excellence among its students. Here you will be provided with a unique opportunity to work in close cooperation with world renowned faculty who have been proud owners of several nobel prizes.  This school does not limit its influence on students to merely academics; it aims at shaping your overall personality to help you become more confident and socially sensitive professionals.
Course Structure
The University Park campus is divided into fourteen distinct colleges with choice of over a hundred degrees and professional courses. Its unique philosophy is to engage students in collaborative activities with industrial, educational and agricultural partners around the world to disseminate and apply knowledge.
Quality of Education
With several accreditations to its name, this university boasts of highly intellectual professors who will handhold you and guide you to success. An integrative approach to education, you will be taught through practical experience and live assignments.
Cost of Education
The tuition fees of this college is approximately US $32,000. However, the final placements and your first salary coupled with enriching experiences more than make up for this high cost.
Placement and Salary
You need not worry about placements once you have enrolled yourself in this college. The most prominent brands of the business world will queue up to hire potential employees from this college. The average salary for Penn state students is approximately US $48,000.
In conclusion, an admission in Penn State University will enable you to achieve the zenith of success.
Also Read:
B-school Application: What is a Video Essay?
Dos and Don'ts While Writing Essays for Admission
BYJU'S  will be glad to help you in your GMAT preparation journey. You can ask for any assistance related to GMAT and MBA from us by calling us at +918884544444. You can write to us at gmat@byjus.com.