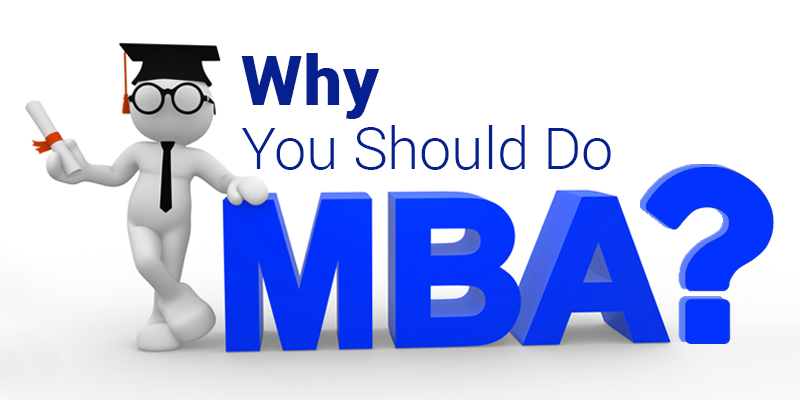 Master of Business Administration (MBA) is regarded as the most preferred flagship course which is pursued by students among other Master in Management courses. MBA gains the most appreciation due to its unique characteristics and the many benefits it offers like career advancement, lucrative compensations, recognising entrepreneur skills and many others. On the other hand, it challenges your learning potentials as you have to sail through the quagmire of the entrance test to be able to enter the islands of distinct B-schools. Simultaneously, the worries of mitigating the huge cost of MBA may also cause you to break out in cold sweat. Ultimately, these frets may put you in a state to question the worth of an MBA.
To pursue an MBA, age is not a determinant, however the years of industrial or organisational experience helps to define the advantages of the course. The undeniable five reasons to complete an MBA are as follows:
1. Stepping into 21st Century Management Community
In the dynamic corporate world, the work ethics and culture will change from industry to industry or country to country. If you reckon on the new form of managerial hacks, MBA gives you the opportunity to play your innings being a manager across the globe. The advancement of technology has intricated the management ideologies and hence it demands competent strategy and decision making skills. You will acquire many key traits like – time management, ability to hire the right candidates for the job. The 21st century Management also requires many other competencies like multi tasking, the capability to make important decisions when required, being acquainted with the current trends in technology and how well your business is performing in the present market scenario. You must be multifaceted and be aware of the functioning of departments like marketing, finance and other vital departments as well.
2. Give Wings to your Leadership Skills
An MBA enables you to identify and acknowledge the instincts of a brave leader. The multi-national companies always hunt for those candidates who possess impeccable leadership qualities and an MBA is like the icing on your career cake. You will be adept at making many critical decisions which are characteristic for mid to high level managerial positions. A leader is characterised as someone who leads from the front instead of just handing out instructions to others. He/She must be able to do any task which is assigned to his/her team and not avoid taking up responsibilities. Naturally a manager is expected to have impeccable leadership abilities as he/she will be accountable for the performance and escalations of his team members. He should be able to help the organization to flourish and achieve good recognition. You will become a source of inspiration for your team and cause them to work harder as well. You will be able to exhibit your commitment and passion to the role once you take up such a pivotal role in an organization.
3. An Opportunity to Recast the Career
An MBA offers the graduates a chance to shift their job role from prevalent domain to different arenas of specialised functional departments like marketing, finance, operations, and human resources. Generally, the working fraternities would want to explore the job opportunities beyond geographical boundaries hence the MBA bridges this gap by educating them with adequate business and management pedagogy. This is the best chance you will have to change the paths of your career to pursue a job in a field you are interested in. It is often the case when most individuals are stuck in a field which they are not excited or passionate about, this will in turn hamper their performance in the job roles they have undertaken. It will eventually impact the appraisals, career growth and better opportunities as well. It is very difficult to switch domains while you are working to a completely different profile since most firms will request for relevant work experience. However an MBA provides you with the freedom to change your domain to a department which you are truly interested in and also provides you with the coveted MBA tag. You will thus gain job offers from reputed firms in the field you would like to work in and the positions at the company will be either mid or high managerial levels. This will give your career the much needed boost in a straightforward manner.
4. Nourishes Communication Skills
An MBA shapes up the individual's thought process, nourishes the communication skills and enhances the personality instincts. Along with this it offers a mixed cultured class composition where you can learn; adapt to the diversity of culture, community, and economy. You will have exposure to the customs and practices of the people and maybe even pick up a few phrases of the local language at the place you are staying at. As already mentioned earlier communication skills are essential for a good manager especially when you take up crucial roles within an organization. You will be required to submit presentations or attend board meetings to discuss on significant events/happenings of your firm. This would all be easier if you had impeccable communication skills. An MBA equips you to hone your language skills by ensuring you have many interactive sessions during classes and discussions with your fellow classmates. This will prepare you in the real time scenario when you have to attend such high profile meetings.
5. Multiplies your Network Connection
During the persuasion of MBA, you come in contact with lot many people from different working domain, organisations and in fact geographical boundaries. Therefore, it multiplies your peer connection and helps you in finding the immediate solution to the crisis like searching for job opportunities, assistance in your sole proprietor business and several others. You gain access to a wide network through your alumni and this in turn assists you in several other aspects of your career as well.
Therefore an MBA transforms the entire entity of an individually on personal and professional ground. Perhaps, it is recommended to initiate the journey of MBA with GMAT. We'll be glad to help you in your GMAT preparation journey. You can ask for any assistance related to GMAT and MBA from us by calling us at +918884544444. You can write to us at gmat@byjus.com.