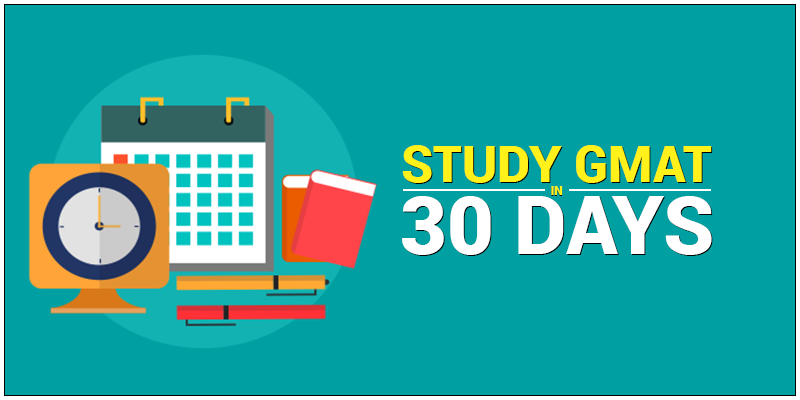 If you're planning to undertake GMAT test with a preparation of only 30 days, it is going to be one of the craziest and challenging things to do. You have to sacrifice your comfort study zone, follow a comprehensive study schedule, study for extra hours and quit your weekend's fun.
If you're ready for this crash project challenge, then pull up your socks and here we go. Before initiating the journey, ensure the essential materials:
1. GMAT Official Guide 2017
2. GMAT prep test (Free Download)
3. Byju's Learning App for GMAT ( Free Download)
First Seven Days Challenge
If you're losing your nerves, before actual GMAT test, then no need to worry. To conquer your worries, face a real scenario by registering yourself for the GMAT mock test. Your current score will help you in identifying your weakness and strengths. And it will give you an edge to set a target score for actual GMAT test. Continue preparation with the official GMAT study guide. If you have performed well in Quant section, then concentrate on verbal. And if Integrated Reasoning (IR)  shivers your backbone, you have to make your study plan IR centric.
Book your GMAT exam time slot: Be relaxed and sign up for the test. If you're worried about less time left and vast study course, you have the next three weeks for preparation.
Things To Do
Watch all the videos of GMAT prep from Byju's Classes-The Learning App.
Practice questions from Byju's Classes sample question papers.
Continue your self-study.
Complete and review GMAT prep test.
Fifteen Days Challenge:
Fifteen days were gone, you have learnt various things and have gained expertise in the topics known to your earlier. Now, this is the time to sit for the second mock test. Crack the mock test with newly learnt skills. Ideally, your practice sessions comprise of questions from every section of the test content.
Things To Do
Official Guide is your best companion ever.
Take Mock tests from other test providers.
Participate in Byju's Webinar.
Compare your old and current mock test scores.
21 Days Challenge
In the third week of GMAT preparation, concentrate on your earlier learning rather than studying the new topics. It is the time when you have to focus on your weak spots. By this time you should have completed the 500 questions from the Official GMAT Guide. Jot down the questions which you're struggling to get the answers for. Participate in online forums, or you can schedule an appointment with Byju's Classes mentors and discuss your queries.
Things To Do
Do not forget Official GMAT Guide.
Take 3-4 mock tests.
Focus more on accuracy.
30 Days Challenge
Sit for the final GMAT mock test. It will give you an insight into your real performance in the test. Do not over think about the questions you have struggled; calm down. You have religiously prepared for the past three weeks, and you have covered all the topics. Be positive and have faith in your study. Once again watch all the Byju's Classes videos to recall the tricks described for reading comprehension and sentence correction.
Things To Do
Revise Official Guide.
Put the last minute touches on all Byju's Classes sample questions.
Evaluate your performance.
Take assistance of forums for sorting the doubts.
The Show day
Calm down…you studied…you practised, and you'll perform.
We'll be glad to help you in your GMAT preparation journey. You can ask for any assistance related to GMAT and MBA from us by calling us at +918884544444. You can write to us at gmat@byjus.com.