'How to tackle GMAT exam stress?', 'How to manage GMAT stress?', 'How to remain stress-free during GMAT test?' are few questions alike GMAT aspirants explore the Google to tickle the ivories. Unfortunately, the anxiety and stress level of GMAT aspirants are bit higher since they are detached from studies for more than 4-5 years, and directly facing GMAT exam may drench them in a sweat. We're sharing seven steps to pull down the stress strings.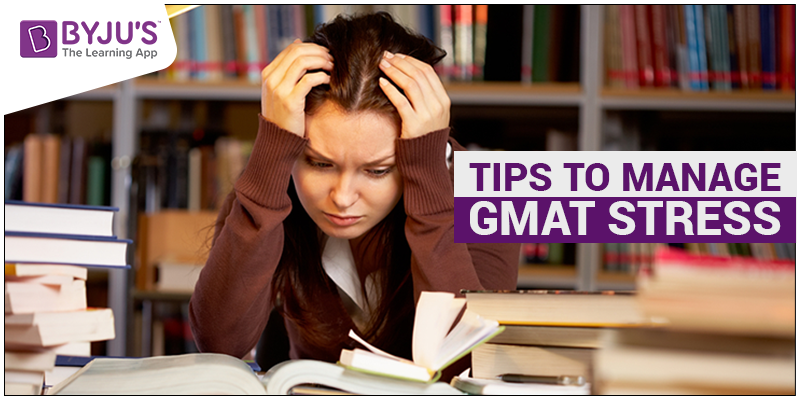 Study, Revise and be Updated
You may exclaim 'what if I don't score more than a 700 GMAT score? We may break our heads thinking these kind of questions. Stop now! In place of giving irrelevant things to your mind to worry about, practice more for GMAT. Read the rules and regulations one has to follow before taking down the test. You should be aware of the dos and don'ts during the 10-minutes break. Jot down the points in a writing-pad and keep on reviewing those. Learn the easiest and time savvy techniques to solve the problems.
Practice, Practice & Practice
Fear creeps in when we know half truth, and conclude what we know as true. So it is wise to go to the roots and knock down the problems. Hence, it is advisable to learn new things, practice more and more until you gain expertise in that. The more you practice all your doubts will clear out. Target test score, give mock test, identify your shortcomings and work on those to make them strong. On the test day, don't wear tight outfits; wear those clothes in which you feel comfortable. Try Byju's Classes free GMAT mock test.
Don't Forget to Sleep
Sleep is vital for repairing the tearing and wearing of blood cells and nerves. It also reduces the stress and anxiety level of the body. It increases the memory power and helps in retaining it for a longer time. Therefore, sleep peacefully for at least 7-8 hours in a day. Especially get a sound sleep before the test day. It refreshes you; you'll be able to think more distinctively. Enjoy fresh and healthy dinner before the test date, don't eat junk food stuffs as it affects the blood pressure control in the body. In fact on the test date, have some light but nutritious breakfast.
Rehearse for Better Performance
Before the test date, don't study rigorously but keep murmuring the important points. By doing this you'll be relaxed and the points will remain fresh in your mind. You won't feel much pressure of the exam. Read articles to make your clear and distinct stand for writing essays.
Be a Good Manager
The GMAT test is all about time management. And time management initiates right from the prep stages and continues till the test finishes. Hence, you have to be careful about your studying and daily life schedule. Give up your weekend fun to GMAT preparation as after completing MBA in any one of the renowned colleges across the world say London B-school or Harvard B-school your weekends will be more joyful.
Don't Panic if Things Aren't in Your Favor
Generally, we get panicky if things start flowing in the reverse direction. Keep calm and do not override things. Rather you should struggle and put in time to learn things. Don't lose hope. GMAT is hard to crack for everyone; you're not alone facing difficulties. Have faith on whatever you have studied, and all the questions will be asked following the same pattern.
B-Schools are not the Life's End Destination
In our journey, we have seen several students who feel as a loser as they weren't able to crack the GMAT test and get into good B-schools. Remember! This is not the end. There is also a life and a career beyond a B-school. And there is no upper age limit to appear for a GMAT test. If you're unable to crack down GMAT for a full-time MBA degree course, you can opt for Mini-GMAT or go for an Executive MBA.
Share your strategies for taking GMAT by posting your comment below. You can ask for assistance related to MS programs by just giving a missed called at 09900004628 or you can drop an SMS. You can write to us at byjusforgmat@gmail.com.