Singapore has earned the title of "World's Greatest City" by CNN. More than 80000 international students across 120 countries formulate the cohort for master degree programs. Out of all master degree courses Master in Business Administration catches more eyes of foreign students.  Singapore is blooming up the new destinations for MBA aspirants after the US and the UK. The easy visa policy, government's scholarship plans are also making it more popular among the aspirants. Besides it, Singapore has been ranked as one of the finest Student Cities due to its safe environment, affordability and the superiority of education. A diverse and young country, Singapore has many religions, languages and cultures.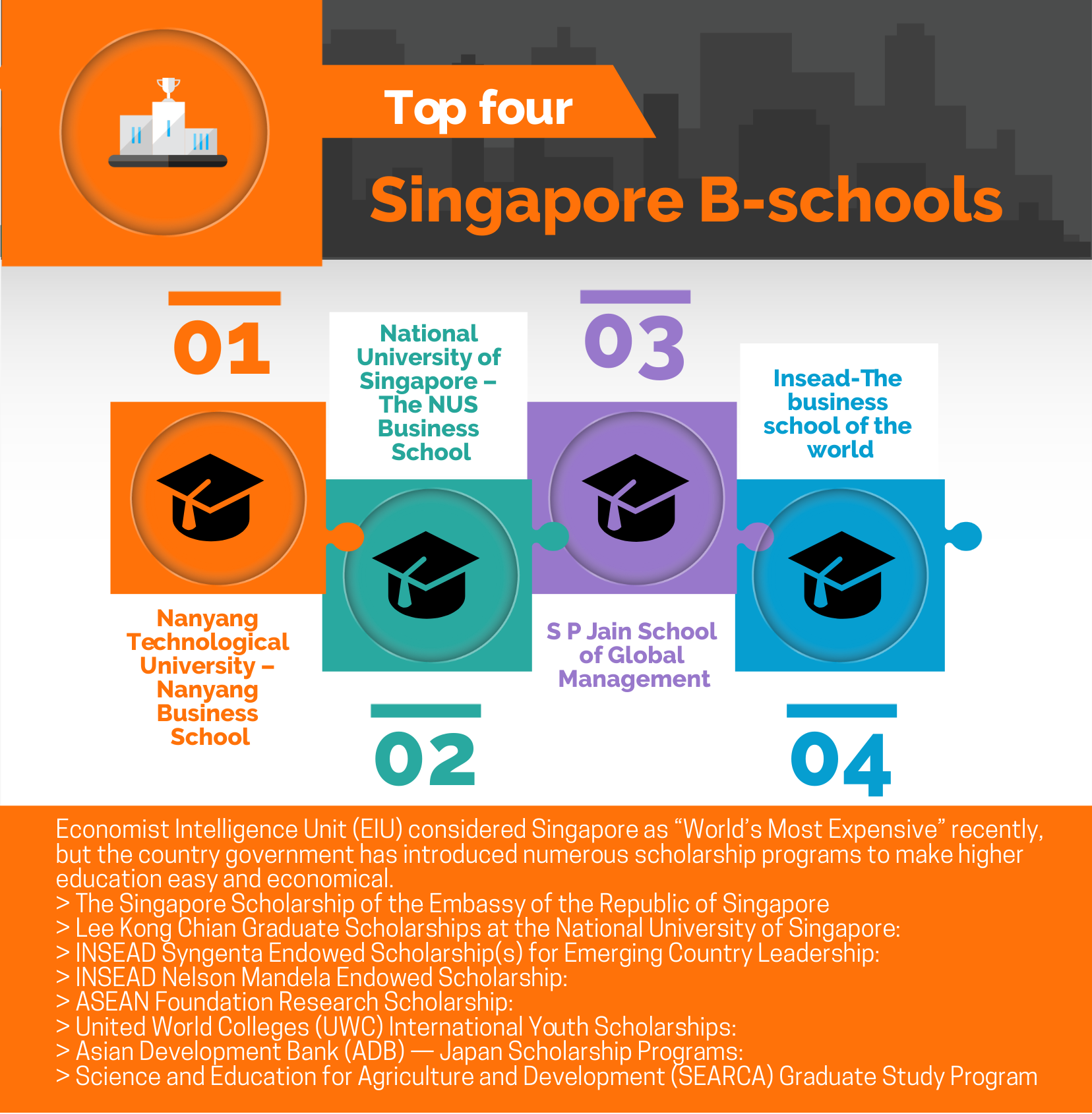 Why Singapore is more popular among higher studies grads?
International students who wanted to pursue master degree program especially MBA, Singapore is becoming their first choice for it's striving forward growth path for all-round development. In the next section we have highlighted the points which accredit Singapore for first preference by the students.
A number of Scholarship offered on the platter:
Though Economist Intelligence Unit (EIU) considered Singapore as "World's Most Expensive" recently, but for aspiring students the country government has introduced numerous scholarship programs to make higher education easy and economical. Here are few scholarship programs list, you should be aware of it.
The Singapore Scholarship of the Embassy of the Republic of Singapore

Lee Kong Chian Graduate Scholarships at the National University of Singapore:

INSEAD Syngenta Endowed Scholarship(s) for Emerging Country Leadership:

INSEAD Nelson Mandela Endowed Scholarship:

ASEAN Foundation Research Scholarship:

United World Colleges (UWC) International Youth Scholarships:

Asian Development Bank (ADB) — Japan Scholarship Programs:

Science and Education for Agriculture and Development (SEARCA) Graduate Study Program
 One of the Best Education Systems in the World:
In 2015, QS Best Student Cities, Singapore recognized as Best City for Students. The Singaporean government puts more emphasize on innovation in studies and taking it to another level of intense learning. The diverse community culture, high quality living standard, low crime rate makes it more popular.
 High Job opportunities:
The headquarters of Asia-Pac regional for most global organizations is located in Singapore; ultimately it makes Singapore a key hub for economic activity. There are approximately 26000 international companies, if students are procuring higher education there, they will bestowed with good job opportunity. In fact students are allowed to undertake industrial training during the persuasion of course. It gives them a chance to build up a professional network, through which they can a grasp a job offer.
Top B-schools in Singapore Which Accept Minimum GMAT Score
Singapore B-schools are offering best quality business and management education to their students. Here is the list of colleges who accept candidates with minimum GMAT score.
| | | |
| --- | --- | --- |
| Rank | B-School | Minimum GMAT Score |
| 1 | Nanyang Technological University – Nanyang Business School | 665 |
| 2 | National University of Singapore – The NUS Business School | 656 |
| 3 | S P Jain School of Global Management | 650 |
| 4 | Insead-The business school of the world | 702 |
Share your views by posting your comment below. You can ask for any assistance related to GMAT and MBA from us by calling us at +918884544444. You can write to us at gmat@byjus.com.