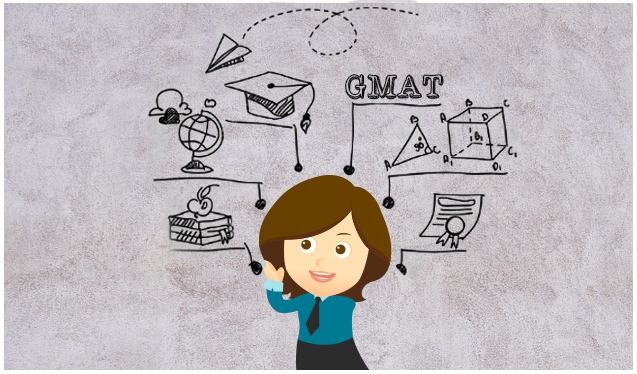 Every MBA aspirant faces this dilemma about which exam to write CAT or GMAT. In both exams, the candidate's Writing Skill, Verbal Ability, Reasoning and Data Interpretation or Quantitative Ability is analyzed. Though the skill tests are same, the depth of understanding of concepts and the modus operandi of all the tests varies from each other.
CAT score is necessary for admission towards Indian Institutes of Management and affiliate B-schools & universities in India whereas GMAT & GRE scores are accepted by all the leading business schools across the globe. This can be a criterion on which you can decide which exam to appear. However, here are ten reasons why you must opt for the GMAT exam to proceed further in your academic career for an MBA degree. GMAT is conducted by Graduate Management Admission Council.
More Options-
As GMAT score is accepted in 1700 universities and 3000+ colleges for more than 6000 programs. Appearing for this exam provides you with many options to apply. Your GMAT score is a universally recognized one and many colleges across the world will recognize the same and be ready to grant you admissions, unlike the CAT which is recognized only in India and can be used for admissions at colleges in India.
Long Validity-
The CAT score is valid for one year whereas GMAT score is valid for five years. This provides you with a lot of flexibility since you can attempt the exam immediately after your graduation gain a few years of work experience, spend time to build your profile by completing online certifications, learning a new language etc. and then you can go ahead with your applications to various universities. On the other hand with the CAT exam you will be able to apply for admissions only that particular year you appeared for the exam and you will have to retake the exam if you would like to apply the following year.
The probability of Getting Selected-
GMAT score is only an aspect of the selection criteria. With a phenomenal profile, you can get into a good B-school with a relatively low score, and if you have a moderate profile, you can compensate the lag by a good GMAT score. Most of the admissions committee will consider a candidate's overall profile since they generally do not prefer individuals with only academic intelligence. They will require candidates who can bring to their university a lot of diversity and competencies. This is where a well written SOP, influential LOR's, and any internships completed will come into play. All of the above could influence your admissions into a university.
You Don't Lose a Complete Year-
In most of the aptitude tests, you waste a complete year by waiting for the exam to be conducted. You can write GMAT exam five times a year hence can prevent loss of one year. You also have the option to choose the exam date as per your convenience. The dates are available throughout the year and you needn't waste precious time waiting for the GMAT exam dates. If you would like to improve your score as well then you can do so by attempting the exam once again, as mentioned above you can write the exam upto 5 times in a calendar year with a 16-day gap between every attempt.
Less Competition-
Over the past five years, both the CAT and GMAT exams have shown a consistent rise in the number of applicants. However, the number of test takers for CAT is almost three times as much as the number of test takers for GMAT. Every year over 1.8 to 2 lakh students appear for the CAT exam competing for 10,000 -20,000 seats in the top management colleges across the country. As you can view from the given figures the odds of an individual gaining a seat through CAT exam is very slim as it tends to get extremely competitive. There are other factors like reservations etc which also makes it extremely difficult to gain admissions in India. This is however not the case when it comes to GMAT.
Study Abroad –
GMAT is one of the practical exams which opens the gateway to settling abroad which implies that the chances to improve your exposure, career opportunities, and salary are high if you appear for GMAT. There are several prominent companies overseas which look to provide job opportunities to several well deserving candidates. In addition to the offers being lucrative your career will also be set to advance in later years.
Less Preparation Effort-
The GMAT test preparation takes around 3-4 months even if you start right from scratch. On an average, premium exams like CAT or XAT preparation take a minimum of 6 months. Since most of the topics from the GMAT exam are from middle school/high school levels it becomes a simpler task to study for the exam.
Good Option for Pro Candidates-
It's never too late to think about MBA even if you are a professional with more than 15 years. You are eligible to appear for GMAT as most of the top B-schools in USA and EUROPE prefer a well-experienced candidate. This is because they believe that such candidates will possess more competencies, maturity when compared to freshers.
Flexible Application Deadlines-
You are a working professional and busy with work. CAT, XAT, NMAT exam dates are clashing with your schedule? No worries!! You can write GMAT exam at any point of time of the year. Some B-schools have 2-3 deadlines for applications. In case you are busy when one application cycle is about to end, there is still another chance to apply and save your precious time. You needn't fret that if you miss a deadline then you will have wasted an entire year in the process.
Easiest Test for Non-Mathematics Student-
GMAT Quantitative section is very easy. So a student from the non-mathematics background can easily opt for this exam. This section mostly focuses on the basic high school and middle school math concepts like – Elementary Algebra, Geometry Concepts, Arithmetic, Number Systems etc
Get ready for GMAT exam with BYJU's tablet-based learning program.
All the Best!
We'll be glad to help you in your GMAT preparation journey. You can ask for any assistance related to GMAT and MBA from us by calling us at +918884544444. You can write to us at gmat@byjus.com.