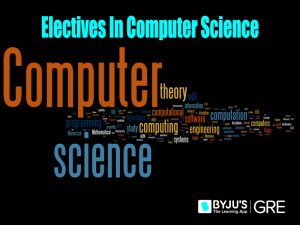 Now that you have completed your GRE General Test and have decided to pursue an MS in Computer Science, next comes the step of Choosing an elective subject which is very important. The chosen electives should follow a career path specialization. These courses often help the students to delve deeper into the subjects which are more advanced in nature. The common career path specialization which any Computer Science major would choose are as follows:
Artificial Intelligence
Machine Learning and Neural Networks
Data Analytics and mining
Cyber and Network Security
Bioinformatics
Robotics
Wireless Computing
There are many kinds of paths which a student can take, but it all depends on the university. The courses for a specific career path has to be available and be taught. Sometimes, students choose courses in such a way that two career paths overlap, like Data Analytics and Machine Learning.
Electives are the best way to constructively define your career path while you're in college. Here we list some of the courses that colleges offer.
What are Elective subjects?
Elective subjects are those courses that even though count towards your degree, but are not directly associated with your degree program. You can select these subjects based on your interests or based on topics that can help you in your career in your field of study. For example, if you are pursuing your MS in Computer Science and Engineering and you are interested in learning more about business to become a successful practitioner, then you can consider taking introductory classes in business to develop your soft skills as well as to understand the roles business plays in the IT industry.
The elective courses are a balanced educational method that focus on introductory subjects related to your program, though it may sometimes also include basic subjects like Maths, Social sciences, and English. Elective courses help you in developing skills to increase your knowledge of a particular field within your specialization. They can be chosen just to satisfy your curiosity related to some particular subject. Here lies a list of most popular elective subjects which you can opt to pursue along with your core courses. These are:
Windows .NET Application Programming with C#
Green Information Technology
Computer Graphics
Foundations of Analytics
Data Analysis and Visualization
Financial Informatics
Advanced Java Programming
Biomedical Sciences and Health IT
Health Informatics
Electronic Health Records
Biometrics
The Web Application Development
Server-Side Web Development
IT Project Management
Distributed Software Development and Management
Network Design and Implementation
Web Development with.NET
Artificial Intelligence
Software Design and Patterns
Enterprise Java
Systems Programming Using UNIX
Database Security
Mobile Application Development
IT Security Policies and Procedures
Network Design and Management
Web Analytics and Mining
Designing and Implementing a Data Warehouse
Network Security
Digital Forensics and Investigations
Mobile Forensics
Enterprise Information Security
Data Mining
Rich Internet Application Development
Network Forensics
Advanced Digital Forensics
Cloud Computing
Machine Learning
Software Quality Management
Advanced Database Management
Advanced Health Informatics
Enterprise Architecture
Cryptography
Advanced Cryptography
Some universities offer many more courses as electives, while the vice-versa also happens in other cases. Each student is allocated an academic counsellor who helps the students to select their courses according to their interests. Make sure you use the services of the counsellor as he/she can clear a lot of doubts regarding your career goals.
BYJU'S will be glad to help you in your GRE preparation journey. You can ask for any assistance related to GRE from us by just giving a missed call at +918884544444, or you can drop an SMS. You can write to us at gre@byjus.com