Getting a master's degree from a top college overseas is becoming increasingly difficult. Thousands of students apply for a limited number of seats every year. In order to make a mark in the minds of people in the Admission Committee, your profile needs to stand out in some way or the other. Most of the students mention similar things in their profile, which is not good for their chances of getting admission in the top colleges. Here are the top 10 things you can do to improve your profile:-
1)  Figure out your USP
Many candidates will have a better academic record than you. In order to make your profile stand out, you must highlight your USP. Know your strengths and express them effectively. Mention instances to portray how your strengths helped you to overcome difficulties times. Focus on strengths which are relevant to the course you are applying for. Show your strength in different areas such as academics, profession related, communication skills etc. Hence, mentioning your USP, in the application essay will help you to put together a powerful application.
2) Write a concise and sturdy resume
Create a concise resume, mentioning your achievements in a crisp manner. You must mention achievements related to fields like academics, extracurricular activities, community service, certifications, and leadership experience. Get some certifications, which are related to the course you have applied for. Show your deep interest in that particular field by publishing some research papers. Highlight the positions of responsibility, which you have held in the past. You must create a sturdy single page long resume that will effectively portray your achievements. It must reflect all your good qualities to help them to evaluate your candidacy in a better way. A good resume will increase your chances of selection your application, as it will provide you with another chance to show that you are an ideal candidate.
3) Write an engaging SOP
Statement of purpose should contain your brief introduction and your academic background. It must focus on why you wish to pursue the particular specialisation, which you have applied for. Display your passion towards that particular field. You should also mention your short term and long term goals in a concise manner. Take help from experts at BYJU's to build an impeccable profile
4) Letter of Recommendation
Get LOR's from the professors who know all about your strengths. The professors know your qualities the best as they assess your performance related to different aspects of academics. The experienced candidates can get a LOR from their workplace as well. A candidate for a master's degree program is required to submit at least three recommendations. It is ideal to get one professional and two academic letters of recommendation. This will allow the admission committee to understand your academic and professional abilities.
5) Work experience in a reputed firm
If the firm you work for has a very gruelling recruiting process, it adds to your overall profile. Working in a reputed firm makes your profile stronger as it shows that you have excellent skills related to your field. It also shows that you have a great academic background, to have bagged a prestigious job or internship at a reputed company.
6) Diversify your profile
Make sure that you mention skills which are different than the skills pertaining to your field. Learn new skills through extra certification courses. Also, mention any experience that can add value to your profile. If you have volunteered for any projects or participated in any competitions, you must highlight these points to bring them to the notice of the admission council.
7) Have a life outside the office
Add more dimensions to your life to build a well-rounded personality. You should not come across as a person with only academics related interests. Top universities often give more preference to candidates, who have a holistic personality. You can mention your interests related to sports, music, fine arts, environment, social causes etc.
8) Do some research work
Do some research work and then publish it. It will highlight your deep interest in that particular field, to the admission council. Show them that you will be able to work with the researchers at the university. So make sure that you mention your research skills, in order to have an edge over the other applicants.
9) Follow your passion
Add more dimensions to your personality by learning new skills. Follow your long lost passion to learn a new skill. Add that skill to your resume in order to make an impact on the minds of the admission committee. This will show the council the multiple facets of your personality.
10) Volunteer in your community
Do some social work by working for the organisations that serve the less privileged. Help those in need. Start conducting seminars to raise awareness among the school kids regarding issues like drug abuse, sexual abuse etc. You can portray your interests beyond professional work by showing your commitment towards the betterment of the society.
Doing the things mentioned above will help you to develop a unique profile, which will improve your chances of getting into the college of your choice. Developing a good profile demands full commitment, so you must make a fool-proof plan and follow it diligently. It will increase your chances of getting into a top college.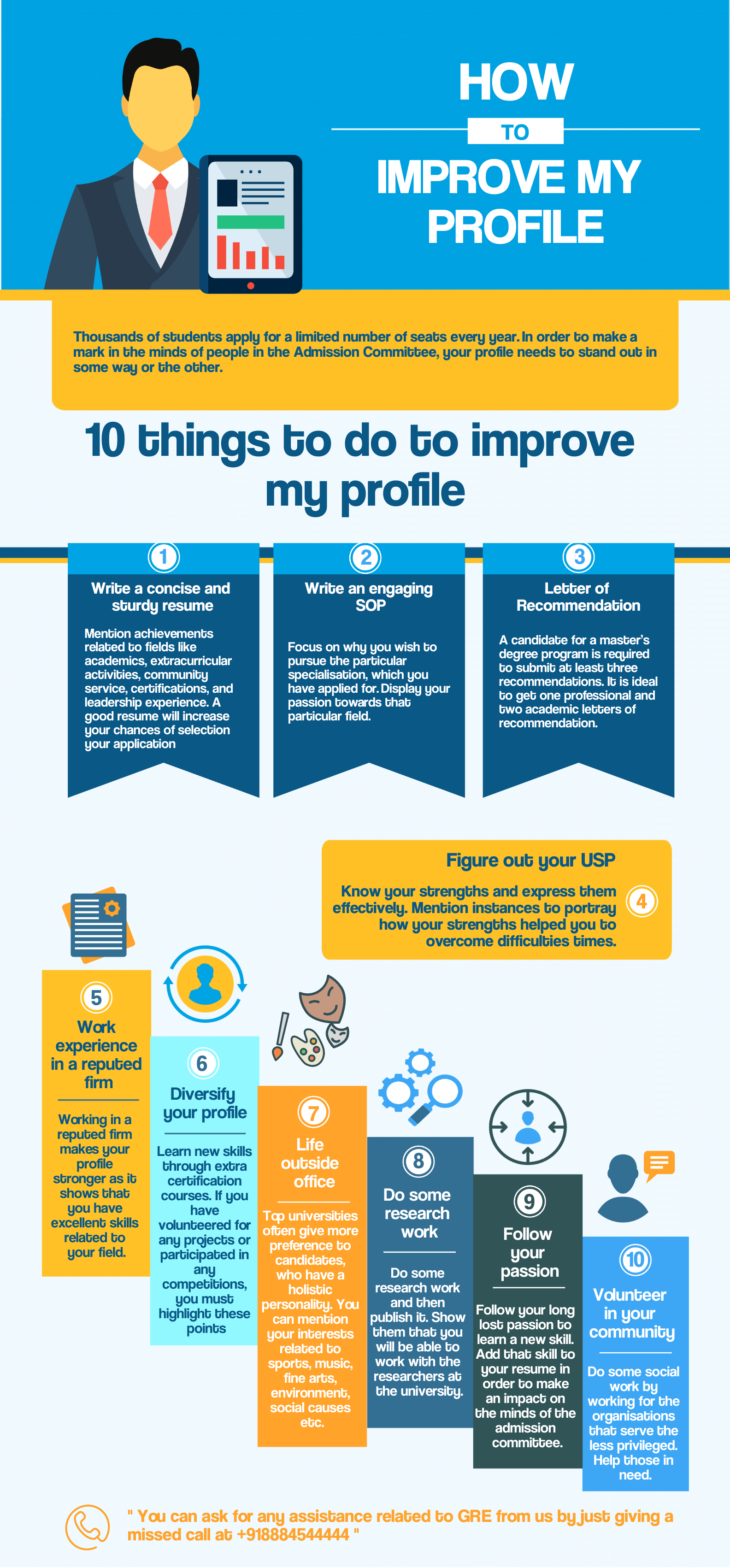 BYJU'S will be glad to help you in your GRE preparation journey. You can ask for any assistance related to GRE from us by just giving a missed call at +918884544444, or you can drop an SMS. You can write to us at gre@byjus.com.