GRE is a standardized exam that is administered by ETS, which is the world's largest private nonprofit educational testing and assessment organization. Similar to any other standardized exam, GRE is also labeled as one of the toughest exams in the world. Even though it is a tough test it does not mean that you can't excel in it. Acing the GRE is possible, the only condition is that you must have a thorough understanding of what to study and how to prepare for GRE in a strategic manner.
What is a Perfect Score in GRE?
Every person has a set of tasks, which they think are impossible to execute. For some, traveling the globe is an impossible task, for a few reaching the peak of Mt. Everest is the toughest task while some would say that getting an impeccable score in GRE is a tenacious task.
The maximum score in GRE is a combined score of 170 in the verbal section, 170 in the quant section and 6 points in the AWA section. Getting this score may appear impossible at first and if you are the one dreaming of it then surely you won't be telling it to anyone thinking that others will make fun of you. But you will be glad to know that getting an excellent score in GRE is possible and you too can achieve it. If not a 170 + 170 + 6 score then by aiming for it, you can at least get very close to this score.
Tips to Excel in the Verbal Section
The verbal section of GRE is different than various exams that comprise the section that tests your skills in the English language. In fact, the standard of the verbal section in GRE is quite high. But still it is possible to achieve top marks in this section:
Take the easiest route: Don't know a word? Hearing it for the first time? Get a flash card and look for its meaning. This is the simplest way of improving your vocabulary without putting too much effort as the words asked in the GRE are very limited.
Be more GRE specific: Try to incorporate words that are commonly asked in GRE in your daily life. This trick will help you to wrap your head more thoroughly around the standard words.
Practice: Try to solve more and more practice sheets on a regular basis. This will help in boosting your confidence for the D-day.
Tips to Get a Superb Score in the Quant Section
The quant section of the GRE is much simpler than what people usually assume it to be. Follow these tricks and your performance in the quant section will surely be outstanding:
Clear your basics: The GRE never expects you to be a human calculator; it only checks a person's understanding of the basic concepts. So before trying any tough questions, learn the fundamental concepts and solve easy to medium level questions to make them concrete.
Practice sheets: Many online free practice sheets are readily available online. Try to solve at least one practice sheet each week in a real-time environment, and no one will be able to hold you back from performing splendidly in the actual exam.
Ace the AWA Section
GRE asks you to write two essays. Getting a top-score in the AWA is easy if you have a good vocabulary. So enrich your vocabulary and become a competent writer, so that nothing can stop you from scoring all 6 points in this section.
Acing the GRE may seem like an insurmountable task at first but it can be easily achieved by making effective use of the tips and tricks that have been mentioned above. So, make sure that you leave no stone unturned in your GRE preparation to score magnificently on the day of the exam.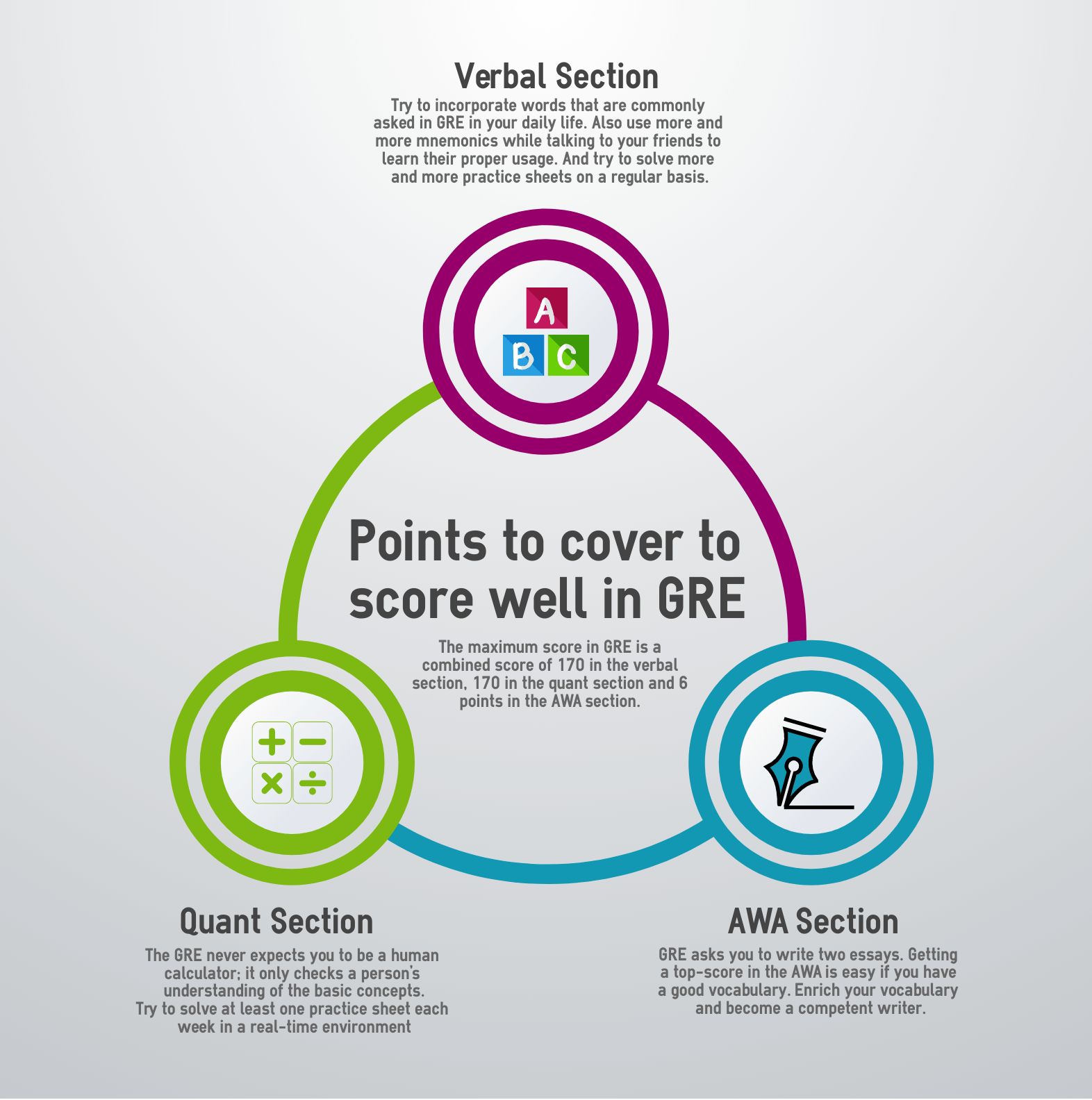 You can ask for any assistance related to GRE from us by just giving a missed call at +918884544444, or you can drop an SMS. You can write to us at gre@byjus.com.