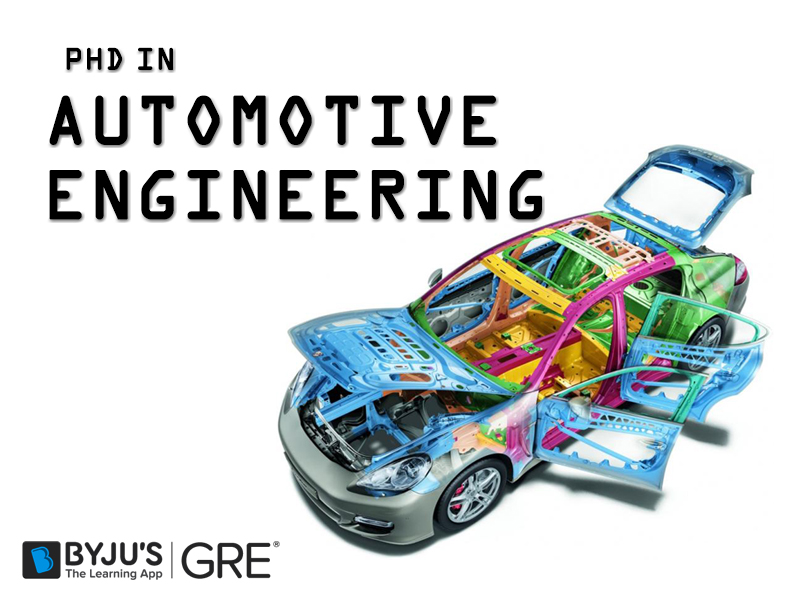 Automotive Engineering has grown leaps and bounds over the years. Cars and other vehicles have more complicated technology within them. They have now become 'smart vehicles'. From innovation in the powertrain, energy systems to create fuel efficient cars, human-machine interactions to manufacturing logistics, the automotive industry is moving into a complex inter-disciplinary subject. Automotive Engineering is no more just vehicular mechanics, it has a vast range of subjects that are being depended on by the industry.
There has been increasing pressure in the current workforce to expand their knowledge, skills and expertise by going through advanced courses. Many engineers make use of this opportunity to specialize in a niche skill which can be more rewarding and important to your employer. By acquiring a PhD degree and specializing in a niche skill, the engineers now become technical leaders and developers in the company. Therefore many students post their GRE exam tend to opt for this field to pursue their Masters and then their Ph.D. degree.
About the Field
The Automotive sector includes the use of both design and manufacturing techniques to impress and woo the customers. As an industry, it has been going through rapid transformation in aesthetics, technical performance, safety and fuel emissions. Electronics and software are being highly relied upon for the production of modern vehicles, especially the premium vehicle market which demands for perfection in luxury in infotainment systems as well as engineering expertise.
Being a fast-paced industry, companies churn out vehicles left, right and center off their production line. It can go incredibly quickly from the initial concepts to running off the production line. It is possible to work so fast because of the help of industrial robots, computer modelling and simulation and optimization methods utilised by the organization.
Aim of the program
The primary objective of the course program, that is, Ph.D. in Automotive Engineering is to help the students in finding different perspectives to look at the automotive vehicles and to gain in-depth research knowledge of three main focus areas; powertrain, safety and vehicle dynamics.
The research scholars undertaking Ph.D. in Automotive Engineering will get the opportunities of performing research on their chosen topic in assistance of a supervisor, simulate and experiment, and carry out real case studies using modern tools.
Vehicle dynamics and powertrain are the two most famous and frequently opted disciplines among the research scholars of Ph.D. in Automotive Engineering, since it is fun to understand and helps to design automotive vehicles in the mentioned domains. But field of safety is no less important, as it holds a significant place in many renowned universities because it brings a unique touch to the program. Another important factor to consider is that this course is not available at all universities, hence it is a good idea to research your options before finalising your university.
Research Areas
The research is the most crucial part of the PhD degree. The research has to be original and finally there will be a dissertation followed by a viva. The key areas of research which most students tend to follow, but not limited to, are listed below:
Computational Fluid Mechanics
Automotive Design
Hybrid Vehicles
Dynamics, Control, Power Electronics
Vehicle Informatics and Communication
Energy System, Powertrain, Combustion
Automotive engineering is considered as one of the most challenging engineering streams for a candidate's masters degree as well as Ph.D. However, it is also true that the growth rate of this engineering stream is known worldwide. Automobile engineers get to deal with modeling, creating, testing and maintaining the automobiles. Hence, undoubtedly if you hold a Ph.D. in automobile engineering then your demand will increase manifold in the market, but this is a challenging career with lots of adventure and high success rate.
BYJU'S will be glad to help you in your GRE preparation journey. You can ask for any assistance related to GRE from us by just giving a missed call at +918884544444, or you can drop an SMS. You can write to us at gre@byjus.com.