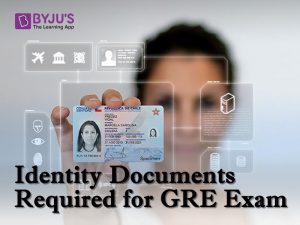 Educational Testing Service (ETS) is the authorised body which conducts Graduate Record Exam (GRE) an entrance test for graduate level Master's degree flagship. To sustain the transparency in the examination, ETS test organizers ask you to show some authentic ID before taking the online GRE. ETS has generated a list of valid ID documents which must satisfy certain specifications given below:
The ID proof must be an original document; photocopied documents are not acceptable
The document should be valid; expired documents (bearing expiration dates that have passed) are not acceptable
The ID must bear your full name exactly (excluding accents) as it was when registering for the test
It should include a recent, recognizable photograph
It must include your signature (the name and signature on the ID document must match)
Supplemental ID Documents requirements in GRE Exam
Sometimes the test administrator might ask for the supplemental ID Documents during the GRE Exam because of the following two reasons:
(i) the test administrator questions your primary ID document
(ii) your primary ID document is otherwise acceptable but does not bear your full name, photograph or signature
In case you fail to provide a supplemental ID that contains your signature, you may present two government-issued IDs with photographs as long as they are in the same name you used when you registered.
Supplemental ID documents may not be used to resolve name discrepancies. The last name on your primary ID must match (excluding accents) the name you used when you registered for the test.
The following ID documents are generally acceptable as Supplemental ID proofs :
Government-issued ID card (including, but not limited to, those listed under Primary ID Documents)
Student ID card
The School or College can issue the authorised identification letter. The letter can be in two formats, viz, typed or printed on the original letterhead of the respective school or college the exam aspirant attend(ed). Additionally, it must contain the details of your date of birth and the date of issue of the letter, a school official's signature and the school seal must be present and both must overlap your photograph. These authorised letters are valid only for 12 months or 365 days from the date of issuance.
More importantly don't forget to bring a calm and composed mind to knock down the exam questions. Good luck!Share your views by posting your comment below. You can ask for assistance related to GRE preparation and MS from us by just giving a missed call at +918884544444, or you can drop an SMS. You can write to us at ms@byjus.com.