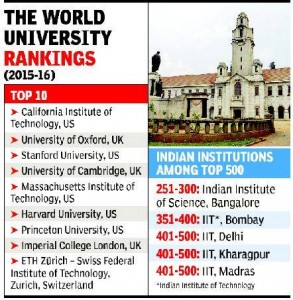 The Times Higher Education World University Rankings 2015-16 has more Indian institutes from previous editions after the list was expanded to top 800 from 400. But none of them breached the top 200.
The highest ranked institution is the Indian Institute of Science, Bangalore, placed in 251-300 rank group and the other institution among the top 400 is Indian Institute of Technology, Bombay (351-400 cohort).
In all, India has 17 universities in the list, matching its BRIC counterpart Brazil. Among Asian countries China continues to dominate, while Japan and South Korea have fallen behind.
Times Higher Education World University Rankings, said: "It is good news for India that 17 of its institutions feature in this year's list of the world's best universities but it will have to work harder to compete with other emerging economies such as China which has 37 institutions featured in this year's rankings and Russia which has fewer institutions overall but a higher proportion in the upper echelons of the table."
"With the population of young people in the country continuing to expand resulting in further pressure on resources, it is now more crucial than ever that India invests in research and strengthens its links with other nations.
The government has spoken about improving its universities but is yet to implement an initiative in this area. It will need to act, and fast, if it wants to match up against its fellow BRIC nations and the rising stars in Asia," he said.
In Asia, the National University of Singapore holds Asia's number one spot (in 26th place) while China's two leading universities (Peking and Tsinghua) are firmly established in the world's elite top 50 group at 42nd and joint 47th respectively.
Japan has two institutions in the top 200, University of Tokyo (43rd) and Kyoto University (joint 88th), while South Korea has four institutions in the top 200: Seoul National University (85th), Pohang University of Science and Technology (116th), the Korea Advanced Institute of Science and Technology (148th) and Sungkyunkwan University (153rd).
Hong Kong has three institutions in the top 200: the University of Hong Kong (joint 44th), the Hong Kong University of Science and Technology (59th) and the Chinese University of Hong Kong (joint 138th).
Baty said: "It is a mixed picture for Asia. China's two leading universities, Peking and Tsinghua, are firmly established within the world's top 50.
Singapore is another strong performer – it now boasts Asia's number one university, the National University of Singapore in 26th place, and its compatriot, Nanyang Technological University, sits in its highest ever place, 55th. But tough times for Japan and disappointment for South Korea mean that leading Asian nations' grip on the higher ranks of the World University Rankings is loose."
India, Lanka kick off joint exercises
India and Sri Lanka kicked off their "Mitra Shakti" joint combat exercise to bolster "interoperability" between their armies, even as New Delhi continues with its equipment supplies and stepped-up training for Sri Lankan armed forces.
The aim of the 14-day exercise, being held at Aundh Camp in Pune, is to "share the best military practices and promote healthy military-to military relations as well as develop joint strategies by sharing expertise in conducting counter-terrorism operations".
"Forming part of different levels of bilateral military engagement across the entire spectrum of operations, the exercise will enrich the two contingents in further honing military skills," said an official.
This is the third such military exercise between the two countries, with the first edition being held in Nahan in India in December 2012 and the second at the Uva-Kudaoya commando training school in Sri Lanka in November 2014.
India for the last several years has been regularly training Sri Lankan armed forces as well as providing some military equipment to them. Towards this "capacity-building" to counter Chinese inroads into the island nation, India is now also supplying two naval offshore patrol vessels to Sri Lanka.
India has earlier provided 24 L-70 guns, 24 battle-field surveillance radars, 11 USFM radars, four Indra-II radars and 10 mine-protected vehicles, among other things, to the Sri Lankan forces. Similarly, around 800 to 900 Lankan military personnel are trained in Indian military establishments every year.
Also Read: