Lakhs of youngsters across the country take the UPSC civil services every year hoping to become IAS or IPS officers in India. The youngest person to become an IAS officer in India till date is Ansar Ahmed Shaikh from Maharashtra. Shaikh cleared the IAS exam in 2016 with a rank of 361. He was merely 21 when he passed the exam. There are other stories of how candidates cleared this exam in their thirties and well past what is traditionally considered an age to be starting a new career. In fact, the UPSC doesn't care what age the candidate is except that he/she should fall within the prescribed age bracket. This article talks about the average age of candidates who clear the UPSC CSE.
Also Read | 2017 UPSC Exam Age Criterion
Both sides of the coin are inspiring. It is wonderful to see young people get into the services so early giving them an advantage as far as accumulating work experience in the civil services field is concerned. It is equally inspiring to see people stick on to their UPSC dreams despite age catching up and achieve it.
There is an interesting graph given below. It gives the percentage of selected candidates (between the years 2002 and 2012) and the age group they fall into.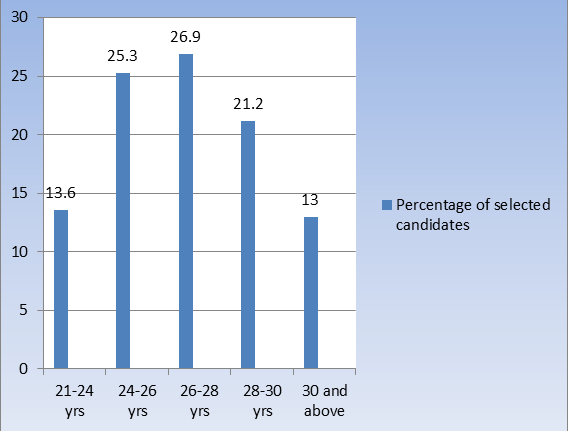 This graph reveals that the average age of selected IAS candidates fall between the ages of 26 and 28 years. In fact, the average age of a selected candidate is 26.9. This is interesting because this is an age where most people would have started on their careers or businesses. In fact, the UPSC is sometimes viewed as an unsafe choice because of the time it takes for a person to clear it. By the time all your attempts are over, it becomes too late to start another career. Still, many IAS aspirants try their hand at what is considered the cream of all professions in India. In fact, if you have an IAS dream, all these numbers shouldn't deter you from attempting seriously the IAS exam.
The civil services is indeed a rewarding profession giving people a chance to serve the country. It gives an opportunity to use power and authority for good and taking an active part in the progress of the country. 
If you liked this article download the Byju's app for more educational content. You may also want to read 10 things to do to become the youngest IAS officer in India