Table of Contents:
1. Karnataka starts release of water, ends defiance of SC
2. SC can't intervene, says Centre; High-power technical team can inspect Cauvery basin and report back to the court
3. Centre to amend rules on foreign funding
4. Russia welcomes surgical strikes
1. BSF foils Uri-style attack in Baramulla but militants flee
2. NIA picks up IS suspect from T.N.
3. India Fair to boost intra-BRICS trade
4. Reliance signs a JV with Dassault Aviation for Rafale
1. In black and white; the Centre's move to mop up black money
2. The elusive peace in Colombia
.
+++++++++++++++++++++++++++++++++++++++++++++++
Useful News Articles
A. GS1 Related
Nothing here today folks!
B. GS2 Related
1.
Karnataka starts release of water, ends defiance of SC
Category: Centre-State Relations
Topic:  Inter-State Water Disputes
Key Points:
Post the unanimous resolution in the State legislature, Karnataka has ended its defiance of the Supreme Court's orders and has begun the release of 6,800 cusecs of water for irrigation purposes from the KRS dam.
The decision comes in the wake of the Supreme courts observation on Sep 30th, warning Karnataka not to invite contempt of court and ordered it to release 6,000 cusecs a day from October 1 to 6.
The state legislature had passed a resolution to "empower" the State government to release water to State irrigation canals. This means a portion of water could be released to neighboring Tamil Nadu as well.
A carefully drafted resolution was passed by the two Houses — which had on Sep 23rd passed a resolution that water could be drawn only for drinking purposes — stated that given the increase in storage levels in the 4 reservoirs in the Cauvery basin for the past 10 days, "the State government may take an appropriate decision regarding the release of water for irrigation in the best interests of the State."
2.
SC can't intervene, says Centre; High-power technical team can inspect Cauvery basin and report back to the court
Category:  Centre-State Relations
Topic: Inter-State Water Disputes
Key Points:
In its review petition filed in the SC, Karnataka said the order to direct the release of water and setup the Cauvery Management Board (CMB) was violative of the National Water Policy of 2012, which placed the requirement of drinking water as 1st priority over needs of irrigation.
Centre said that the Supreme Court had no jurisdiction to direct the setting up of CMB under Article 262 of the Constitution and under the provisions of the Inter-State River Disputes Act, 1956.
Article 262 allows for a parliamentary law — Inter-State Water Disputes Act, 1956 — to prohibit the Supreme Court from intervening in inter-State water disputes.
Section 6 (2) of the 1956 Act states that the orders of tribunals set up by the govt under it has the same force as an order of the Supreme Court. In short, the statutory law excluded the SC from intervening against the 2007 final award of the Cauvery Water Dispute Tribunal (CWDT).
Once the tribunal has pronounced a final award, it would fall on the Centre to work out a water-sharing scheme based on the tribunal award. This scheme would be sent to the Parliament for promulgation. It is the Parliament's sole right "to annul, vary, modify the Centre's scheme."
The Centre argued – The Supreme Court, by ordering the setting up of the CMB, has robbed the Centre of its powers under the 1956 Act to frame a scheme based on the tribunal order. The final authority is vested in the Parliament.
The Centre has instead suggested that the Secretary, Union Water Resources Ministry, set up a 'high-power technical team' in his capacity as the Chairman of the Cauvery Supervisory Committee. This team would be led by G.S. Jha, Chairman of the Central Water Commission. The team would proceed immediately to inspect the Cauvery river basin and report back to the Supreme Court in 30 days.
3.
Centre to amend rules on foreign funding
Category: Indian Polity
Topic: NGO's, Pressure Groups
Key Points:
The Ministry of Home Affairs plans to further tighten the noose around NGOs, as it is all set to amend the Foreign Contribution Regulation Rules making it compulsory for all voluntary organisations to have dedicated accounts only in banks with core banking facilities to o ensure their real-time access.
This would allow the security agencies to monitor the accounts on a real-time basis
The MHA is also making rules to ensure that no NGO is allowed to receive foreign funds under the prior permission category more than once. The move comes in the backdrop of Amnesty International India receiving foreign funds under the prior permission category at least thrice
The new rules under Foreign Contribution Regulation are expected to be notified soon. Most NGO's do not have their FCRA accounts in banks with core banking facilities, as mandated. Most NGO's have opened their FCRA accounts in cooperative banks or State government-owned apex banks.
4.
Russia welcomes surgical strikes
Category: International Relations
Topic: India-Pak, India-Russia
Key Points:
Russia has welcomed the surgical strikes by India, saying every country has a right to defend itself and this comes just days after it asked Islamabad to take concrete & effective steps to stop the activities of terrorist groups operating in its territory,.
Russia has assured that it has always been with India in fighting cross-border terrorism.
Russia assured India that it need to worry about the Russia-Pakistan military exercise, since it did not take place in the "Pakistan-occupied Indian State of Jammu and Kashmir"
C. GS3 Related
1.
BSF foils Uri-style attack in Baramulla but militants flee
Category: Security
Topic: India-Pakistan
Key Points:
Militants mounted a Uri-style attack at the Baramulla Army camp on Sunday night which was repelled by the BSF jawans but at the cost of one casualty on the Indian side.
Security and Intelligence agencies suspect the militants were planning Uri-style attack on the Army camp as one compass, one GPS and a wire cutter was recovered from the encounter site.
Kashmir has been very volatile in the past 87 days of street agitation and violence. There is growing militant activity in the area as security agencies have stumbled upon videos of local youth joining the militant ranks.
2.
NIA picks up IS suspect from T.N.
Category: Internal Security
Topic: ISIS, NIA
Key Points:
A day after 6 youths were arrested in Kerala for their alleged links with the Islamic State (IS), the National Investigation Agency (NIA) has arrested a man from Tirunelveli district for suspected links with ISIS.
Acting on intelligence inputs gathered from Kerala, Delhi and Telangana, the NIA team fanned out and conducted searches in Kozhikode and Kannur districts of Kerala and raided a hideout, where it arrested five persons.
A senior intelligence officer privy to the raid said the suspect had gone to Turkey via Saudi Arabia with an Indian passport, and worked closely with hard core religious groups there.
Even as he was about to be sent to Germany for a yet-to-be identified assignment by the ISIS, the suspect lost his passport. After getting a temporary passport for him in Turkey, his friends sent him back to India where he was arrested.
3.
India Fair to boost intra-BRICS trade
Category: Economy
Topic: Multi-lateral treaties, BRICS
Key Points:
To stimulate trade among the BRICS nations, India, for the 1st time, will host a trade fair for the bloc that also includes Brazil, Russia, China and South Africa.
Intra-BRICS trade in 2014 stood at just $297 billion — less than 5% of the $6.5 trillion worth trade that the five countries had with the world that year. Goods imports from the world into the BRICS countries stood at $3.03 trillion in 2014, while global goods exports of BRICS countries stood-out at $3.47 trillion that year.
The first ever BRICS Trade Fair & Exhibition will be held from October 12-14 in New Delhi, ahead of the BRICS political summit in Goa. This initiative was a proposal made by Prime Minister Narendra Modi last year.
The focus area of the Fair is 'Building BRICS – Innovation for Collaboration'. The Fair is meant to give boost to intra-BRICS economic ties.
Established companies, start-ups and innovators from BRICS will showcase their offerings and expertise to help technology solution providers share knowledge to help deal with challenges in sectors such as -healthcare, education, energy efficiency, waste management and urbanization management.
Category: Economy
Topic: Defence JV, Offset Clause in FDI
Key Points:
Reliance Group has signed an agreement with Dassault Aviation of France, the makers of Rafale fighter jets, for a JV in India to be named as Dassault Reliance Aerospace, to execute and implement offsets for the recently-concluded Rafale MMRCA deal.
The Rafale Jet deal that India signed has a 50% offset clause which has to be adhered to by Dassault and its partners in India. This amounts to about Rs. 30,000 crore.
Due to the size of the offsets that India has mandated, there are likely to be other Indian offset partners as well for Dassault. This will open up opportunities for the MSME sector through sourcing and contracting.
The Joint Venture would focus on aero structures, electronics and engines and add value to the infrastructure and supply chain in India for the aviation and aerospace sector.
D. GS4 Related
E. Important Editorials: A Quick Glance
The Hindu
Category: Economy
Topic: Black Money
Key Points:
The Centre's policy to mop up black money from the economy by giving taxpayers amnesty to declare undisclosed income of the past by paying tax on it at a higher rate of 45% has yielded a surprisingly positive outcome.
The 4 month window granted for tax evaders to come clean initially received a lukewarm response , but later over 64,200 assesses have disclosed undeclared assets worth at least Rs.65,250 crore.
Warnings from the PM himself about impending tough action and possible jail terms defaulters in declaring black money has added punch to the Finance Ministry's pitch.
The Central Board for Direct Taxes (CBDT) has rightly focused on demystifying and propagating the scheme, so the defaulters were reassured that they would not be persecuted.
The tax revenues from this disclosure provide a cushion for the Centre with regard to fiscal deficit management since it hadn't set any revenue expectations from this scheme.
However, the Centre must not consider this to be the end of its campaign on black money. CBDT is well aware that Rs.65,250 crore is just the tip of the iceberg — it had sent 7 lakh letters to suspected evaders based on information on about 90 lakh high-value transactions that took place without PAN card details. 
CBDT must crack down on such evaders and build up its data-mining techniques to expand the existing shallow tax base of India. While the department's efforts has revealed undisclosed income of over Rs.58,000 crore in the last 2.5 years, and more is being pursued from tax havens where Indian holdings have come to light, all of this is similar to treating the symptoms of a disease without addressing the root cause.
If the Centre is really serious about putting an end to India's thriving black economy, it needs to take bolder steps and, as a starter it can make electoral funding transparent, curb the misuse of tax-free income sops for farmers by the wealthy, and incentivize cashless transactions. 
2.
The elusive peace in Colombia
Category: International Relations
Topic: Colombia-FARC
Key Points:
Colombia has narrowly missed out on an opportunity to end its 5 decade long civil war. If a majority of the electorate had voted 'yes' in Sunday's referendum on a peace deal reached between the government and the guerrillas of the Revolutionary Armed Forces of Colombia (FARC), the process of disarming the rebels would have been immediately set in motion.
The peace deal was rejected by a very thin majority, throwing the future of peace into an abyss.
The popular anger against FARC is understandable. FARC is accused of massacres, trading in illegal narcotics and running extortion mafias.
The major criticism is that "justice" is being sacrificed for the sake of achieving "peace". Under the terms of the current deal, most of FARC's rank and file would be permitted to lead civilian lives. The FARC leadership will be judged by special tribunals with reduced sentences.
Despite its imperfections, this was the best opportunity in decades to end the civil war in which both parties have committed grave crimes. The atrocities committed by FARC are well-documented and at the same time government troops and the army-backed right-wing paramilitaries too stand accused of excessive use of force, human rights violations and turning the Colombia into a war zone.
President Santos differed from his predecessors by realizing that there was no military solution to this conflict, leading to negotiations with the rebels 4 years ago with Cuba serving as a mediator.
The 'No' vote doesn't necessarily mean that the country will be pushed back into war. Both President Santos and FARC chief 'Timochenko' have said that they would continue efforts to establish peace.
The Colombian government should also try to win over the opposition, which would strengthen its appeal to the public for a deal. The alternative to peace is to send FARC back to the jungles and risk a potential resumption of the civil war.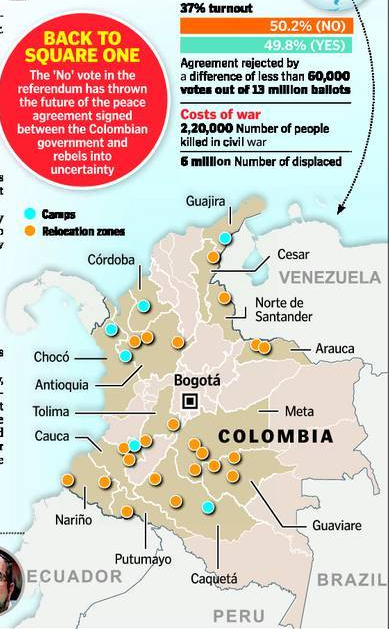 F. Concepts-in-News: Related Concepts to Revise/Learn:
Cauvery Management Board
Inter-State River Disputes Act, 1956
Foreign Contribution Regulation Rules
Revolutionary Armed Forces of Colombia (FARC)
Surgical Strikes
G. BILLS/ACTS/SCHEMES/ORGS IN NEWS
H. Fun with Practice Questions 🙂
Question 1: Which of the following statements are correct with regard to the Inter-State Water Disputes Act
i) It aims to satisfy Article 262 of the Indian Constitution.
ii) The Tribunal shall have the same powers as are vested in a civil court under the Code of Civil Procedure
a) i) and ii) only
b) i) only
c) ii) only
d) None
Question 2: Consider the following statements:
BSF is mandated to guard the India-Pakistan Border alone
BSF is mandated to guard India-Pak and as well as India-China Border
Which are correct?
a) 1 only
b) 2 only
c) Both 1 and 2
d) Neither 1 nor 2
Question 3: Which of the following bird in India is endangered due to the effects of use of Diclofenac?
a) Indian Vulture
b) Peacock
c) Great Indian Bustard
d) Great horned owl.
Question 4: FARC, which has been recently in news, is a militant-narco group of which country?
a) Colombia
b) Brazil
c) Peru
d) Ecuador
Question 5: Which of the following statements are correct with regard to NIA?
NIA acts as the Central Counter Terrorism Law Enforcement Agency.
NIA was established by executive resolution of the Central government.
a) 1 only
b) 2 only
c) Both 1 and 2
d) Neither 1 nor 2
"Proper Current Affairs preparation is the key to success in the UPSC- Civil Services Examination. We have now launched a comprehensive 'Online Current Affairs Crash Course'.
Limited seats available. Click here to Know More."