Table of Contents:
1. Turkey willing to cooperate with U.S.
2. Uranium supply to India from Canada
3. Indo-Japan bilateral update
4. Open skies pact between India and Greece
1. GST rollout
2. Tata arm to manufacture panels for Boeing's P-8
1. FDI in India
.
+++++++++++++++++++++++++++++++++++++++++++++++
Useful News Articles
A. GS1 Related
Nothing here today folks!
B. GS2 Related
Category: International Relations
Topic:   Agreements involving India and/or affecting India's interests
Key Points:
Turkish President Recep Tayyip Erdogan said the U.S. and Turkey are ready to work together to push Islamic State (IS) jihadists out of their de facto capital of Raqqa in northern Syria. Mr. Erdogan said he had agreed with the President of U.S. on the sidelines of the G20 summit in China to do what is necessary to drive IS out of Raqqa.
Mission Raqqa – Forces loyal to Syria's President Bashar Al-Assad's regime were pushed out of Raqqa, which lies on the Euphrates River, in 2013, making it the first provincial capital in Syria to fall out of government control. IS rapidly infiltrated the city, which is strategically located near the Turkish border, and declared a caliphate in 2014. Ousting IS from the city would be a turning point in the conflict and mark a huge blow to the jihadists.
Turkey launched an ambitious operation inside Syria, sending tanks and Special Forces to back up Syrian opposition fighters and cleanse its frontier from IS jihadists and Kurdish militia. Turkey backed rebels seized the town of Jarabulus from IS militants within hours on the first day of the operation and Turkey says jihadists have now been removed from the entire border area. But Turkey sustained its biggest loss of life in the operation to date, with three soldiers killed in an IS rocket attack on their tanks.
Note – Syria's opposition made a fresh call for a transition to democracy without President Bashar al-Assad, as France threw its support behind new Russia-US talks aimed at ending the war. The opposition hopes new talks would result in an 18-month transition that would see Syria governed by a transitional body made up of opposition figures, current government representatives and members of civil society.
The opposition's proposal during talks in London came as the world's chemical weapons watchdog – OPCW (Organization for the prohibition of Chemical weapons) said it was disturbed by the alleged use of toxic chemicals in the battleground city of Aleppo.
Russia and the US are seeking to revive a ceasefire in Syria and coordinate strikes against the Islamic State group and other jihadists. France now has joined hands with US and Russia.
Category: International Relations
Topic:   Agreements involving India and/or affecting India's interests
Key Points:
Canada is hopeful of supplying energy-hungry and fast-growing India with more uranium (3,000 metric tonnes) based on the agreement signed between the 2 countries. In 2015, India and Canada had signed an agreement for the supply of 3,000 metric tonnes of uranium to India over five years at an estimated cost of $254 million.
Canada and India are among the 21 Mission Innovation partners who have committed to doubling government investments in clean technology research and development and stimulating private sector investment in clean technology over the next five years.
Canada government referred to the recent UN Climate Conference (COP21) in Paris, where Canada agreed to take measures to back the transition to a global low-carbon economy. Citing the fall in oil prices, Canada's representative said it was an opportunity for countries to prepare for a transition from fossil fuels to renewable energy. On the proposed India-Canada Free Trade Agreement and bilateral investment treaty to boost trade and investment, it was said that it was in the interest of both the countries to expedite negotiations.
Note – Canada has 2nd largest Uranium reserves in the world after Australia.
Category: International Relations
Topic:   Agreements involving India and/or affecting India's interests
Key Points:
India and Japan pledged to strengthen ties in the key areas of counter-terrorism, civil nuclear cooperation, trade and investment. The two countries discussed further strengthening and diversification of trade and investment ties. Prime Minister Modi noted that Japan had technology and innovation while India had the power of youth and a huge market. The India-Japan partnership could, therefore, produce global products and be a win-win partnership for both
The two leaders discussed the upcoming Japanese industrial parks in India and the cooperation in the area of ship breaking. They also reviewed the progress in the India-Japan Civil Nuclear Cooperation Agreement negotiations and the high-speed rail project.
PM of India appreciated the consistent support rendered by Japan in India's infrastructure development, technology upgradation and skill-building. It was recalled that 2017 will mark the 60th anniversary of the Japan-India cultural agreement with a hope to see more Indian tourists visiting Japan.
Category: International Relations
Topic: Agreements involving India and/or affecting India's interests
Key Points:
India has signed a memorandum of understanding (MoU) with Greece to initiate the air service agreement and allow unlimited number of flights into each other's countries. Greece will become the first country with an open sky arrangement under India's new civil aviation policy.
The Union ministry of Civil aviation said India will allow airlines from Greece to operate unlimited flights to six Indian metropolitan airports. However, Indian carriers can fly to Greece without any such restriction. The ministry has written a note verbale to all the 109 countries with which India has a bilateral agreement conveying to them about our open sky policy under the new civil aviation policy.
India will soon hold talks with Dubai to increase the bilateral seat entitlements with them. India will invest $6 billion for building and modernising the airport infrastructure in the next five years.
Note – Under the new civil aviation policy, India plans to enter into open sky air service agreements (ASA) with SAARC countries and with countries beyond 5,000 km radius from Delhi. Countries sign ASAs through bilateral negotiations to decide on the number of flights that airlines can fly into each other's countries. Under the open sky pact, there is no restriction on flights or seats.
Overview:
At present, India has an open sky agreement with the U.S. and a near open sky agreement with the U.K. under which there are certain limitations on the number of flights that can be operated at the Mumbai and Delhi Airports. For ASEAN or SAARC countries, India has an open sky agreement with more than a dozen countries.
National Civil Aviation Policy, 2016 – Union ministry of Civil Aviation released the National Civil Aviation Policy 2016. This is the first time since independence that an integrated Civil Aviation Policy has been brought out by the Ministry.  
The centre-piece of the policy is to make regional air connectivity a reality.
The policy aims to make flying to the masses easy and accessible by making it affordable and convenient, establish an integrated eco-system which will lead to significant growth of the civil aviation sector to promote tourism, employment and balanced regional growth, enhance regional connectivity through fiscal support and infrastructure development and enhance ease of doing business through deregulation, simplified procedures and e-governance. The government expects the number of tickets sold to go up to 30 crore by 2022.
Connecting the unconnected and serving the un-served is the motto of the civil aviation policy.  The questionable legacy of the '5/20 rule' has been done away with. According to the '5/20 rule', a 2004 norm – a domestic airline is allowed to go international only after flying for five years to domestic destinations and operating at least 20 aircraft.
C. GS3 Related
Category: Economy
Topic: Taxation
Key Points:
Union Finance minister said the Centre is running against time to meet the stiff target rollout date of April 1, 2017 for a new indirect tax regime. The minister further said, still the government will strive to meet the deadline and introduce the necessary central legislation for the Goods and Services Tax in the 2016-17 winter session of Parliament.
He cited the agility with which state governments had already ratified the Constitutional amendments. The centre has a very stiff target for GST and the reason is that there is a great national aspiration in support of the reform. The Minister said that the Lok Sabha Secretariat is in the process of collecting the legislative proceedings of all the 17 states that have cleared the Bill so that they may be sent to the President for ratification. Once the assent is granted by the President, the Constitutional amendment will be notified and the GST council will be constituted
The Finance Minister said that GST, the long-pending tax reform on effective implementation will not just create a common nationwide market making seamless transfer of goods and services possible but also plug leakages and lead to lower tax rates.
Pending issues: The need to arrive at a consensus on the GST rate and treatment of sectoral and geographical tax exemptions, among other things. These things are to be resolved by the GST council.
Overview:
Goods and Services Tax – It is a tax levied when a consumer buys a good or service. It is meant to be a single, comprehensive tax that will subsume all the other smaller indirect taxes on consumption like service tax, etc. An ideal GST regime intends to create a harmonised system of taxation by subsuming all indirect taxes under one tax.  It seeks to address challenges with the current indirect tax regime by broadening the tax base, eliminating cascading of taxes, increasing compliance, and reducing economic distortions caused by inter-state variations in taxes.
122nd Constitutional amendment bill was introduced in the Parliament in 2014. The Bill amends the Constitution to introduce the goods and services tax (GST).
Highlights of the bill:
Parliament and state legislatures will have concurrent powers to make laws on GST. 
Only the centre may levy an integrated GST (IGST) on the interstate supply of goods and services, and imports.
Alcohol for human consumption has been exempted from the purview of GST.   GST will apply to five petroleum products at a later date.
GST Council – It will consist of the Union Finance Minister, Union Minister of State for Revenue, and state Finance Ministers. It recommends rates of tax, period of levy of additional tax, principles of supply, special provisions to certain states etc. 
The Bill empowers the centre to impose an additional tax of up to 1%, on the inter-state supply of goods for two years or more. This tax will accrue to states from where the supply originates. Parliament may, by law, provide compensation to states for any loss of revenue from the introduction of GST, up to a five year period.
Category: Economy
Topic: Industry
Key Points:
Tata Industries Ltd and Boeing Company have signed a contract for the manufacture of composite interior closeout panels for Boeing's P-8 aircraft. The panels to be supplied by Tata Advanced Materials Ltd (TAML), a subsidiary of Tata Industries Ltd and it will cover the interior wall structure of the aircraft.
Overview:
P-8: The Boeing P-8 Poseidon (Multi-mission Maritime Aircraft) developed by Boeing Defense, Space & Security, is a military aircraft developed for the United States Navy (USN).
It is designed for long-range anti-submarine and anti-surface warfare, shipping interdiction, electronic signals intelligence role as well as armed intelligence, surveillance and reconnaissance missions. A derivative of Boeing's Next-Generation 737-800, P-8 is capable of broad-area maritime operations.
P-8I – The p-8 aircraft has been ordered by the Indian Navy as the P-8I Neptune. It combines superior performance and reliability with advanced mission systems that ensures maximum interoperability in the future battle space. The contract is another example of Indian companies becoming part of the global supply chain and manufacturing aerospace parts for the world's most advanced products.
Category: Economy      
Topic:   International Trade
Key Points:
Union Commerce and Industries minister said the Centre will allow foreign direct investment in multi-brand retail only after enabling domestic traders and farmers to compete with such retailers thereby ensuring a level playing field. The minister further said the rationale was the lack of adequate infrastructure and last-mile connectivity to ensure the financial inclusion of traders and farmers.
Current status: India allows foreign companies to invest only up to 51% in multi-brand retail while it has removed the cap on single-brand retail.
Overview:
Foreign Investment: Any investment in India which has its source any other country than India is Foreign Investment. The foreign money can be invested in India by Foreign Corporate and nationals or Non Resident Indians. The money can be invested in shares, properties, ownership / management or collaboration.
2 major types of Foreign investment in India: Foreign Direct Investment (FDI), Foreign Portfolio investment (FPI).
FDI – The Foreign Direct Investment refers to the direct investment into the production and management. This can be one by either buying a company or by expanding operations of an existing business. One example is Unilever which has its own subsidiary and long term investment here via its subsidiary Hindustan Unilever. This means that FDI brings foreign capital, technology & management and hence, it is considered as the most attractive type of investment for emerging economies, especially for India where the domestic savings have not been large enough to wholly meet investment requirements, FDI is also less volatile than FPI and doesn't create debt like FPI and is not subjected to quick reversals.
Single Brand Retail: It is a business which sells goods to individual customers (not other businesses) and all such goods are sold under the same brand. Example – Levis sets up stores in India in which the foreign parent of Levis invests in India. Such stores can only sell Levis products under the 'single brand' route.
Multi-Brand Retail: Where a business sells goods of several different brands to individual customers, it is called Multi-Brand retailing. Example – TESCO or Walmart which stock and sell goods from various different brands in their stores.
D. GS4 Related
E. Important Editorials: A Quick Glance
The Hindu
Category: Economy      
Topic:   International Trade
Key Points:
We are increasingly told that the inflow of capital – particularly the foreign direct investment (FDI) variety increases employment levels and contributes to economic growth. In a rare interview given by Prime Minister Narendra Modi reinforced the role of FDI for India: 'To set a strong foundation for sustainable growth, we have run the most prudent macro-economic administration in decades, reducing fiscal and current account deficits. We have made India a destination which welcomes capital by liberalising foreign-direct investment policy, increasing the ease of doing business.' Recently, the government further relaxed the FDI policy. An FDI mania appears to have gripped our policymakers.
Rationale of FDI in India – Investment is necessary for economic growth. It could be undertaken by domestic or foreign investors. However, there are no a priori reasons for favouring foreign investment over domestic investment under normal economic conditions. If domestic investment is not forthcoming, either because of a profitability crisis in the private sector or a self-imposed restraint on public spending (example, India's Fiscal Responsibility and Budget Management Act), then we may be forced to attract foreign investment. In other words, in the event of a domestic investment crunch, relying on foreign investment is an option in the short term.
One central character of private investment makes it unreliable in the long term: volatility. Rational investors are constantly in search of countries, regions, sectors, ideas and processes which will yield higher profits. Globally, countries formulate competitive policies to solicit foreign capital/investment by proffering a variety of economic concessions — tax holidays, providing land at less-than-market prices, weakening workers' rights, easing the patenting of ideas and processes, and so on. In India, such concessions are being given in the name of 'ease of doing business' and the 'Make in India' campaign. This "international competition for capital" tends to exacerbate income inequality, which is what Thomas Piketty rightly highlights in his book Capital in the Twenty-First Century.
A probable positive consequence of foreign investment is the inflow of new technology and its subsequent diffusion. However, technology diffusion is not at all certain, especially because it is in the interest of the foreign firm to withhold profitable technology. Moreover, the diffusion of technology is difficult in countries like India where the state of both physical and human capital is not yet on a par with advanced countries. Therefore, relying on foreign investment in the long term is not an economically sound policy. Policies must be undertaken to revive domestic private investment. The lowering of interest rates may not suffice in the current situation of aggregate demand deficiency, a consequence of weak foreign demand as well as poor domestic rural demand because of two consecutive monsoon failures. One long-term solution is substantial public investment in education, health and environment, which will not only improve India's socio-economic condition but also crowd in domestic private investment.
Nature of FDI in India –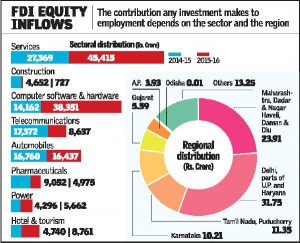 The contribution any investment makes to employment depends on the sector and the region. It is obvious that investment in a labour-intensive sector will generate more employment than the same investment in a capital-intensive sector. The nature of employment – skilled, semi-skilled and unskilled will also depend on the sector. For example, the construction sector is unskilled-labour intensive whereas computer software requires skilled labour.
In 2015-16, the services sector received the largest FDI equity inflow; this sector includes services such as finance, banking, insurance and outsourcing and predominantly employs skilled workers. Of utmost concern is the stark reduction in FDI in the construction sector — the rate of decrease is close to 85 per cent. The implications for labour employment in this sector cannot but be negative.
While the overall FDI equity inflow has increased between 2014-15 and 2015-16, the changes in the composition of FDI, as expected, are worrisome. Of course, the aim of FDI is profit, not employment. Therefore, the pursuit of full employment of labour cannot be left to the private sector, whether domestic or foreign.
The employment effects of investment undertaken in an urban settlement differ from that in a semi-urban and rural settlement. Just as India competes with other countries, Indian States compete among each other to get FDI; the regional distribution is very unequal. As the U.S. Ambassador to India, Richard Verma, said while visiting Bhubaneswar in January 2016, "While private investment from the U.S. continues, Odisha has to compete with other Indian States and countries like Singapore through ease of doing business to raise the volume."
Clearly, Mumbai and Delhi dominate the other regions by obtaining close to 50 per cent of the overall FDI equity inflow whereas Odisha receives less than 1 per cent. FDI inflows therefore worsen existing regional inequalities by making the rich regions richer and poor regions poorer (as the workers migrate in search of employment).
Public expenditure is the key – Private investment in general is volatile. Foreign private investment is more volatile because the available investment avenues are significantly greater (i.e. the entire world). Therefore, the responsibility of providing employment cannot be left to FDI. Despite the probable gains accruing from the diffusion of new technology, the existing state of physical and human capital in India may prove inadequate for the diffusion, at least for now. As expected, the current FDI equity inflows are volatile over time and across sectors and regions, which is a necessary consequence of their search for the highest returns. The adverse consequences are unstable employment and an accentuation of income and regional inequalities. Besides these adverse economic consequences, there are others – most notably, the issues of stagnant real wages and ecological destruction. In sum, howsoever economically beneficial FDI may seem in the short period, it has long-term adverse consequences for the economy. A government committed to the long-term economic health of India must therefore increase the quantity and quality of public investment.
F. Concepts-in-News: Related Concepts to Revise/Learn:
Multi-Brand Retail
Foreign Portfolio investment (FPI)
Single Brand Retail
GST Council
integrated GST (IGST)
G. BILLS/ACTS/SCHEMES/ORGS IN NEWS
H. Fun with Practice Questions 🙂
Question 1: Mission Raqqa sometimes appears in news. It is in?
a) Syria
b) Saudi Arabia
c) Turkey
d) Iraq
Question 2: Which sector attracted the highest foreign direct investment (FDI) in India since 2000?
a) Services
b) Manufacturing and construction
c) Trade
d) E-commerce
Question 3: Boeing's P-8 is sometimes seen in news. It is?

a) Hypersonic jet
b) Largest amphibious aircraft
c) Multi-mission Maritime Aircraft
d) None of these
Question 4: Under the new civil aviation policy of 2016, India plans to enter into open sky air service agreements (ASA) with the members of -
a) East Asian Summit
b) BIMSTEC
c) BRICS
d) SAARC
Question 5: Goods and Services tax is a -
a) Union legislation
b) State legislation
c) Concurrent legislation
d) None of these
"Proper Current Affairs preparation is the key to success in the UPSC- Civil Services Examination. We have now launched a comprehensive 'Online Current Affairs Crash Course'.
Limited seats available. Click here to Know More."